---
As a kid the cereal commercials encouraged "Eat your Wheaties" and the phrase has evolved into a common idiom meaning to prepare oneself for the task at hand. My adult breakfast has also moved on from processed breakfast cereals to something much healthier and tastier!
You might be wondering what is a wheat berry? Wheat berries are simply the whole wheat kernel (consisting of three parts: the germ, bran, and the endosperm) from which the husk has been removed. What this really boils down to is that all of the wonderful nutrients have not been removed! I find that the taste is similar to farro – nutty and a bit sweeter. I have ground my whole wheat berries into flour for baking, cooked them as a healthy grain to add to salads, and as the base of my morning breakfast bowl. They are very low in fat (0.5 grams per serving), calories (140 calories per serving) and provide 5 grams of protein per serving.
My favorite brand of wheat berries are from Palouse Farms in Washington state. Their family farm products are non-GMO, field traceable, and have always been a superior quality to what I can obtain locally.
Now that you have your wheat berries, you might be wondering how to cook them. Wheat berries can be milled, boiled, cooked in a rice cooker or slow cooker, but my favorite way (because I am lazy when it comes to my breakfast) is the soaking method.
I soak my wheat berries overnight and drain in the morning. I like to divide the cooked wheat berries into four servings and refrigerate for easy breakfast preparation or as a topping for a seasonal salad. Simply microwave or warm on the stove to reheat.
The possibilities are endless for topping wheat berry bowls. Imagine your favorite oatmeal toppings, fresh seasonal fruits, spices, you could even venture into savory breakfast bowls. My favorite way to prepare is a bit of non-dairy milk and whatever fresh fruit is in season, nut butter and honey or jam. In the winter, I am always hungry for peanut butter-banana-honey sandwiches (I attribute this craving to years of reading Curious George to my kids). This is my version of the sandwich in a bowl!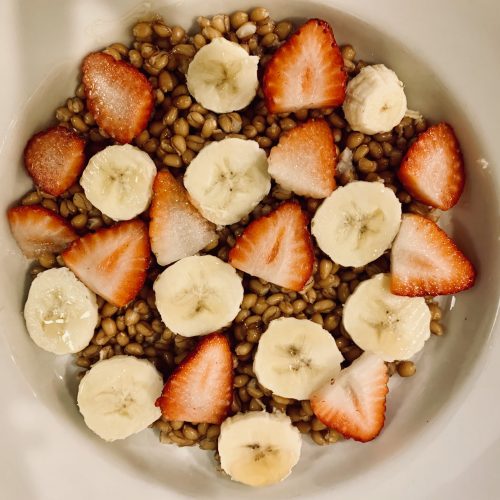 Peanut Butter Banana Sandwich Wheat Berry Bowl
Winter wheat berries with peanut butter, banana, and honey or maple syrup.
Ingredients
3/4

cup

cooked hard winter red wheat berries

1/3

cup

non-dairy milk of choice

1/2

banana sliced

1

tsp

raw mesquite honey, date syrup, or maple syrup

2

tsp

peanut butter (or nut butter of choice)

Dash

cinnamon and ground cloves

optional

Additional

fresh fruit for topping
Instructions
Place the wheat berries, milk, banana slices, nut butter and honey in a microwave safe bowl.

Microwave on high for 2 minutes. Stir.

Top with additional fruit or granola if desired and serve.

If you prefer, you can also heat gently in a small saucepan over low to medium heat.