---
I love farmer's markets. Much to my children's dismay, I could spend hours chatting with farmers, tasting, and of course purchasing. However, they would much rather be swimming, playing, biking…..ANYTHING but the farmer's market, because really once you have had your gelato and pickle sample it's all downhill from there. Solution – CSA (Community Supported Agriculture) boxes. We are so fortunate to have many fabulous local farmers. Today I was eagerly awaiting my Kindlewood Farms delivery after stalking Instagram for a preview picture of what to expect.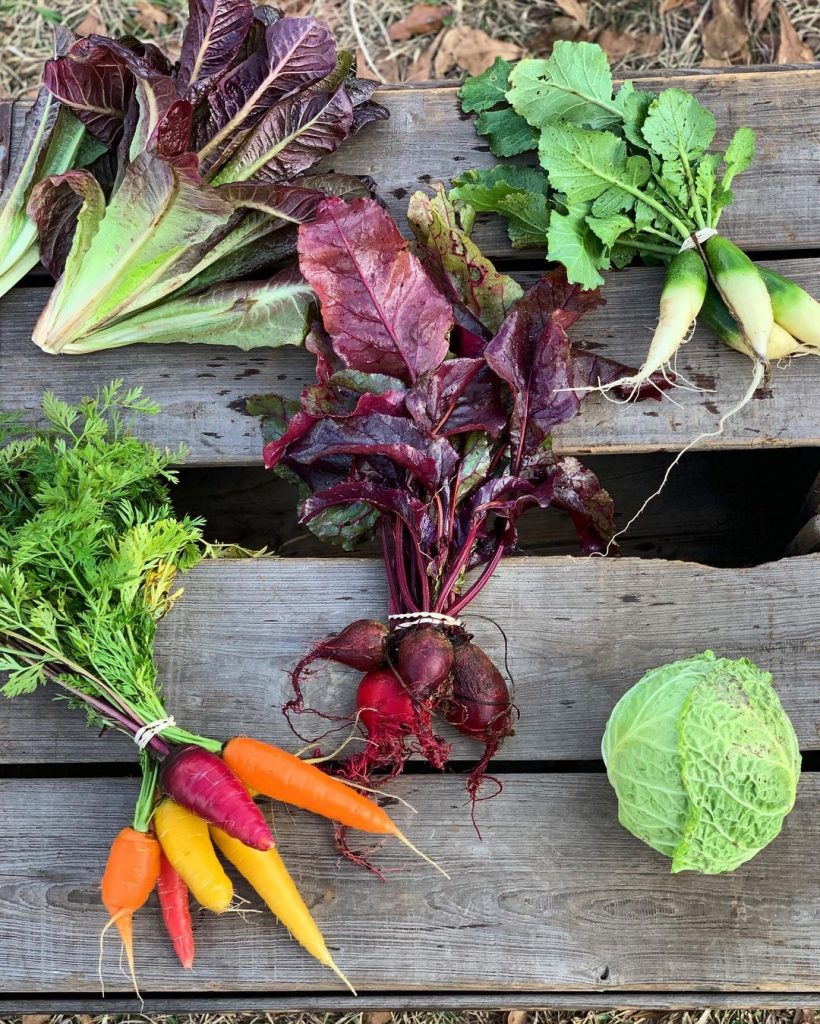 SCORE! I was really excited to start transforming these vegetables into some beautiful dishes.
---
Part One: The Beet
I am the only one in my household that truly enjoys beets. Sometimes, I sneak them into my kid's smoothies but I usually get busted. They are highly suspicious of beautiful pink smoothies. In a way, this suited me perfectly because I had the freedom to do whatever my heart desired with the beets.
This recipe is adapted from one of my favorite food blogs Love and Lemons (www.loveandlemons.com/sweet-potato-appetizer-bites).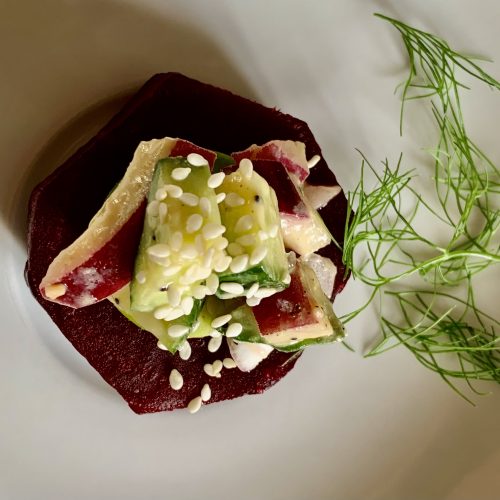 Beet, Cucumber, Watermelon Radish Snacks
Beets, Cucumbers, Watermelon radishes, red onion tossed with lemon, sesame oil and mustard.
Ingredients
1-2

purple beets roasted and sliced into round circles

1

English cucumber diced

1

watermelon radish sliced into round circles

1/2

red onion diced

1

tbsp

Dijon mustard

1

tsp

sesame oil

1

lemon juiced

1

tbsp

toasted sesame seeds

pinch

salt to taste
Instructions
Cut the ends from the beets and wrap in foil. Roast in oven at 400 degrees F until you can easily spear them with a fork.

Once cool, remove the skin from the beets and slice into round circles.

Mix the cucumber, red onion, lemon juice, sesame oil, dijon mustard and salt together. Taste and adjust seasonings.

Slice the watermelon radish into round circles.

Top the beet circles with one watermelon radish circle and a spoonful of the cucumber mixture. Garnish with toasted sesame seeds and additional sesame oil if desired.
---
Part Two: The Carrot
Once I saw the beautiful rainbow carrots in my share, I immediately had a plan. Katie (age 6) claimed the pink one to eat like a rabbit, but the rest were destined for a creamy sauce. Over the past year, my daughter Natalie and I made 367 new recipes. Some were epic failures and some were absolute showstoppers. Thankfully, the carrot recipe I had in mind falls into the latter category. I had stumbled upon a website called Feasting at Home and found some incredible recipes – especially the Carrot Miso sauce over pasta. One of the many reasons I love this recipe, is that you can utilize the entire plant. The gremolata calls for the carrot top greens (I also added the beet greens from the CSA share this time too!)
With a busy evening of tennis practice and homework I wanted something I could prepare ahead of time and easily reheat. This recipe is incredible over hand rolled pasta (which is how we prepared it the first time) – but that wasn't in the cards tonight. Instead I served it over farro with crispy shiitake mushrooms, toasted panko bread crumbs and the carrot and beet top gremolata. Accompanied by a side salad, we thoroughly enjoyed a wonderful meal tonight.
https://www.feastingathome.com/orecchiette-with-creamy-carrot-sauce/