---
The Urban Dictionary defines groaking as staring silently at someone while they are eating, yearning for a morsel. In my house, the best groakers are Chip, our Goldendoodle, and me! Chip has his groak stare honed to perfection especially for waffles, pancakes and any nut butter. I tend to groak when I have already devoured my dark chocolate sorbetto and watch the kids stir the remnants of their sorbetto into a soupy mess – not quite ready to admit that they are full. My hope is to always get a few more bites before it melts completely, alas my wish is usually crushed.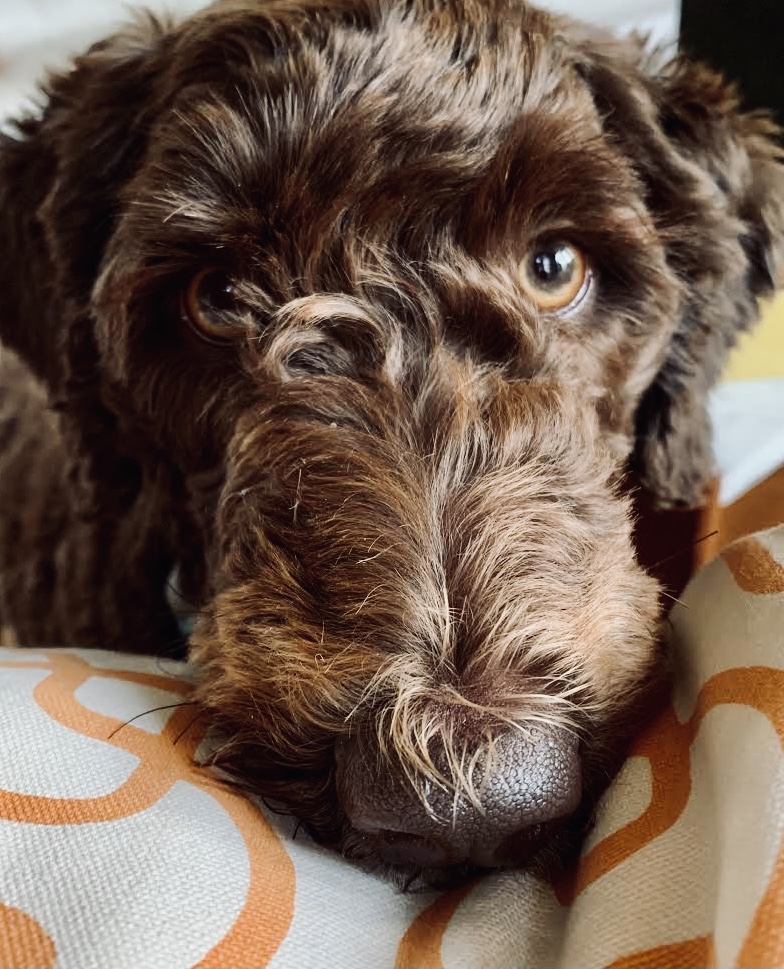 Weekend breakfasts are traditionally homemade pancakes and Belgium waffles. Even as a child, I remember special weekend breakfasts – pancakes or a trip to my dad's favorite donut shop.
I have tried and experimented with many, many pancake and waffle recipes. The ones that I prefer are a versatile batter that I can cook either on the griddle or in the waffle maker. We are evenly split at my house: two of us prefer waffles and two of us prefer pancakes. My latest adventure has been with buckwheat flour. Below is the recipe, I used this past weekend which we all enjoyed! If you have leftover waffles, wrap each one in foil and freeze then toast to reheat.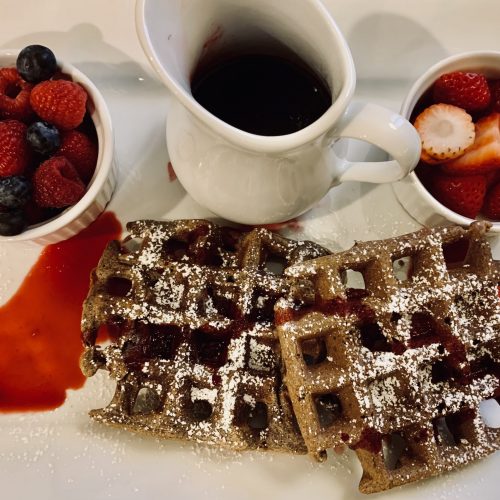 Buckwheat Waffles with Raspberry Syrup
Buckwheat waffles with homemade raspberry syrup
Ingredients
1

cup

buckwheat flour

1

cup

flour

Italian grade 00 flour will yield fluffier pancakes.

2

tbsp

baking powder

1/2

tsp

salt

1/4

cup

maple syrup

2

cups

almond milk or non-dair milk of choice

1

lemon juiced and zested

1

tsp

vanilla bean paste

1

bag

frozen raspberries

or 2 cups fresh

1-2

tbsp

sugar or honey
Instructions
Mix the dry ingredients together.

In a separate bowl, combine the lemon juice, zest, and almond milk. Let the mixture rest for 5-10 minutes to create a plant-based buttermilk.

Add the maple syrup and vanilla bean paste to the dry ingredients and then slowly add the milk mixture.

Whisk gently and allow batter to rest for at least 15 minutes before cooking.

Cook in a waffle maker as per manufacturer's instructions or use the batter to make pancakes on a griddle.
Raspberry Syrup
In a small saucepan combine the raspberries and honey or sugar. (I always like to start with the lower end of the sugar range and after tasting add more if needed).

Simmer over low heat until the raspberries break down.

Remove from heat and pour mixture through a fine mesh sieve to remove the seeds.

Return syrup to the pot and simmer until reduced by half its volume.
Serving Suggestions
Top pancakes or waffles with syrup, nut butter, non-dairy dark chocolate hazelnut spread, fresh fruit, powdered sugar or any other desired toppings.
Note: My daughters' favorite toppings included smearing dark chocolate hazelnut spread over the waffles and a drizzle of raspberry syrup!