A Bit of History:
In previous posts, I covered some of the interesting historical facts about figs. Therefore, today I will focus on the history of pecans for my Creamy Toasted Pecan Dressing. However, I could not resist sharing one fun fig fact. Female rhinoceros hornbill birds enjoy a very unique fresh fig delivery system. During mating season, female birds build a nest inside a tree trunk leaving just enough space for the males to slip fresh figs into the nest. I doubt modern food and restaurant delivery services can top that service.
Interestingly, pecans hold the claim for the only nut tree native to North America. In addition, their name traces its roots from the Algonquin word that refers to pecans, walnuts, or hickory nuts. However, Europeans did not consume pecans until Spanish explorers brought them home in the 16th century. According to the U.S. Pecans Grower Council, there are greater than 1000 varieties of pecans today!
About the Recipe: Creamy Toasted Pecan Dressing
I typically celebrate the first figs of the season by popping them into my mouth with a drizzle of honey and sea salt. After consuming several, I finally focus on recipe ideas. Summer salads accompanied by a creamy, 5-minute dressing hit the spot on a hot day. Simply, combine pecans with honey, miso, cashew yogurt, in a blender with the remaining ingredients. Miso paste, honey, and red pepper flakes yield a unique and delectable umami. Adding cashew yogurt elevates the creamy texture. Next, toss arugula and mixed greens with dressing and top with freshly sliced figs, pickled red onions, a pinch of sea salt, and non-dairy feta cheese if desired.
Serve the salad immediately and store any leftover dressing in the refrigerator.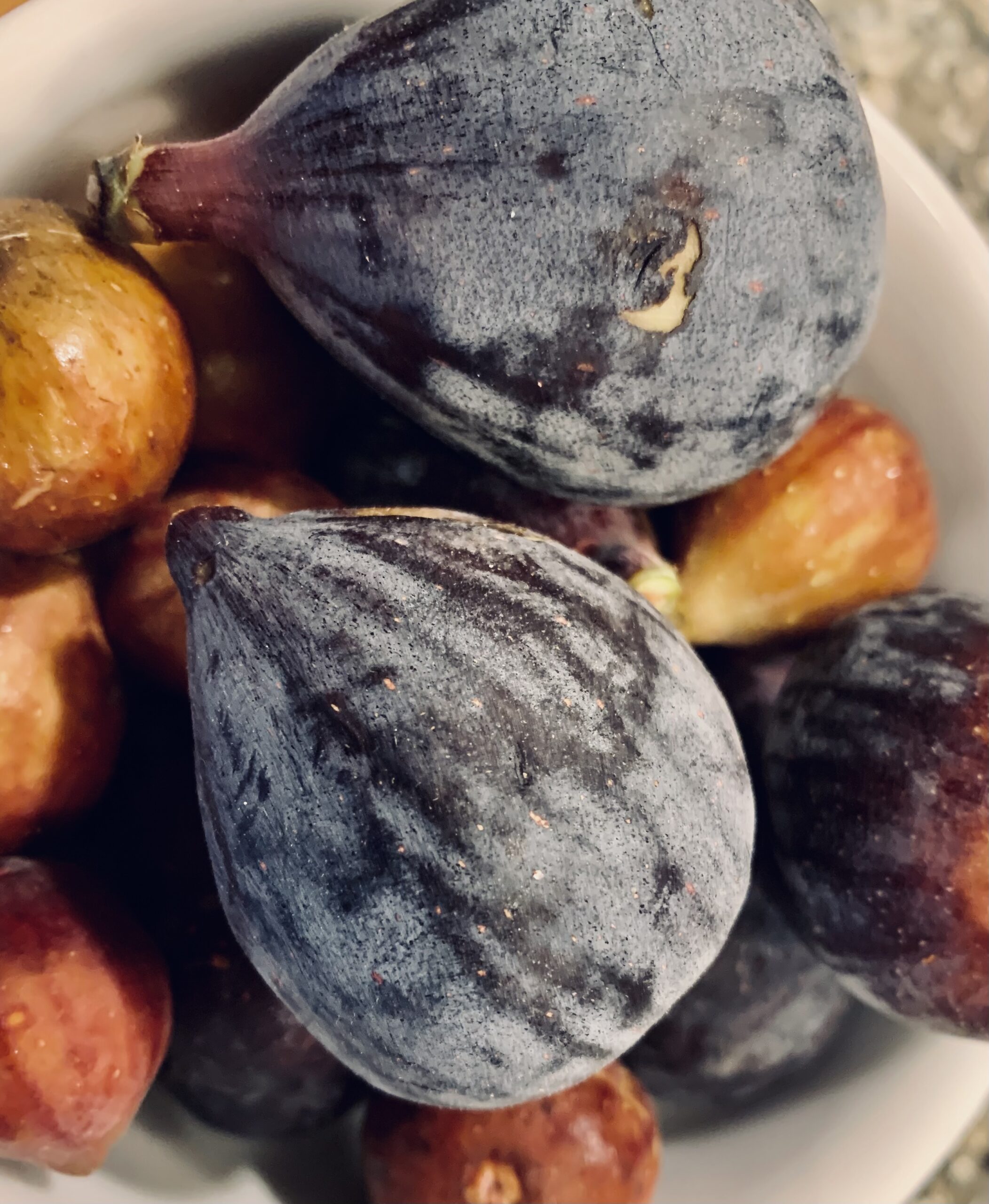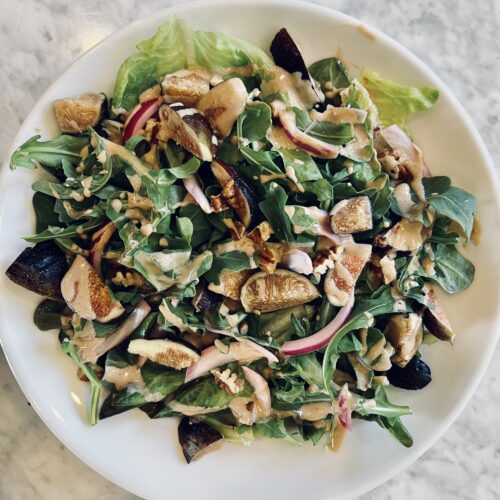 Fig Salad with Creamy Toasted Pecan Dressing
A delightful combination of sweet, fresh figs with an umami packed creamy pecan dressing.
Ingredients
Toasted Pecan Salad Dressing
1/2

cup

pre-toasted or raw pecans

2/3

cup

water

1

lemon juiced

1/4

cup

unsweetened cashew yogurt (such as Kite Hill)

1

tbsp

miso paste

1/4-3/4

tsp

hot red pepper flakes (start with the lower end of the range and add more pepper to taste)

1

tbsp

honey (either hot pepper infused or traditional)
Salad Ingredients (serves 8)
16

cups

mixed greens

8

cups

arugula

1/3

cup

chopped pecans

1/2

cup

pickled or raw red onion

24

fresh

figs, sliced into quarters

1/2

cup

vegan feta cheese, crumbled (optional)
Instructions
If toasting pecans:

Stovetop: place in a dry skillet over medium-high heat for approximately 5 minutes. Stir often to prevent burning.

Oven: roast at 350 degrees for 10-15 minutes.
Toasted Pecan Salad Dressing
Combine all ingredients in a blender and process until smooth. Taste and add more pepper if desired or additional honey.
Salad Assembly
Toss arugula, mixed greens, sliced figs, and red onion with desired amount of salad dressing.

Add salt to taste and toss again.

Garnish salad with chopped pecans and feta cheese if desired. Serve immediately. Store remaining salad dressing in the refrigerator.
Looking for some other great fig recipes? Try these Ultratruffle favorites:
Spicy Fig & Rosemary Reduction over Fregola Pasta
Fig, Hazelnut Chocolate Chip Biscotti
Flatbread Pizza with Rosemary Thyme Fig Jam