A Bit of History:
I'll wager you never guessed that financial information would be heading your way this week. However, I learned that experts predict the vegan yogurt market to grow almost 19% a year until 2027. Considering the market share was valued at $1.6 billion two years ago, this is not an insignificant dollar amount. The first non-dairy yogurt, crafted from soy products, made its debut in 1977. Historians believed that traditional dairy yogurt, made from fermented milk, originated in Mesopotamia over 7,000 years ago!
Today, a plethora of choices, tend to overwhelm shoppers in the cold section at supermarkets. From soy to almond milk, coconut based, cashew milk, and oat milk yogurts, the choices satisfy a wide a variety of tastes and preferences.
Thankfully, it is a simple substitution to swap out dairy yogurt and replace it with a plant-based option. In my recipe for Parsley Horseradish Yogurt Sauce, I chose an unsweetened, plain yogurt derived from coconut products but also low in fat.
About the Recipe: Parsley Horseradish Yogurt Sauce
Some of my favorite recipe creations stem from nights where I am trying to use up small amounts of a variety of leftover vegetables. In my house, rice or grain bowls with simply roasted/sauteed vegetables are always a hit. While, the veggies and rice are delicious, the sauce is meant to be the superstar of these dishes. In this case, a creamy, tangy yogurt sauce balanced with fresh parsley. In addition, fresh horseradish root delivers the true knockout punch. Parsley, Horseradish Yogurt Sauce pairs well with wild rice, farro, and roasted carrots, beets, cauliflower, broccoli, mushrooms, and asparagus. It doubles as an amazing substitute for ketchup for fries and roasted potatoes or smeared on your favorite sandwich!
The absolute best part? You can make this stunning sauce in 5 minutes (you're welcome:)!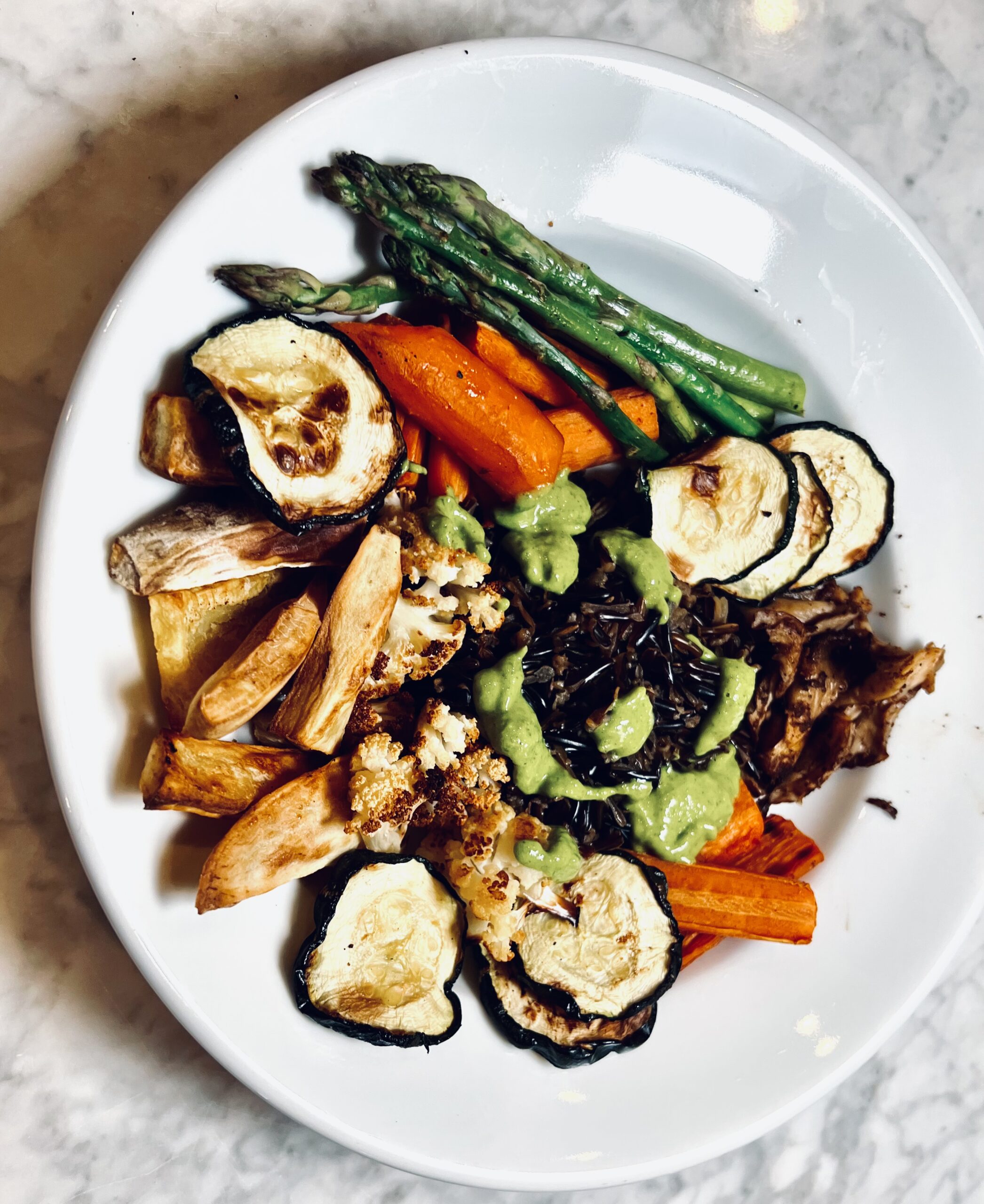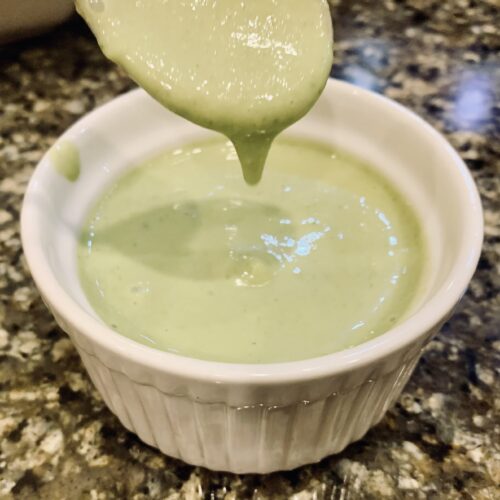 Parsley Horseradish Yogurt Sauce
A creamy, tangy yogurt sauce perfectly balanced with fresh parsley. Pairs well with grains, roasted potatoes, carrots, beets cauliflower, broccoli, and asparagus. The sauce also makes a great dip for raw veggies and a wonderful spread for sandwiches.
Ingredients
1

cup

packed fresh parsley leaves

3/4

cup

non-dairy unsweetened plain yogurt

1

lemon juiced

1/4

cup

nutritional yeast

1/4

cup

water

1/4

cup

peeled, chopped fresh horseradish root (I like to start with 1 tbsp at a time and add more to taste).

salt and pepper to taste
Instructions
Combine all ingredients in a blender and process until smooth. I like to start with 1 tbsp of horseradish root and add as I blend. Fresh horseradish root will be hotter and spicier compared to horseradish root that has been in the refrigerator for a while.
Serving suggestions
I like to serve this over wild rice and roasted vegetables especially potatoes, carrots, beets, cauliflower and broccoli.
If you like rice or parsley, try these other Ultratruffle favorites featuring: Parsley, Thyme Lemon Vinaigrette,
Roasted Radishes and Veggies with Wasabi-Soy-Miso Sauce
Wild Rice Bowl with Pomegranate Vinaigrette