A Bit of History:
While researching this post, I stumbled across a Chinese legend regarding goji berries that I absolutely loved. The story claims that one day a doctor visited a village, in which all of the residents had reached centenarian status in age. Upon questioning, the doctor unearthed that those residents all drank from a well surrounded by goji berries. He concluded that the well water, infused with nutrients from the goji berries, resulted in unusual longevity. While, I cannot promise my Double Chocolate Goji Berry Cookies will see you to your 100th birthday; they do yield an easy, wonderful snack or breakfast cookie.
Goji berries, native to China, feature in Asian cuisine and medicine. However, the FDA (Food and Drug Administration) has censured a few manufacturers for false claims regarding goji berries and their ability to treat disease. Goji berries do contain a number of beneficial nutrients, however they can interact with certain medicines. If curious, please see this short article regarding the health benefits and potential drug interactions with goji berries.
About the Recipe: Double Chocolate Goji Berry Cookies
My favorite way to make cookies involves one bowl, one spoon, and a baking sheet. If this also describes you, read on! You can craft these amazing cookies in less than 20 minutes. Simply, add the ingredients to a large bowl, mix, form into balls, and bake. This recipe features whole grain oats and is sweetened with dried goji berries, strawberry puree (or substitute jam), and honey. Elevate these to dessert status by adding mini chocolate chips if desired or use additional goji berries for a breakfast cookie. These Double Chocolate Goji Berry Cookies make the perfect after school snack, lunch addition, or a grab and go breakfast treat.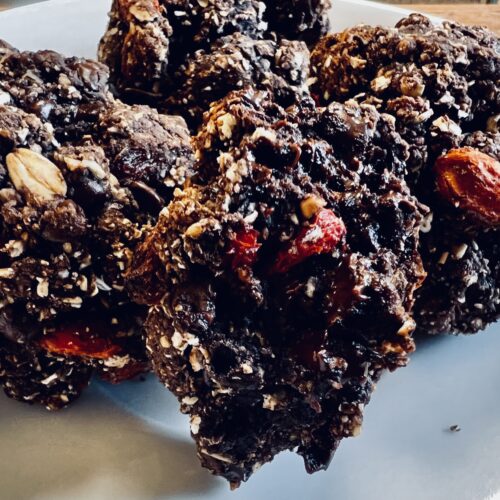 Double Chocolate Goji Berry Cookies
A whole grain packed cookie healthy enough for breakfast and delicious enough for dessert! Easy one bowl recipe! Sweetened with goji berries, strawberry puree, and honey.
Ingredients
3

cups

oat flour (or whole old-fasioned oats)

1

cup

flour

1/4

cup

Dutch processed cocoa powder (I like to use Droste.)

1 1/2

tsp

baking soda

3/4

tsp

salt

1

tbsp

instant espresso/coffee (optional)

2/3

cup

honey (substitute sweetener of choice if vegan)

2

tbsp

apple sauce or substitute almond butter

2/3

cup

strawberry puree or jam

1

cup

dried goji berries

1

cup

mini chocolate chips (optional or substitute with additional goji berries)
Instructions
Pre heat oven to 350 degrees F.

Combine all ingredients in a large bowl.

Stir to combine. The dough is easier to work with if you let it chill for 5-10 minutes in the refrigerator before forming into cookie balls.

Using an ice cream scooper or your hands, form the dough into balls.

Place onto a lined baking sheet and bake at 350 degrees F for 12-15 minutes. Allow to cool completely. Store any leftovers in refrigerator or freezer.
Looking for some other great cookie recipes? Try these Ultratruffle favorites:
Chocolate Chip Biscotti Cookies