A Bit of History:
When I was young, my Uncle Jeff would often bring over a plethora of fresh zucchini in the summertime. In return, I baked zucchini-walnut bread and delivered loaves to his home. This past week, my uncle stepped up his game and express mailed fresh morel mushrooms. My husband declared our Vegan Morel Mushroom Risotto the best meal we have ever cooked. I completely agreed, but unfortunately for my uncle we could not send him a taste!
Every May, Boyne City, Michigan hosts a National Morel Festival. According to local legend, the festival's origins began with a group of morel hunters enjoying a few beverages. A bragging contest ensued over which among them was the best morel forager. To settle the debate, the next morning the group headed out to the forest for a 90-minute timed hunt. Today, the traditional timed morel hunting contest continues, where local Anthony Williams reigns as five time champion.
Springtime morel hunting often yields a wonderful bounty prized by cooks and selling for over $65 per pound. Since morel cultivation poses many difficulties, nearly all morel mushrooms must be foraged. In fact, Wikipedia reports that commercial morel foraging remains a multi-million dollar industry.
About the Recipe: Vegan Morel Mushroom Risotto
Morel mushrooms taste nutty, meaty, and earthy and are widely featured in French and Catalan cuisine. In addition, morels taste fabulous (some people say even better) after drying and re-hydrating them. I decided to incorporate this wonderful morel harvest into a risotto dish. I love the contrast of the creamy and al dente textures of properly executed risotto. However, classic risotto dishes often contain butter and cheese. Instead, I used a combination of nutritional yeast, tahini, and red miso paste to amplify the umami of the mushrooms. Better yet, the whole dish comes together in 30 minutes!
Sometimes, risotto can be tricky and there are a few, easy, tips necessary to craft a successful risotto dish.
Cook the mushrooms separately without stirring until you flip them. Then, whisk the sauce into the mushrooms and set aside.
Heat vegetable broth in a separate pot (from your risotto pot) until you reach a gentle simmer. Keep the vegetable broth simmering. Adding hot broth to the arborio rice enhances starch release and culminates in a creamy texture. Only stir the risotto two or three times each minute.
Patience. Risotto requires approximately 20 minutes to cook. Add the broth one cup at a time, waiting for nearly all of it to absorb before adding another cup.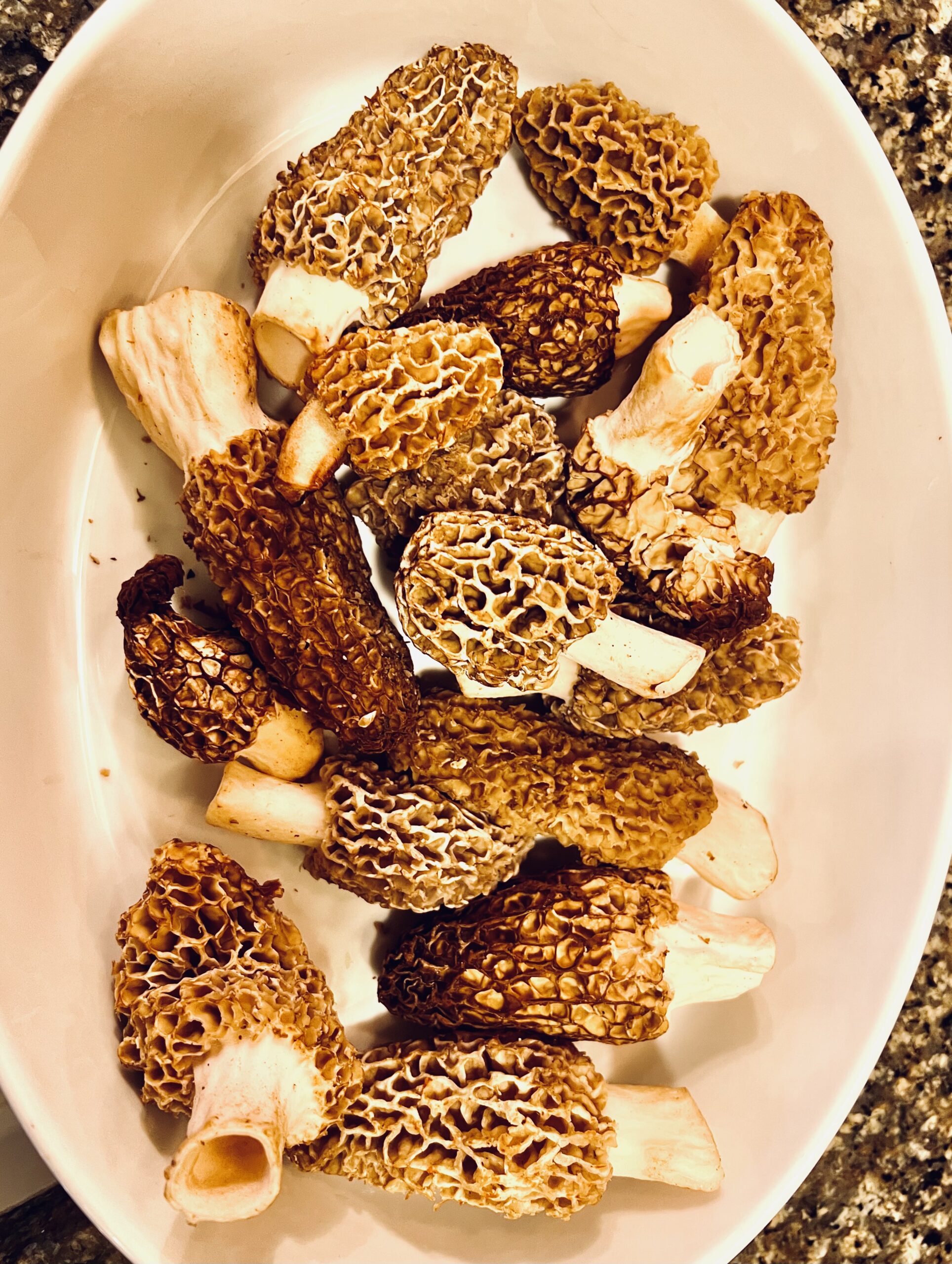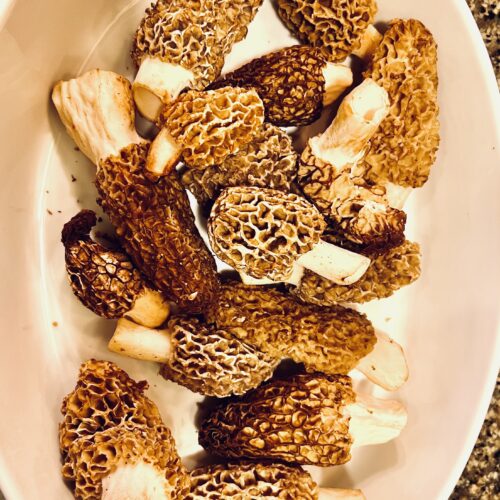 Vegan Morel Mushroom Risotto
A creamy risotto dish packed with umami and flavor. A perfect, 30-minute plant-based meal featuring morel mushrooms, garlic, and leeks.
Ingredients
10-12

Morel mushrooms, cleaned and trimmed*

1

large

leek, trimmed and minced

8

cloves

garlic, minced and divided

4

tbsp

fresh thyme, chopped and divided

3

tbsp

fresh oregano, chopped

1 1/2

cups

Arborio rice

1/3

cup

nutritional yeast

6

cups

vegetable broth

2

tbsp

red miso paste

1

tsp

tahini

2

tbsp

olive oil, divided

1/3

cup

white wine

1

fresh

lemon, juiced

salt and pepper to taste
Instructions
Morel Mushrooms
Dunk morel mushrooms in a bowl of salted water for 20-30 seconds. Swish them around to remove the dirt and remove. Pat dry with paper towels. Remove the ends of the stems and discard. Slice cleaned mushrooms in half lengthwise and set aside.

In a microwave safe glass container, combine miso paste, tahini and 1/4 cup of vegetable broth. Microwave 30 seconds and whisk to combine. Set aside.

In a large cast-iron skillet pour in a bit of olive oil. Using a paper towel, wipe the olive oil all over the pan. Heat pan over medium-high heat. Once hot, add the prepared mushrooms, being careful not to crowd them. Cook 3-4 minutes without stirring them.

Flip mushrooms over and cook for another 3-4 minutes. Add 1 tsp of olive oil, 2 tbsp of thyme and approximately 3 cloves of minced garlic. Cook until the garlic is fragrant and glistening about 1 minute. Turn heat off.

Stir in miso/tahini mixture and set pan aside.
Risotto
In a medium saucepan, heat remaining vegetable broth and nutritional yeast to a gentle simmer. Keep the broth simmering during the risotto cooking process.

In a large dutch oven pot, heat 1 tsp of olive oil over medium heat. Add remaining minced garlic and leeks with a pinch of salt. Cook 3 minutes.

Add 1 tbsp of simmering vegetable broth and rice. Stir for 1-2 minutes to coat the rice and toast it. You don't want to brown the rice.

Pour in white wine and scrape the bottom of the pot. Cook 1 minute.

Add 1 cup of broth to the pot and stir. Stir the risotto a few times every minute. When almost all of the broth has been absorbed, add another cup of broth. Repeat this process, continuing to stir and add broth once most of the liquid has been absorbed. I typically need to add about 5 cups of broth. Taste rice to see if done.

The risotto if finished when you reach a creamy consistency, but still a bit al dente. If you look at a grain of the rice you should be able to see a bit of white in the center.

Turn heat off. Stir in remaining fresh thyme and oregano. Add a big squeeze of fresh lemon juice. Taste and add salt and pepper and more lemon juice if desired.
Serving
Add a scoop of risotto to each bowl and top with a few mushrooms and their sauce. Garnish with additional herbs if desired. Serve immediately.
Notes
*If you cannot find fresh or dried morel mushrooms, simply substitute your favorite wild mushroom (at least 3-4 cups).
Looking for some other great mushroom dishes? Try these Ultratruffle favorites:
Shiitake Mushroom Pastrami Sandwich
Chanterelles with Sun-Gold Cherry Tomato Sauce
Crispy Air-Fried Oyster Mushroom Nuggets