My family calls me the memory bank because I typically can quickly recall random details from the past. Today's recipe is inspired by two special childhood memories involving food. The first is cereal. As a kid, I loved to eat cereal for breakfast, especially Honey Nut Cheerios. You could always find a box of it in my house. In fact, we were probably more likely to have Honey Nut Cheerios on hand versus ketchup. Although, I do not eat boxed cereal now, the sweet little O's remained my favorite throughout childhood and as a college student. My second inspiration for this recipe is many trips to the local ice cream shop, Twisty Freeze, with my dad. My father could always (and I mean always) be talked into ice cream. It didn't matter if it was a special occasion, a random after school weekday, the middle of winter…you get the idea. Fortunately for my kids, I seem to have inherited this tendency to always want ice cream!
The Twisty Freeze was a walk up ice cream stand; its windows plastered with images of seemingly endless flavor and topping combinations. Despite this plethora of choices, I almost always ordered a vanilla-chocolate twist soft serve in a cone that was then dipped in a chocolate magic shell. I loved how the chocolate dried by the time the owner passed my cone through the window. While enjoying my cone, I struggled to obtain the perfect balance of licking the chocolate shell to savor it, while eating it fast enough to prevent the ice cream from melting and leaking through the bottom of the cone. Ahhh childhood problems…
I decided to combine these two childhood memories into a single, delectable dessert. Using delicious locally harvested honey from Edisto Gold, I whipped up a batch of no-churn, plant-based honey nut ice cream. I then of course had to make a quick drying chocolate sauce to brush onto the ice cream. The result was pure bliss! Let me know if you give it a try or share some of your favorite childhood culinary memories!
---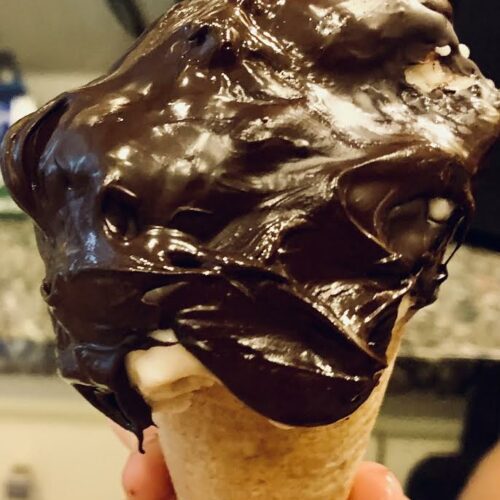 Honey Nut Ice Cream with Quick Dry Chocolate Shell
A refreshing summer treat! Non-dairy, no-churn, honey nut ice cream dipped in a quick drying chocolate sauce. Kid tested and a double thumbs up!
Ingredients
4

cups

almond cream (see recipe)

1

cup

honey

2

tbsp

nut butter (I like to use my roasted sesame seed/peanut butter).

pinch of salt

1

cup

chocolate chips of choice

2

tsp

oil (I use olive oil but grape seed oil or another neutral oil would work too.)
Instructions
Honey Nut Ice Cream
Combine almond cream, honey, nut butter and salt in a medium saucepan.

Bring the mixture to a low simmer and cook for 20 minutes until reduced by approximately half.

Remove from heat and cool. Transfer mixture to a shallow dish and place in the refrigerator.

Once ice cream base has cooled in the refrigerator transfer to the freezer. Freeze for at least 6 hours.
Quick Dry Chocolate Shell
Melt chocolate chips using the microwave or a double boiler.

Once melted quickly stir in the oil. (If you like a thinner sauce add a bit more oil).

Using a spoon or pastry brush, coat a scoop of ice cream with chocolate. Return to the freezer for 1-2 minutes then enjoy!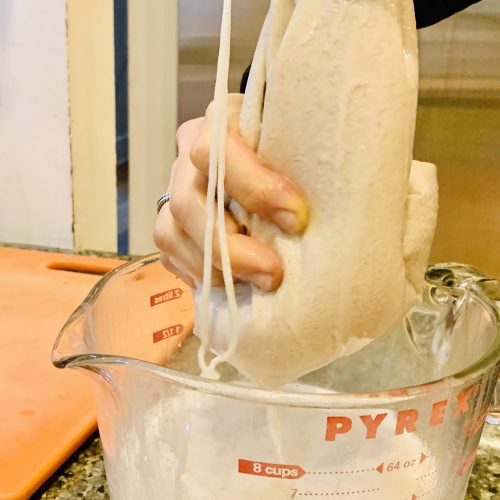 Homemade Almond Cream
Almond cream for use in ice creams, coffee, oatmeal, breakfast bowls, and desserts.
Equipment
Blender

Nut Milk Bag or Mesh Sieve
Ingredients
2

cups

raw almonds soaked in cold water for 10-12 hours

3

cups

water
Instructions
Place 2 cups of raw almonds in a large bowl and cover with cold water. Refrigerate for 10-12 hours.

After soaking is complete, drain the almonds and transfer to a blender.

Add 3 cups of water and blend until smooth.

Pour mixture into a nut milk or strain through a fine mesh sieve or cheesecloth. Squeeze out the liquid. Discard solids or save for another use.

Transfer the liquid to a glass container and store cream in the refrigerator until ready to use.