— A Recipe for a Trio of Plant-Based No Churn Chocolate Ice Cream.
---
It's Valentine's Day week, otherwise known as a tribute to chocolate week in my mind. I started wondering why Valentine's Day is associated with chocolate and discovered many interesting facts in this article from the Smithsonian Magazine. A grand slam of marketing and advertising by Richard Cadbury in 1861 ignited the association between chocolates and Valentine's Day. Mr. Cadbury designed his chocolate boxes to feature roses, cupids, and also provide a storage container for keepsakes, (think love letters), after the chocolates were consumed. Marketing innovations combining chocolate and Valentine's Day continued with the introduction of the Hershey kiss in 1907, and the Stover chocolate heart shaped boxes in 1920s. Now we know who to thank (or blame) for the excuse to gorge ourselves on chocolate delicacies this week!
One of my favorite desserts is ice cream. My daughter Katie and I always, always order a chocolate variety. This recipe is my take on a no churn, plant-based, ice cream that is decadent and will satisfy your chocolate cravings!
---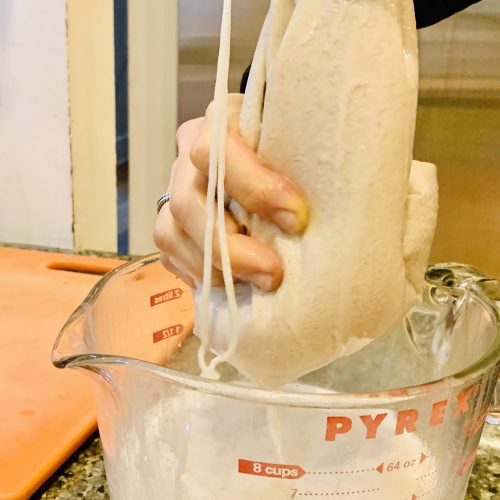 Homemade Almond Cream
Almond cream for use in ice creams, coffee, oatmeal, breakfast bowls, and desserts.
Equipment
Blender

Nut Milk Bag or Mesh Sieve
Ingredients
2

cups

raw almonds soaked in cold water for 10-12 hours

3

cups

water
Instructions
Place 2 cups of raw almonds in a large bowl and cover with cold water. Refrigerate for 10-12 hours.

After soaking is complete, drain the almonds and transfer to a blender.

Add 3 cups of water and blend until smooth.

Pour mixture into a nut milk or strain through a fine mesh sieve or cheesecloth. Squeeze out the liquid. Discard solids or save for another use.

Transfer the liquid to a glass container and store cream in the refrigerator until ready to use.
---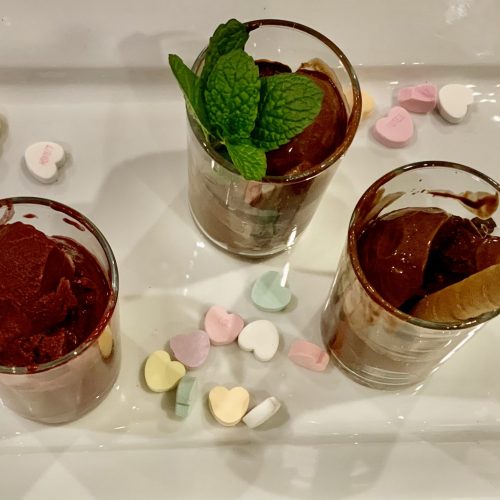 Plant Based No Churn Chocolate Ice Cream
An easy no churn ice cream recipe. Plant based and vegan.
Ingredients
2

cups

Almond Cream

see recipe above

1

cup

water

2/3

cup

sugar

2/3

cup

dark chocolate chips

3/4

cup

cocoa powder

1

pinch

sea salt
Instructions
Add all ingredients to a medium saucepan and heat gently.

Bring the mixture to a low boil and simmer for approximately 1-2 minutes until chocolate has melted.

Allow mixture to cool slightly and transfer to a blender. Blend until smooth.

Add in any additional flavors and blend again.

Transfer mixture to the freezer for at least 8 hours or overnight.
Additional Add In Ideas
Espresso beans, fresh mint, roasted beet, fruit, pretzels, crushed cookies, or marshmallows.
Notes
---
Additional Add In Ideas:
Simply blend in one of these ingredients or your favorite addition. I divided the base recipe into three parts to create chocolate beet, chocolate espresso, and chocolate mint ice cream (as featured in photos).
Roasted Purple Beet: Blend 1/3 cup of roasted beet with 1 cup of Chocolate Ice Cream Base
Espresso beans: Blend 2 tsp of whole espresso beans with 1 cup of Chocolate Ice Cream Base
Fresh Mint: Blend 4-6 mint leaves with 1 cup of Chocolate Ice Cream Base
Crushed Cookies
Salty Pretzels