Maybe it's because I always enjoyed chemistry in school and most wanted to go to to Hogwarts to have a wand and take Potions class; but I always love interesting combinations. (I also love the word amalgamations meaning the process of uniting). I think that is the one reason why I love Community Supported Agriculture boxes so much; new ingredients just waiting to be combined.
This week's recipes are all about trying new combinations in unexpected ways. Attempting new combinations in chemistry lab never worked out in my favor, however, sometimes in the kitchen it definitely does!
I am always searching for ways to make lunch easier. I pack a lunch everyday for my husband and sometimes my daughters. I also like to have a lunch that is already prepared and ready to go for me! Mason jar salads are a great way to prepare several days worth of lunches in advance. Simply layer the ingredients in a jar. When ready to enjoy, you can pour the contents into a bowl or simply shake to mix and eat right out of the jar. (Don't worry it is not like drinking orange juice straight from the container. No penalties for eating out of the jar this time!).
Green Garlic Pesto Ingredients
I like to layer my jar with the pesto or dressing on the bottom, followed by the crunchier items, and finally the more delicate items. In this particular combination, the layers are pesto, watermelon radish, fennel, blanched asparagus, shaved carrots, diced green garlic, fennel fronds, and arugula.
---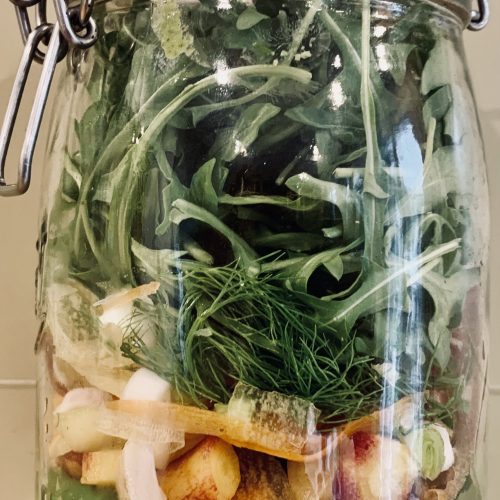 Fennel Pea Pesto with Green Garlic Mason Jar Salad
A vibrant, easy, make ahead lunch feature fresh fennel, peas and green garlic pesto and seasonal vegetables.
Ingredients
Fennel, Pea, Green Garlic Pesto
3/4

cup

frozen peas (thawed)

2

stalks

green garlic chopped

2

cloves

garlic peeled

1

bunch

fresh fennel fronds

1/3

cup

nutritional yeast

2

lemons juiced

salt and pepper to taste

water to thin if desired
Mason Jar Salad Ingredients (yields 1 Salad)
1/2

bulb

fennel roasted or raw

1

stalk

green garlic diced

1/2

cup

carrot spirals*

4

stalks

asparagus (blanched or roasted) chopped

1

watermelon radish thinly sliced

Arugula or lettuce of choice
Instructions
Fennel, Pea, Green Garlic Pesto
Add all ingredients for the pesto into a blender. Process until smooth.

Thin pesto with water to reach desired consistency.
Mason Jar Salad (yields 1 salad)
Assembly
Pour one serving of pesto at the bottom of the jar. Add watermelon radish, fennel bulb, asparagus, carrots, green garlic, extra fennel fronds, lettuce of choice. Seal the jar and simply stir to combine before enjoying.
Notes
*I like to blanch my asparagus in boiling water for 1-2 minutes and then cool with ice and cold water before chopping.
*If I do not have time to thinly slice carrots, I use frozen carrot spirals (thawed) for quick assembly.
*This is my favorite combination for a mason jar salad, but feel free to add your favorite vegetables and substitute for items that you have on hand.