—A Recipe for Minestrone with Farro and a Calabrian Kick
---
Besides cooking and athletics, my other hobby is reading, especially historical topics. I love researching and discovering new places and cultures. When we travel, my family and I always try to avoid the tourist areas and seek out restaurants and activities that attract the local people. While reading about the Calabria region in Italy, I discovered a number of really interesting facts.
Calabria is in the south-west corner of Italy; otherwise known as the "toe" with the rest of Italy being the "boot." As many of you know, most Calabrians like it hot! The region produces peperoncino; the famous spicy chili pepper that I love to use in all kinds of dishes. Calabrian chilis and Calabrian chili oil are two staples that are always stocked in my refrigerator and pantry. Peperoncini are said to ward off the evil eye and are celebrated each year with a special festival. Calabria has also produced licorice for hundreds of years, especially the Amarelli family. It is considered the best the licorice in the world. (I have decided I must travel to Calabria to experience authentic peppers and licorice!)
As usual, I had a selection of root vegetables in the refrigerator that were begging to be tossed into a tasty dish. It has also been unusually cold here in South Carolina, so I was craving soup. Minestrone is a classic soup that often contains tomatoes, carrots, onion, celery, pasta and beans. Here is a spicy version that we made using what I could find in my refrigerator and pantry!
---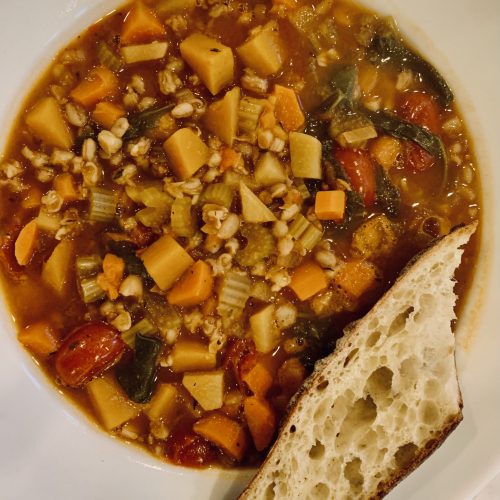 Minestrone with Farro and a Calabrian Kick
Healthy minestrone recipe with winter vegetables, farro, and Calabrian chilies.
Ingredients
2

cups

carrots diced

2

cups

celery diced

1

cup

onion diced

1

cup

rutabaga cubed

2

cups

butternut squash cubed

6

cloves

garlic minced

28

oz.

canned baby roma tomatoes

7

cups

vegetable stock*

1

cup

cannellini beans (pre-cooked or canned)

1/2

cup

dried farro

1/4

cup

white wine (optional)

1

tbsp

dried thyme or 2 fresh sprigs

1-2

bay leaves

1/4-2

tsp

crushed Calabrian chilies*

1/4

cup

nutritional yeast or 1 parmesan rind

1

lemon juiced

2

cups

kale or spinach

salt and pepper to taste
Instructions
Add 1 tbsp of broth to the bottom of stockpot. Cook carrots, celery, onion, rutabaga, butternut squash, and garlic for 8-10 minutes.

Add tomatoes, remaining broth, beans, farro, thyme, bay leaves, parmesan rind and a pinch of salt. I like to smash the beans with the back of a spoon before adding to the pot.

Start by adding only 1/4 tsp of Calabrian chilis and increase according to taste. (Unless you like it hot, I ended up using two heaping teaspoons!) Bring to a low boil and then simmer on low heat for 30 minutes.

Discard bay leaves and stir in wine, lemon juice, and any additional chilis. You may need a bit more broth if soup is too thick. If you are serving multiple people with different levels of spice tolerance, top individual bowls with additional Calabrian chiles.

Add greens at the very end and heat gently until wilted.
Serving Suggestions
Serve with toasted baguette or crackers. The soup reheats well and tastes even better the next day.
Notes
*Homemade vegetable broth really makes this dish shine. See post for the Broth of Everything.
*Calabrian chilies are very spicy. Start with a small amount and add more as needed. I typically use 2-3 heaping teaspoons because we like it hot! If you are serving multiple people with different spice tolerances; top individual bowls with additional chilies.