---
Originating in Brittany, France crepes have been consumed since the 13th century! Historians believe that crepes made their debut after the Crusaders introduced buckwheat flour to France. Sweet crepes are typically made with a wheat flour, while savory crepes contain buckwheat (a non-wheat flour). The word crepe has multiple meanings. The Latin origin for crepe stems from the word crispa, meaning with creases. The French word galette (savory crepes) translates to pebbles in English as early versions of crepes were made on large, fire heated pebbles.
In France there are many traditions involving crepes. My favorite involved flipping the crepe out of the frying pan into the air with your right hand while holding a gold coin in your left hand. Catching the crepe would then result in a financial windfall. While, we did flip the crepes into the air, we alas did not grasp a gold coin in our left hands. However, my family and I did enjoy a wonderful breakfast.
Plant-based crepes are very simple to make. The batter requires just three ingredients; non-dairy milk, flour, and ground flax seed. The batter is easily made in 5 minutes and the crepes cook in less than 10 minutes! This is our favorite way to make a sweet, savory crepe combination. In this recipe, I use pine nut milk. It is simple to make and adds a wonderfully subtle, pine nut flavor without over-powering the dish. My recipe also calls for homemade date syrup. If you don't have time to make pine nut milk or homemade date syrup, simply substitute your milk of choice and purchase the date syrup!
When I make date syrup at home, the best recipe I have tried is from Lazy Cat Kitchen and can be found here.
---
---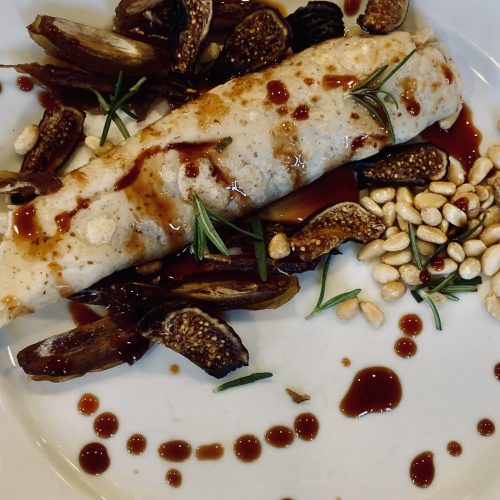 Pine Nut Crepes topped with Figs, Dates, Toasted Pine Nuts, Rosemary and Date Syrup
A beautiful combination of sweet and slightly savory. Healthy, plant-based crepes.
Ingredients
1

cup

pine nuts

2

cups

water

2

cups

flour

2

tbsp

ground flax seed

6

tbsp

hot water

grapeseed or other neutral oil for cooking crepes
Toppings
date syrup

1/2

cup

chopped dried dates and figs

2

tbsp

fresh chopped rosemary

1/4

cup

toasted pine nuts
Instructions
Pine Nut Milk
Place 1 cup of pine nuts in a large measuring cup.

Add enough water to completely cover the nuts and soak for 3 hours.

After soaking, drain pine nuts.

Transfer pine nuts to a high speed blender and add 2 cups of water.

Blend on high speed until smooth.

Pour the blended mixture into a nut milk bag and squeeze out liquid.

Save solids for another use or discard, and transfer the milk to the refrigerator until ready to use. NOTE: the milk can be made a day or two in advance.
Pine Nut Crepe Batter
Mix the ground flax seed and hot water in a measuring cup and let rest 5 minutes.

Mix flour, 2 cups of pine nut milk, and flax mixture together.

The batter should be thin and without lumps. Add 1/3-1/2 cup of water or additional milk to thin the batter.

Heat 1/2 tsp of grapeseed oil over low heat in the bottom of a crepe pan or a shallow frying pan.

Ladle 1/4 cup of batter into the pan. Cook until the top is bubbly. Gently flip and cook until light golden brown.

Remove the crepe from heat and gently roll. Top with date syrup, rosemary, toasted pine nuts, and chopped figs and dates.
Toasted Pine Nuts
Heat oven to 350 degrees F.

Place 1/4 cup of pine nuts on a baking sheet.

Cook for 5 minutes being careful not to burn pine nuts. They should be a golden brown color when toasted.