Did you know that basil is considered one of the seven lucky plants for 2021 according to Feng Shui? I wondered if combining a lucky plant like basil, with the leaves of the lucky fava bean if you could double your luck….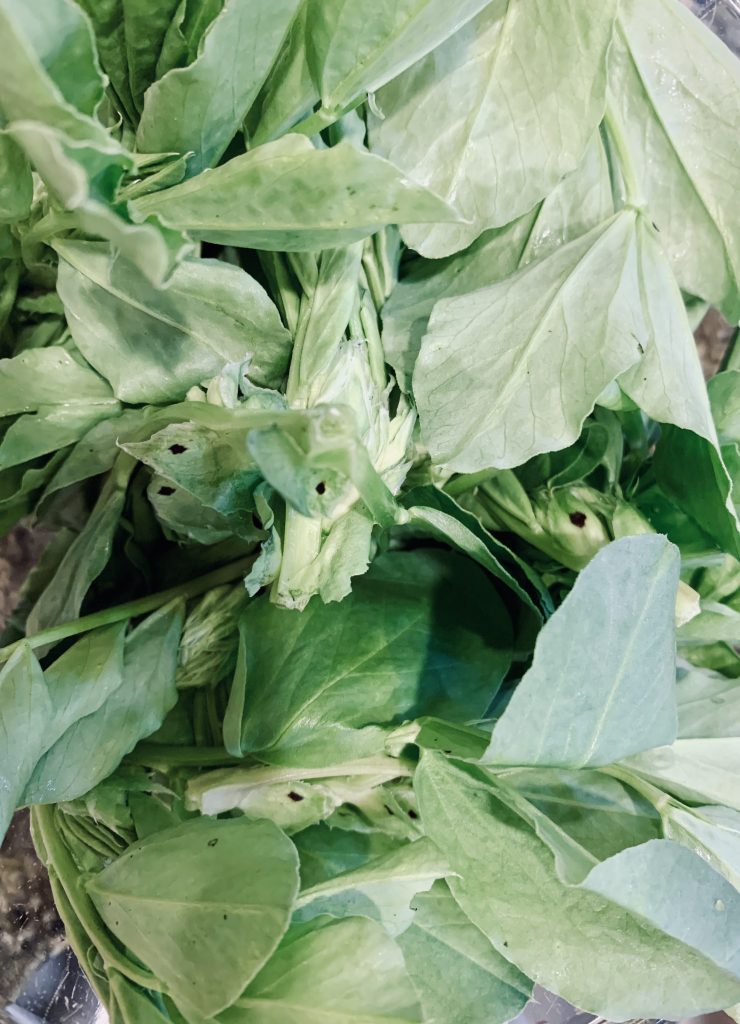 I decided to give doubling my luck a try when I received these beautiful, tender fava greens in my latest CSA box from Spade and Clover gardens. I never knew that you could eat the tops of the fava bean plant. The greens have a wonderful earthy and butter like taste. I found that adding garlic, lemon juice, and hazelnuts made a wonderful pesto combination. For this particular meal I served the pesto tossed with pearled couscous and spring vegetables. Choosing sweeter spring vegetables, like peas and carrots, added balance to the dish. Fava greens pesto is also delicious as an appetizer served on toasted bread with a drizzle of olive oil.
Definitely pick up some fava greens if you happen upon them at your local farmer's market or grocery store!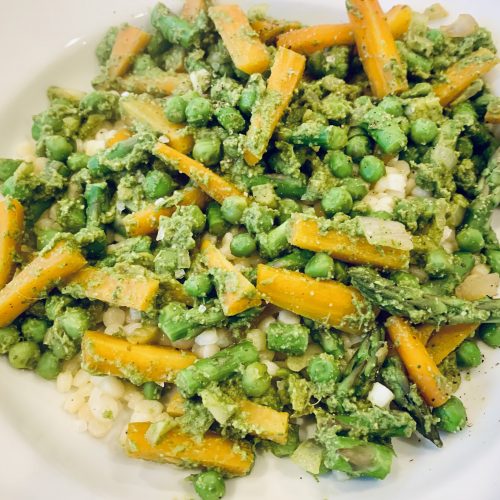 Fresh Fava Greens Pesto with Garlic and Hazelnuts
A sweet, earthy, flavorful, oil-free pesto featuring fava greens, basil, garlic, and hazelnuts. Perfect for topping couscous, pasta, grains, or as an appetizer for toasted baguette, crackers, and vegetables.
Ingredients
8

cups

fresh fava leaves

1

cup

basil leaves

6

cloves

garlic

2

lemons juiced

1/3

cup

nutritional yeast

1/4

cup

hazelnuts

1/3

cup

water

salt and pepper to taste
Vegetables and Couscous
1 3/4

cups

pearled or Israeli couscous

3

cups

carrots chopped

1 1/2

cups

fresh or thawed petite spring peas

1

minced

3

cloves

garlic minced

1

bunch

asparagus trimmed and chopped
Instructions
Blend all ingredients together.

Taste and adjust seasonings.

Pesto will be thick and can be thinned with cooking liquid from pasta. If serving as an appetizer thin with additional water until you reach desired consistency.
Couscous and Vegetables
Cook couscous according to the package. Reserve some of the cooking liquid to thin pesto if needed.

Drain couscous and toss with pesto. If pesto is too thick, thin with olive oil or cooking liquid until you reach desired consistency.

Heat 1 tbsp of olive oil or broth in a large pan over medium heat.

Cook garlic and shallots with a pinch of salt and pepper until fragrant (about 2 minutes).

Add carrots and cook 2 minutes.

Add asparagus and peas and cook another 2 minutes. The vegetables should be tender but still maintain a bit of crunch.

Add vegetable mixture to the couscous and pesto and stir. Divide into six servings.

Drizzle with olive oil or top with nuts if desired before serving.