A Bit of History:
Risotto a creamy Italian dish is made from short grain arborrio rice, broth or wine, and vegetables. Risotto dishes often contain butter or olive oil and spices, especially saffron, or fresh herbs. However, I like to make risotto with a bit of crunch to it like my recipe for Green Garlic Risotto Crackers.
Rice made its journey to Italy during the Arab conquest of parts of Spain and Europe and has been cultivated there since the 1300s. An interesting legend exists about the origins of risotto that is too good not to share. An apprentice glassblower was working on the stained glass windows for the Duomo in Milano. Many people scoffed at his use of saffron as a coloring agent, often stating that the artwork was only beautiful due to the coloring agent. Fed up with being made fun of by the townspeople, he plotted his revenge. At the wedding reception of the master glassblower, the apprentice added an obscene amount of saffron to the rice, hoping to ruin the feast. His plan backfired, the dish was a huge hit, and chefs have been adding saffron to risotto dishes ever since.
About the Recipe: Green Garlic Risotto Crackers
This is a great recipe to make for an easy appetizer or a light dinner that is very versatile. Risotto crackers can be dipped into any of your favorite sauces such as marinara, sun-dried tomato, vodka sauce, pesto. It also makes a great accompaniment to soups. Arborrio rice cooks in 18 minutes and you simply stir the cooked rice with minced garlic, nutritional yeast, panko and seasonings. I like to use fresh green garlic which looks a lot like a green onion and is a bit milder than regular garlic. Then simply shape the rice into cracker sized circles and toss in the air fryer or oven until crispy. This is a recipe the whole family will enjoy! It is a weeknight staple in my house. For this particular post, I served this with my creamy roasted tomato eggplant soup.
---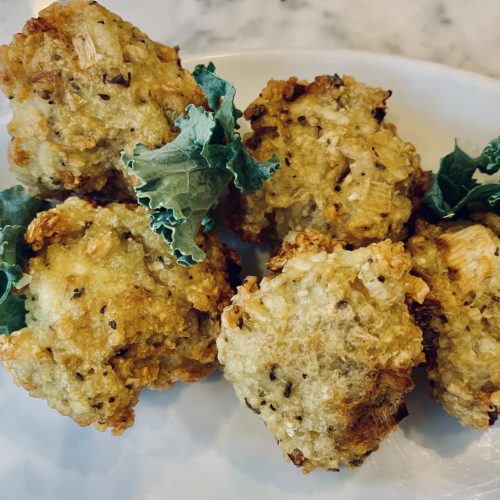 Green Garlic Risotto Crackers
Crispy, air-fried, risotto crackers with nutritional yeast, panko, elephant garlic and herbs. Perfect for soups or dipping into your favorite marinara or pesto sauce. Serve as a main meal or appetizer. Healthy, plant-based, vegan option.
Ingredients
2

cups

arborrio rice

1/2

cup

nutritional yeast

1

cup

panko

1

tbsp

salt divided

2

stalks

green garlic minced*

2

tsp

oregano

2

tsp

basil

red pepper flakes (optional)

1

pinch

saffron
Instructions
Add rice to a large pot and fill with water.

Add 1 1/2 tsp of salt and saffron. Bring water to a boil.

Simmer rice for 18 minutes and then drain.

Allow rice to cool slightly.

In a separate bowl combine nutritional yeast, panko, remaining salt, garlic, and herbs (either fresh or dried).

Add cooked rice to the panko mixture and stir well.

Use a small ice cream scooper, melon baller, or spoon to make small rounded crackers. Flatten slightly with the palm of your hand.
Air Fryer Cooking Instructions
Add crackers in a single layer to the air fryer and cook until golden brown.
Oven Cooking Instructions
Bake at 400 degrees F for 20 minutes. Flip crackers and bake an additional 15-20 minutes until crispy and golden brown.
Notes
*note substitute minced garlic cloves if unable to find green or elephant garlic