–A Recipe for Creamy Tomato Bisque
---
One thing I struggle with when meal planning is finding one entree that the entire house will eat and enjoy that is not pizza! Lately, in South Carolina it has been cold. Yes, I have adapted over the years to the southern climate. Anything below 60 degrees and you will find me wearing gloves! I relish and wish for these temperatures during the summer heat and humidity because I look forward to making dozens of different soups. My family will tell you I could eat soup breakfast, lunch and dinner all winter!
A soup that we all enjoy is tomato bisque especially with oyster crackers, grissini, or toasted baguette sandwiches. However, I wanted to make a healthy soup that was not loaded with cream, coconut milk, or tofu. I tend to avoid coconut products (especially coconut oil and milk) and do not love tofu. I also wanted my kids to consume some additional vegetables besides the obvious tomato. And then inspiration struck…
A while back, I made a dish from one of my favorite websites Running on Real Food by Deryn. It was a wild rice soup and cauliflower soup that is partially pureed with a creamy texture that is absolutely fabulous (https://runningonrealfood.com/creamy-cauliflower-wild-rice-soup.)
I wondered if I could try something similar with tomatoes. I experimented a few times both with wild rice and orzo. Hands down my family and I loved the orzo version best. The most wonderful part – a meal that we could all enjoy and the kids had no idea they were eating cauliflower, parsnips, carrots, celery, onion, tomatoes and garlic all in one bowl.
Below is the recipe for the version that we liked the best inspired by Deryn from Running on Real Food (https://runningonrealfood.com/)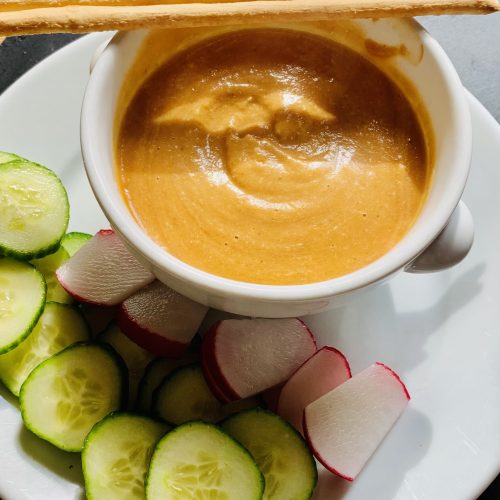 Cashew Cream
Ingredients
1/2

cup

raw cashews

1/3 to 1/2

cup

water

pinch

salt to taste

1

lemon juiced

optional
Instructions
Soak raw cashews in hot water for 2 hours.

Drain cashews and transfer to a high speed blender.

Add 1/3 cup of water, pinch of salt, and lemon juice if using.

Blend until smooth and creamy. If too thick add additional water and blend again.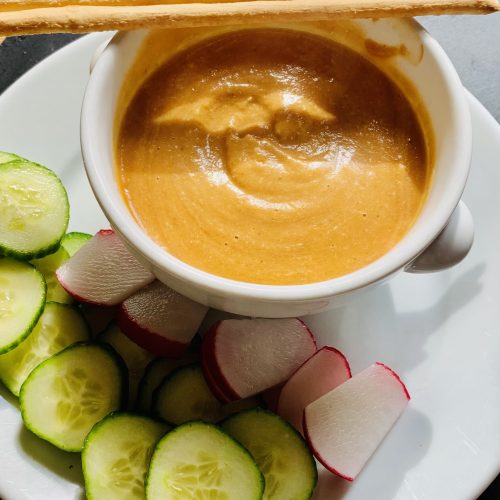 Creamy Tomato Bisque
A Creamy Plant-Based Healthy Tomato Bisque
Ingredients
6

cloves

garlic peeled and roughly chopped

1

cup

yellow or white onion roughly chopped

3

cups

cauliflower florets

2

cups

carrots roughly chopped

2

cups

celery roughly chopped

1

parsnip roughly chopped

1

28 oz.

can of San Marzano tomatoes

1/3

cup

dried orzo

1/3

cup

nutritional yeast

3

cups

vegetable stock

2

tsp

thyme

2

tsp

basil

2

tsp

oregano

pinch

salt to taste

pinch

black pepper to taste

pinch

red chili flakes to taste
Instructions
Add garlic, onion, cauliflower, carrots, celery, and parsnips to a large stock pot with 2 tablespoons of vegetable broth or a drizzle of olive oil and cook on medium heat for about 8 minutes.

Add tomatoes, broth, and nutritional yeast and bring to a boil.

Add orzo. Reduce heat to very low and simmer for about 20 minutes until vegetables are tender and orzo has expanded.

Remove from heat and let cool for a few minutes.

Blend the soup in a high speed blender or use an immersion blender working in batches.

Return the soup to the pot and season to taste.
Serving suggestions
Serve soup with a dollop of cashew cream, crackers, grissini, or toasted baguette.