Did you know that the name Portabella is believed to be a marketing scheme? These mushrooms were once so unpopular due to their gargantuan size and unappealing color that they were almost unsellable. In the 1980s, the ugly shrooms were given the name Portabella and marketed as an alternative to meat burgers. I guess it worked, because 40 years later we are still grilling them! The mushrooms themselves have been grown since antiquity and are native to Italy.
Sun-dried tomatoes have also been around for a very long time. Some historians believe that the Aztecs first started preserving tomatoes by salting and drying in the sun in the year 700 AD. The Italians were also known to dry these tasty treats on their rooftops. And just about the time of the mushroom comeback, sun-dried tomato consumption skyrocketed in the 1980s and 1990s. In the spirit of history, I thought these would make a fun and tasty combination.
---
As a kid, burgers at my house were always grilled and served with ketchup, mustard, and some type of fries. This is my elevated, plant-based, healthier version of a childhood favorite. The sun-dried tomato spread in lieu of ketchup adds a more intense umami to complement the mushroom. Simple roasted baby potatoes (either in the air-fryer or oven) are then tossed with French whole grain mustard and served along side. I chose to serve these burgers on whole grain sprouted bread. A great, easy, weeknight dinner!
---
This dinner comes together in a snap. The first step is to marinate the mushrooms in 2 tbsp of soy sauce and 2 tbsp of balsamic vinegar for about 20-30 minutes. I like to prepare the sun-dried tomato spread while the mushrooms marinate. It takes less than 10 minutes!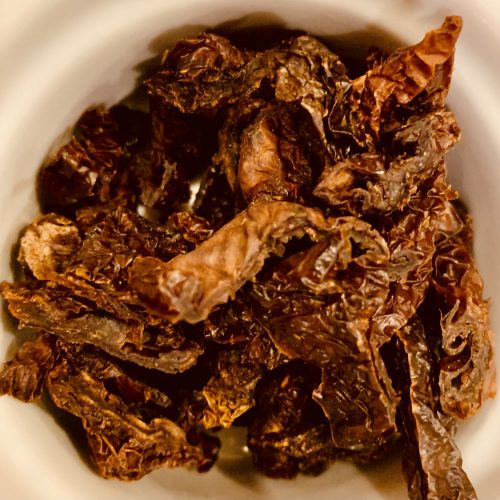 Sun-Dried Tomato Miso Spread
An intensely flavorful spread for burgers, sandwiches, or vegetables.
Ingredients
1

cup

sun dried tomatoes (not in oil)

4

cloves

garlic

1/4

cup

nutritional yeast

1

lemon juiced

2

tsp

miso paste (I use two heaping teaspoons of red miso paste)

1-3

tsp

Calabrian chili peppers to taste (or substitute a pinch of red pepper flakes)
Instructions
Measure the sun dried tomatoes into a glass 2 cup sized measuring containter. Add hot water until the tomatoes are just covered. Soak 5 minutes.

Do not drain the tomatoes. Pour water and tomatoes into the blender.

Add remaining ingredients. Always start with the lowest end of Calabrian chilis or red pepper flakes and adjust seasoning at the end.

Blend until smooth. Taste and adjust seasoning if necessary. If spread is too thick add a bit more hot water or lemon juice.

Store in refrigerator until ready to use.
Next, I like to quarter the baby potatoes and toss with a bit of olive oil and sea salt. I usually roast these in the air fryer because it is faster, but a conventional oven will work great. (If you have time, quarter the potatoes earlier in the day and soak in cold water in the refrigerator. Before cooking, drain and pat them dry. Toss with olive oil and then cook. This results in crispier potatoes). After cooking, toss with a few tablespoons of French mustard before serving.
We usually grill the portobello mushrooms, but you can also roast them in oven. Assembly of your perfect sandwich is the last step and the most fun! In the pictures, this sandwich is served with sun-dried tomato miso spread, crisp cucumber strips, and baby bell peppers on whole grain sprouted bread. Get creative and top your burger with your favorite veggies and serve with potatoes.