While I was researching facts for this post, I stumbled across a story about the rediscovery of an ancient grain that is probably the stuff of legend, but still a great tale. Khorasan wheat, or available commercially as Kamut, is an ancient wheat, originating in the Fertile Crescent, that is over two times the size of conventional wheat. It has a nutty, butter like flavor. I also find that it is not as chewy as farro or wheat berries. The tale involves a World War II United States airman who claims to have grabbed some grains from an ancient stone box located in an Egyptian tomb. The soldier gave a friend the grains who in turned mailed them to his father, who was a farmer. The farmer planted and harvested the grains and debuted them at a town fair as "King Tut's Wheat." Even with a catchy name, the grain plummeted into obscurity until the late 1970s. The Quinn family nursed and cultivated the grain until it was finally recognized by the USDA as a protected wheat variety and the trademark Kamut was born.
I always love a good story and here is another one. A few days ago I bought 10 lb of sugar snap peas. Yep, 10 lb! It was remarkably like the time I ordered the whole page of items in a catalog believing it would fit in my tiny Boston apartment. I had no conception of what 10 lb of peas actually looked like. Thankfully, my mom and mother-in-law took some. Below is what 7 lb of sugar snap peas look like! I do not like to waste food, so I fired up the stove and began blanching peas.
In addition, to the beautiful snap peas from Rosebank Farms and Grow Food Carolina, I had a sizable hunk of galangal root from my CSA box. Galangal is often confused with ginger because they look very similar. However, the taste is not quite as strong. I find it to have more citrus and earthy undertones. I love using it for salad dressings and stir fry. It was going to be the perfect addition to a lemon dressing to complement the peas and asparagus I had on hand. I often add miso and mustard to salad dressings to enhance creaminess without adding a ton of fat.
This recipe comes together quickly and is simple to prepare. I cooked the Kamut from Bob's Red Mill as per the package instructions by soaking the grains overnight and then cooking them the next evening. Kamut can be cooked on the stovetop or in an multi-function pot. While the Kamut is cooking, quickly blanch* the peas and asparagus and slice the raw cherry tomatoes in half. Toss the vegetables with your favorite salad greens and the Lemon Miso Galangal Vinaigrette and serve over cooked grains. If you don't have Kamut, this dressing also pairs well with farro or wild rice.
*Blanching peas and asparagus: Trim asparagus and cut into 1 inch pieces. Remove strings and ends from snap peas. Bring a medium pot of salted water to a boil. Boil the vegetables for 90 seconds. Drain and transfer to a bowl of ice water. Soak in ice water for 2 minutes. Drain and they are ready to eat!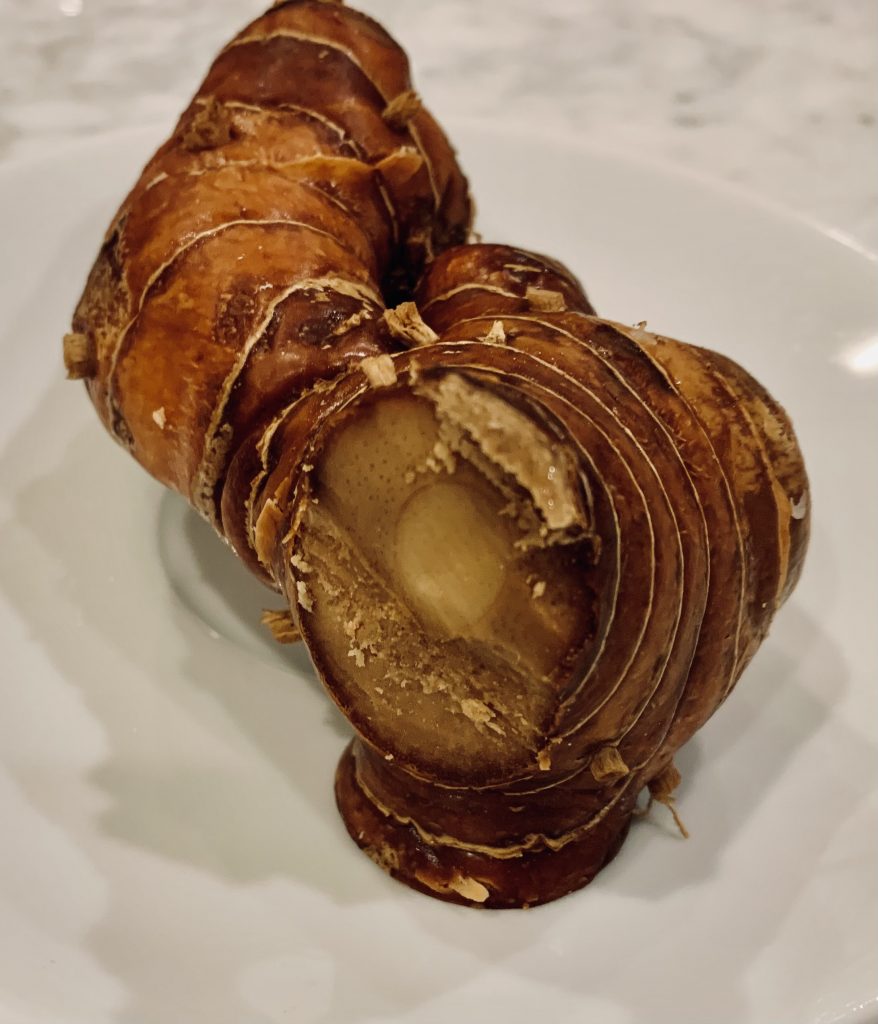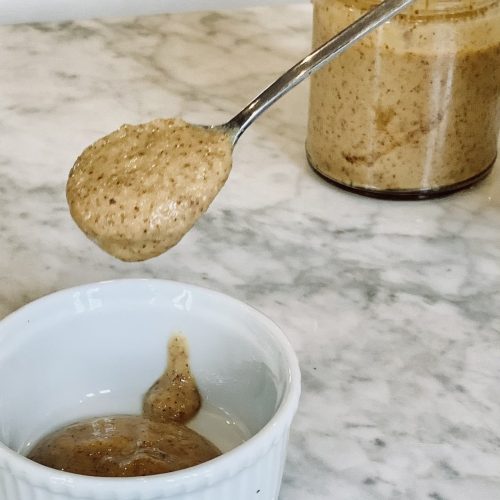 Lemon Miso Galangal (Ginger) Mustard Vinaigrette
A tangy vinaigrette that is the perfect topping for salads, whole grains, or just for dipping veggies. Easy, fast, and healthy.
Ingredients
8

cloves

garlic peeled

1

tbsp

dijon mustard

4

tsp

miso paste

2

lemons juiced

1-2

inches

peeled galangal root*

1

tsp

honey or maple syrup if vegan

pinch

red pepper flakes to taste
Instructions
Blend all ingredients together. Taste and adjust seasonings.
Notes
* Galangal looks similar to ginger but has a citrus, earthy flavor. If you substitute ginger start with a smaller amount and add more to taste.