---
I have been reminiscing about Boston lately. My husband and I lived in Brookline, MA for about 8 years before our daughters were born. I love the city and one of my favorite haunts is the North End. On my days off, I would meander the several miles between our condo and the North End, often stopping to shop at the farmers market. Once in the North End, I would stroll along Salem and Hanover streets, pausing to purchase spices and Italian groceries. I would save my final stop for Mike's Pastry Shop and bring home a little box of biscotti, cannoli, and pistachio cookies. I also made sure to to stop at Mike's on my way to the airport before flying to Chicago to visit my parents. I seriously wonder if my dad would have given me a ride home from the airport if I wasn't carrying the signature blue and white paper box tied with string. He couldn't wait to tear it open. Once, at O'Hare airport someone offered me $20 for whatever was in the Mike's box, I refused knowing my dad would have been so upset if I sold his goodies.
A trip down memory lane about the North End would not be complete without cannoli – especially a version inspired by Mike's chocolate dipped cannoli. Really, what could be more decadent than dipping the whole cannoli shell in chocolate and stuffing it with cream. I knew I wanted to make a dairy free version of the cream. While I did not make my own cannoli shells this time around, the mini cannoli shells I ordered on Amazon were delicious!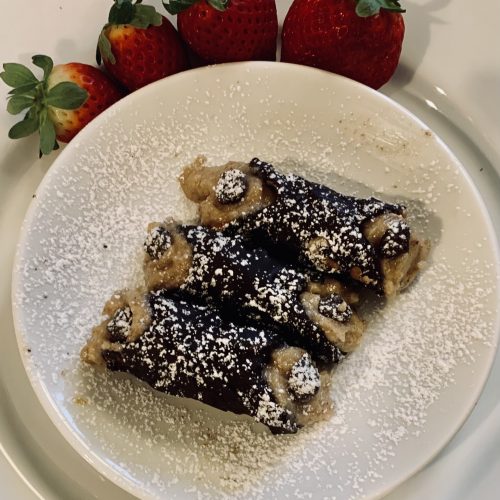 Chocolate Dipped Almond Ricotta Cannoli
Mini Cannoli Shells stuffed with Almond Ricotta Cream and dipped in chocolate
Ingredients
2

cups

raw almonds

2/3

cup

powdered sugar

more to taste if desired

1

tsp

vanilla bean paste

2-3

tbsp

almond milk

if needed to thin ricotta cream

2

cups

72% chocolate chips

12

mini cannoli shells
Powdered sugar, sea salt, fresh fruit, and additional chocolate for serving if desired.
Instructions
Place almonds in a large measuring cup and soak in hot water for 3 hours.

Drain almonds and place in a high speed blender with 1/3 cup of powdered sugar and vanilla.

Blend until smooth and taste. Add additional sugar if desired and non-dairy milk if the ricotta cream is too thick. Blend again.

Store the almond ricotta in the refrigerator until ready to use.

Place the chocolate chips in a double boiler or a microwave safe bowl and melt. Add sea salt to melted chocolate if desired.

While the chocolate is melting, stuff each cannoli shell with ricotta cream and place a plate lined with wax paper.

Brush each stuffed cannoli with melted chocolate and place on wax paper.

Refrigerate dipped cannoli until chocolate has hardened.
Serving suggestions: sprinkle with powdered sugar and garnish with fresh fruit and additional chocolate.