---
Food is such a beautiful expression of memories and for me the aroma of dill and lemon evoke thoughts of my home, family gatherings at the Parthenon restaurant for avgolemono soup, and comfort. This soup draws its flavor from celery, carrots, onion, and garlic and a secret twist: a little bit of diced turnip. I love the spiciness and the earthy bite of turnips in this preparation. Nutritional yeast, miso paste and soy sauce add a depth of flavor and are a common way vegan chefs mimic an egg-lemon avgolemono. Tossing in some dried or fresh dill, lemon juice and zest, red pepper chili flakes creates liquid gold. Below is how I like to combine some of my favorite vegetables and grains for a quick, healthy meal.
Once per week, my daughters have a half day of school. On these days, I need a quick lunch that I can consume on the go. I simply prepare this soup, scoop some into my Yeti mug and sip away. It is perfect for those long carpool lines!
---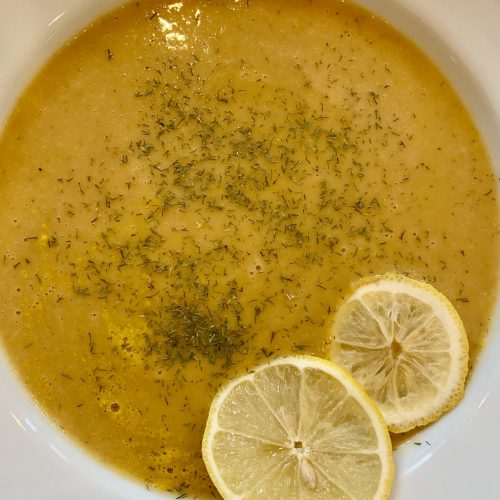 Creamy Lemon Soup with Dill and Barley
A perfect comfort soup! Plant-based, healthy, and decadent tasting.
Ingredients
1/2

onion roughly chopped

2

cups

carrots roughly chopped

2

cups

celery roughly chopped

6

cloves

garlic roughly chopped

1/2

cup

turnip roughly chopped

1-2

tbsp

dried dill

1

tbsp

soy sauce or tamari

2

tsp

red miso paste

1/4

cup

nutritional yeast

1/3

cup

dried pearled barley

1 1/2

tsp

tahini

1

lemon juiced and zested

4

cups

low sodium vegetable broth

2-3

cups

hot water

optional

red pepper flakes, black pepper, parmesan rind
Instructions
Add 2 tbsp of vegetable broth to a stockpot and heat over medium. Add onion, garlic, carrots, celery, turnip, and dill. Cook 8 minutes.

While the vegetables are cooking, add soy sauce, miso paste, tahini, and nutritional yeast to a bowl. Pour two cups of hot water into the bowl and whisk to combine.

Add the soy sauce mixture to the stockpot after the 8 minutes have elapsed.

Add barley, broth, lemon juice and zest and stir to combine.

Simmer very gently for 20-30 minutes until barley is cooked and vegetables soft. Stir occasionally.

Remove from heat and allow to cool slightly.

Transfer to a high speed blender or use an immersion blender. Blend soup until smooth.

Return soup to the pot and adjust seasonings if necessary.

If soup is too thick add hot water or more broth.