In the spirit of May 4th, happy Star Wars Day! On this day, Star Wars fans tend to celebrate a grassroots holiday with the phrase May the Fourth Be With You. The phrase was first issued publicly on May 4th, 1979 in an article published by the London Evening News. The article celebrated Margaret Thatcher's election as prime minister and wished her "May the Fourth Be With You, Maggie".
What better way to celebrate a holiday than with pie. I am not even sure how many Star Wars movies there are currently, but there are definitely more pie combinations. Although, my kids like to remind me I am as old as the first Star Wars! Thankfully, I am not as old as pie.
Historians believe that pies may have their origins in ancient Greece. Originally, pies were filled with savory items especially meats. In the Middle Ages and Renaissance times, presentation was everything. Pies were often presented with a hole at the bottom, in which live birds were stuffed just before serving. When the pie was opened, the live birds flew out to the guests' delight and amazement (Food in History by Reay Tannahaill). Fruit pies may have made their entrance in the 1500s during the reign of Elizabeth I and were first introduced to North American via the colonists.
I was nearly 100% sure my kids would be horrified by live birds flying out of a pie, so I went with the safer fruit route for this pie. As April rolls around in SC, we love to go strawberry picking. There are many local farms nearby which host upick events. It is so fun and we come home with loads of strawberries that are promptly eaten, made into jam, or pies! This particular batch was from Hickory Bluff Berry Farm.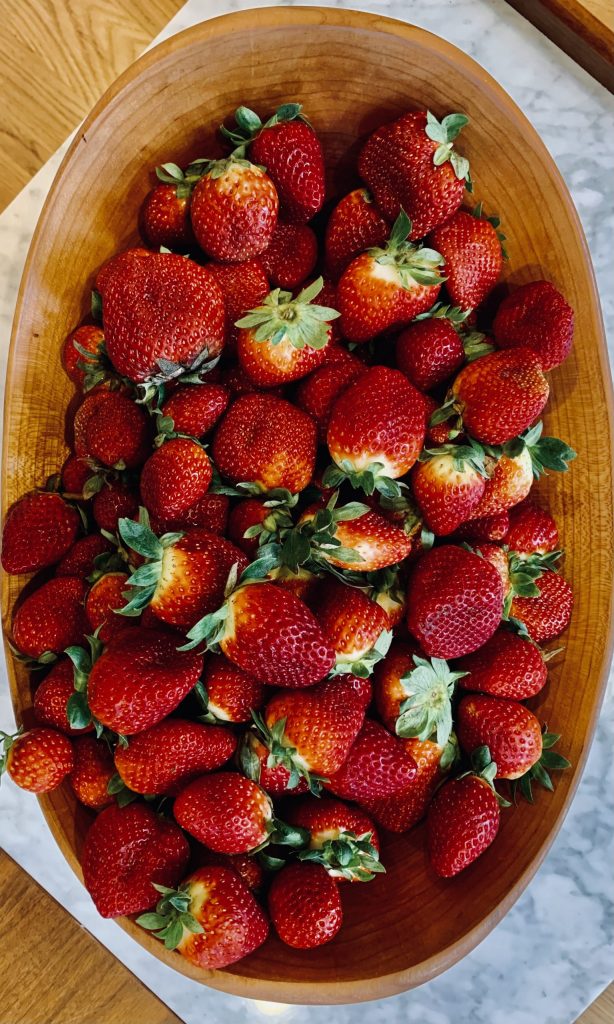 This recipe was originally inspired by Nora Cook's (https://www.noracooks.com/vegan-strawberry-pie/) and has evolved into my family's favorite pie combination. Really, what could be better than graham crackers, vanilla ice cream, and freshly picked strawberries? This recipe is super easy and fun to make with kids. It can easily be made vegan by using non-dairy ice cream and vegan graham crackers.
---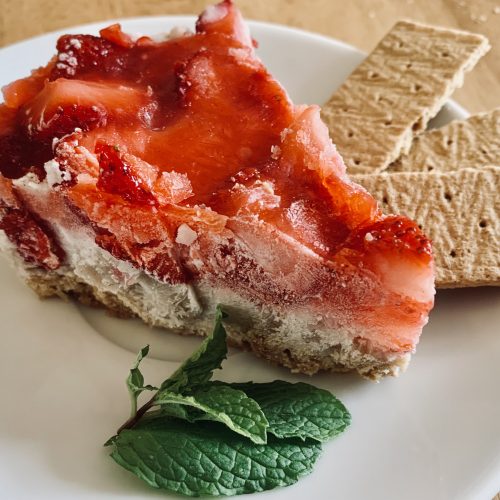 Strawberry Vanilla Ice Cream Pie with Graham Cracker Crust
A delightful spring dessert featuring fresh strawberries, vanilla ice cream, graham cracker crust. Easy and kid friendly. It can easily be made plant-based by using non-dairy ice cream.
Ingredients
Graham Cracker Pie Crust
14

sheets

graham crackers (use vegan graham crackers if desired)

6

tbsp

olive oil
Pie Filling
1

quart

vanilla ice cream (use non-dairy if desired)

4

cups

fresh strawberries quartered

2/3

cup

sugar

1

cup

water

3

tbsp

corn starch

1

lemon juiced
Instructions
Graham Cracker Crust
Crush graham crackers in a mixing bowl. (I like to use my stand mixer).

Add olive oil and continue to crush or mix with stand mixer until graham crackers are broken into small pieces.

Firmly press the graham cracker mixture into the bottom of a deep dish pie pan or use a rectangular glass baking dish.

Bake in the oven at 350 degrees F for 5-10 minutes or until graham crackers are golden brown.

Remove from oven and cool to room temperature. Then transfer to freezer for 1 hour.
Ice Cream Layer
After the graham cracker crust is frozen, spread a layer of vanilla ice cream on top. Reserve some ice cream for serving.

Return pie to the freezer while you prepare the strawberry filling.
Pie Filling
Prepare strawberries and set 1 cup of quartered strawberries aside.

Add the remaining 3 cups to a small saucepan with sugar, water, corn starch and lemon juice.

Bring to a very low boil and simmer for about 2 minutes until thickened.

Remove from heat and cool in the refrigerator.

Add the reserved 2 cups of strawberries on top of the vanilla ice cream layer. Then pour the contents of the saucepan over the pie. Return pie to the freezer until everything sets!

Enjoy! We like to serve our pie with fresh mint, additional graham crackers, strawberries or ice cream.
This dessert recipe embodies the light side of the force. Hang tight for the Dark Side..coming to you this weekend!