As most of us know, chowders or chowdah in New England, is a rich, creamy soup usually featuring seafood. A few weeks ago, my husband was craving tortilla soup. I was tired of all my old standby tortilla soup recipes and wanted to try something different. (I also needed to continue to use up my 7 lb of fresh sugar snap peas!). I remembered having sopa de elota from the Moosewood Cafe and used that as my inspiration for this particular combination. Using a variety of vegetables including mild poblano peppers, hot jalopeno peppers, freshly roasted corn on the cob, sugar snap peas, cilantro, spring onion, and cauliflower to add a creamy rich texture this soup comes together quickly and tastes amazing!
The kids love it when I research a new post and share some interesting facts with them at car pool. Poblano peppers are native to Mexico and the red variety is much hotter compared to the green. When they are dried, they are labeled and sold as ancho chili peppers. The name Poblano pepper stems from the Spanish word for wide (ancho). I also needed to look up a few fun facts about corn or maize, which was first cultivated in Mexico over 9,000 years ago. I discovered that corn always has an even number of rows on each cob and it is grown on every continent except Antartica. There are also over 3500 different uses for corn products. I truly wonder if playing hide and seek in the corn fields where I grew up is on this list.
Historical and trivia facts aside, this recipe is a great meal for a spring or summer day, because the soup does not need to be served at a high temperature. It tastes the best gently warmed. Served with tortilla strips and some fresh guacamole or a simple salad and dinner is done! The chowder reheats well the next day and tastes fabulous. The chowder is not very spicy and my kids loved it. Simply add red pepper flakes or sliced jalopenos as a topping for additional heat.
They will be lining up for leftovers!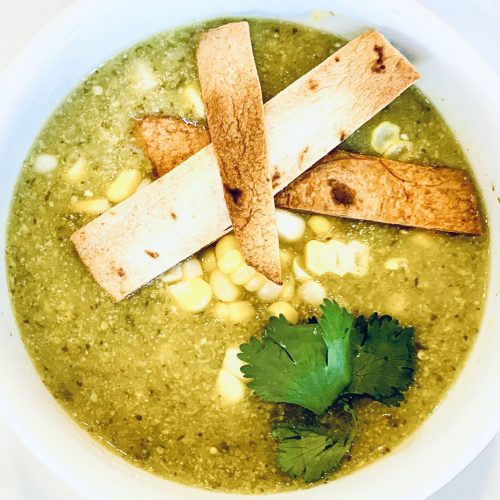 Roasted Poblano Pepper, Tomatillo and Corn Chowder
An easy, healthy, delicious spring/summer soup recipe featuring roasted poblano peppers, tomatillos, sweet corn on the cob and spring vegetables.
Ingredients
1

poblano pepper (seeds removed and sliced in half lengthwise)

3

ears

corn on the cob (cleaned and wrapped in foil)

2

cups

cauliflower roughly chopped

1

jalopeno pepper (seeds removed and sliced in half lengthwise)

8

tomatillos (wrappers removed and sliced in half)

1

cup

onion roughly chopped

3/4

cup

peas (either fresh or frozen)

4

cloves

garlic

4

cups

low sodium vegetable broth

1

cup

fresh cilantro

salt and pepper to taste
Instructions
Heat oven to 400 degrees. Place the poblano pepper and corn on a baking tray and roast in oven.

Remove poblano pepper after 20 minutes or until skin is blackened. Leave corn in the oven until it has roasted for a total of 45 minutes.

Once cool enough to handle remove as much skin as possible from the poblano pepper. Don't worry if you cannot get it all.

After corn has roasted, cut kernels from from the cob and set aside.

Heat 2 tbsp of broth in the bottom of a large pot. Add the onion, cauliflower, garlic and jalopeno and a pinch of salt. Cook 8 minutes.

Add tomatillos and a bit more broth if needed and cook an additional 8 minutes.

Add peas, remaining broth, poblano pepper, and 2/3 of the corn.

Bring to a simmer and cook for 10 minutes.

Transfer soup to a blender and add the cilantro. Pulse until you reach desired consistency.

Taste and add salt and pepper if needed.

Return soup to the pot and keep warm but do not simmer.
Serving Suggestions
Serve topped with lime wedges, tortilla chips, avocado slices, and additional cilantro. Soup reheats well the next day.