I love making pesto because it is so versatile. Pesto can be made with any herb, nut, or green leafy thing you can think of. The variations don't stop there either; pesto can be served on just about anything. Think bread, vegetables, pasta, grains, or even as a marinade. Working with a basic recipe and having the flexibility to experiment are right up my alley! I have had some epic pesto failures along the way, but every now and then I stumble across a combination that turns out to be a big deal or in this case a big dill in my house.
It turns out pesto was kind of big deal in ancient times too. Ancient Romans enjoyed a pesto like paste called moretum consisting of salt, garlic, cheese, herbs, and olive oil. Pesto's popularity took hold in Genoa, Italy. In the Middle Ages, pesto in Genoa was composed of garlic and walnuts and in the mid 19th century basil became the main ingredient. Even the name pesto stems from the Italian word pestare meaning to crush or pound. Although pesto is traditionally made using a mortar and pestle, I really like to use my blender. It is much easier and faster!
A dill mint pistachio pesto with fresh lemon juice and nutritional yeast was the ultimate topping for a combination of beautiful spring vegetables. As you probably know, I love farmer's markets and CSA (Community Supported Agriculture) programs. I currently belong to three CSA programs, which means I get a lovely box three times a week stuffed with gorgeous locally grown vegetables. This week I had a lot of my favorite vegetables on hand and wanted to eat them all at once. Pesto is the answer my friend! This recipe complements a beautiful array of spring vegetables and comes together in a snap. Feel free to use whatever vegetables are your favorites!
---
Left: fennel (Kindlewood Farms), baby carrots and pea tendrils (Spade & Clover)
Right: The finished dish Dill Mint Pistachio Pesto with roasted asparagus (Legare Farms), baby golden beets, baby carrots, cauliflower, raw fennel, and pea shoot.
---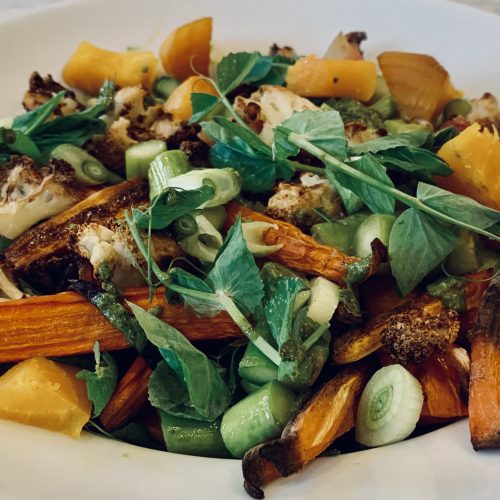 Dill Mint Pistachio Pesto with a Medley of Spring Vegetables
A vibrant vegetable bowl with healthy dill mint pistachio pesto tossed with fennel, asparagus, cauliflower, baby beets, baby carrots, and pea shoots.
Ingredients
Dill Mint Pistachio Pesto
4

cups

fresh dill

1/2

cup

fresh mint leaves

1/4

cup

shelled raw pistachios

1/3

cup

nutritional yeast*

1-2

lemons juiced

salt and pepper to taste

water if needed to thin*
Spring Medley of Vegetables
2

cups

baby carrots chopped

1

head

cauliflower chopped

4

baby golden beets, ends removed

1

bunch

asparagus trimmed and chopped

1

bunch

pea shoots

1

bulb

raw fennel chopped
Instructions
Pesto Instructions
Blend dill, mint, pistachios, nutritional yeast, a pinch of salt, and juice of one lemon together until smooth.

Taste and add more salt and lemon juice if needed. Thin with water or olive oil if needed until you reach desired consistency.
Spring Vegetables
Remove the ends from the beets and wrap in foil and place on a lined baking tray.

Chop the cauliflower and carrots into bite sized pieces. Spray with olive oil and place on a lined baking tray with the beets.

Roast carrots, cauliflower and beets at 450 degrees until caramelized (approximately 30-45 minutes).

Remove the ends from the asparagus and chop into bite sized pieces and spray with olive oil. Add to the baking tray for the last 5-7 minutes of roasting.

Dice raw fennel and set aside with the pea shoots.
Serving
When vegetables are finished roasting, remove the beets from foil and chop.

Add carrots, cauliflower, beets, asparagus, and fennel to a large bowl. Toss with dill mint pistachio pesto.

Serve over pea shoots or even add your favorite grain or pasta.
Notes
If not vegan or plant-based, pecorino or parmesan cheese may be substituted for nutritional yeast.
If not oil-free, olive oil may be used to thin pesto if needed.