My kids love my attempts to accurately say tongue twisters. The ones that begin with the letter P are the only ones I can say quickly. I have no hope when it comes to "Sally sells seashells by the seashore." As I was making stuffed summer vegetables, I could not get the "Peter Piper" tongue twister out of my head, so it became an appropriate title for this post.
While doing a bit of research, I thought that I would discover that recipes for stuffed peppers originated in the 1950s. The 50s and 60s were the eras of easy meals especially if you could dump a bunch of canned items into a crockpot! (Not that I don't love those easy meals…) However, I discovered that published recipes for stuffed peppers date at least back to 1890 in the Boston Cooking School Cook Book. The origins of stuffed peppers are probably much older and span through multiple cuisines from Asian, Mediterranean, Scandavia, and India. This is one of the many reasons I love stuffed vegetables. They are extremely versatile, easy, and a great way to utilize a bunch of random ingredients. Recipes for stuffed vegetables are plentiful, but this is my favorite way to prepare them at home. I especially love the addition of sun dried tomatoes for the extra flavor boost.
---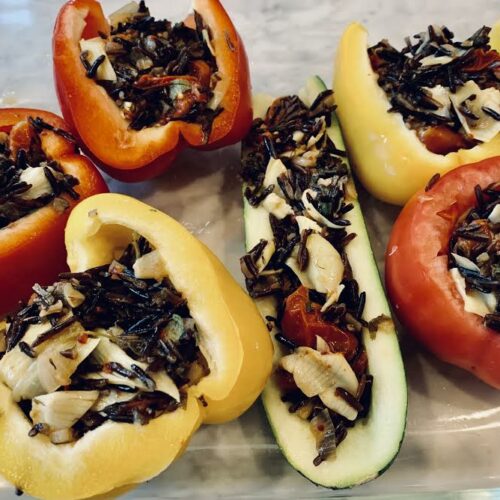 Stuffed Summer Vegetables
A colorful array of summer vegetables stuffed with wild rice, tomatoes, artichokes, garlic, onion, and fresh herbs.
Ingredients
1

tbsp

vegetable broth

3

cups

water or broth

1

cup

wild rice

2

cups

fresh cherry tomatoes

3/4

cup

chopped fresh herbs (parsley, dill, oregano)

1

large

shallot minced

4

cloves

garlic minced

1

can

artichoke hearts

1/4

cup

sundried tomatoes

1

tbsp

Aleppo pepper (optional)

salt and pepper to taste

1-2

zucchini

2-3

bell peppers

1

tomato
Instructions
Heat oven to 350 degrees F.

Add 1 tbsp of vegetable broth (or olive oil) to a medium saucepan. Add garlic and shallot. Cook 4-6 minutes until soft.

Add tomatoes, artichokes, sun dried tomatoes, herbs, seasonings and rice. Cook 1 minute.

Add 3 cups of broth or water. Bring to a simmer and cook 45 minutes. Rice will not be completely cooked. It will finish cooking in the oven. Taste and add any additional seasonings if desired.

Cut peppers and zucchini in half lengthwise. Cut the top off tomato. Remove the seeds from the peppers and inner portion of zucchini and tomato.

Spoon rice mixture into the hollow cavity of each vegetable. Place the top back on the tomato. Arrange vegetables in large baking dish. Add a few tablespoons of water, oil, or broth to the bottom of the pan. Cover pan with foil. Bake at 350 degrees F for 45 minutes.

After 45 minutes, remove the foil and cook a bit longer until you reach desired tenderness. I usually cook mine for another 10-15 minutes.
Notes
The rice can be made in advance and stored in the refrigerator. 
This dish re-heats very well in either the oven or microwave.