A Bit of History:
The popular play, The Iceman Cometh, debuted on Broadway in 1946. Even though this play was published long ago, the Iceman I am referring to is much older! Scientists discovered remains belonging to Otzi (3100-3400 BC), known as the Iceman, in the Alps between Austria and Italy. However, what I find fascinating, is his last meal. Upon examining the evidence, Otzi last ate einkorn cereal grains, ibex meat, and venison. In addition, tools found near his body support the theory that the grains were ground into a cereal. Otzi then cooked the grains over a hot flat stone, resulting in a pancake. In fact, historians believe that pancakes were the most widely consumed food in prehistoric times. Today, a plethora of pancake varieties are eaten all over the world at any time of day. In the U.S.A, National Pancake Day is celebrated on September 26th.
About the Recipe: Overnight Spiced Pear Butter
In my house, every day is pancake day. They are by far the most popular breakfast item consumed by my children. I typically make a big batch on the weekend and freeze them in individual servings for a quick school morning breakfast. The best part about pancakes is the variety of toppings. Some of our favorites include whipped maple butter, jam, honey, and when autumn begins to roll around spiced pear or apple butter!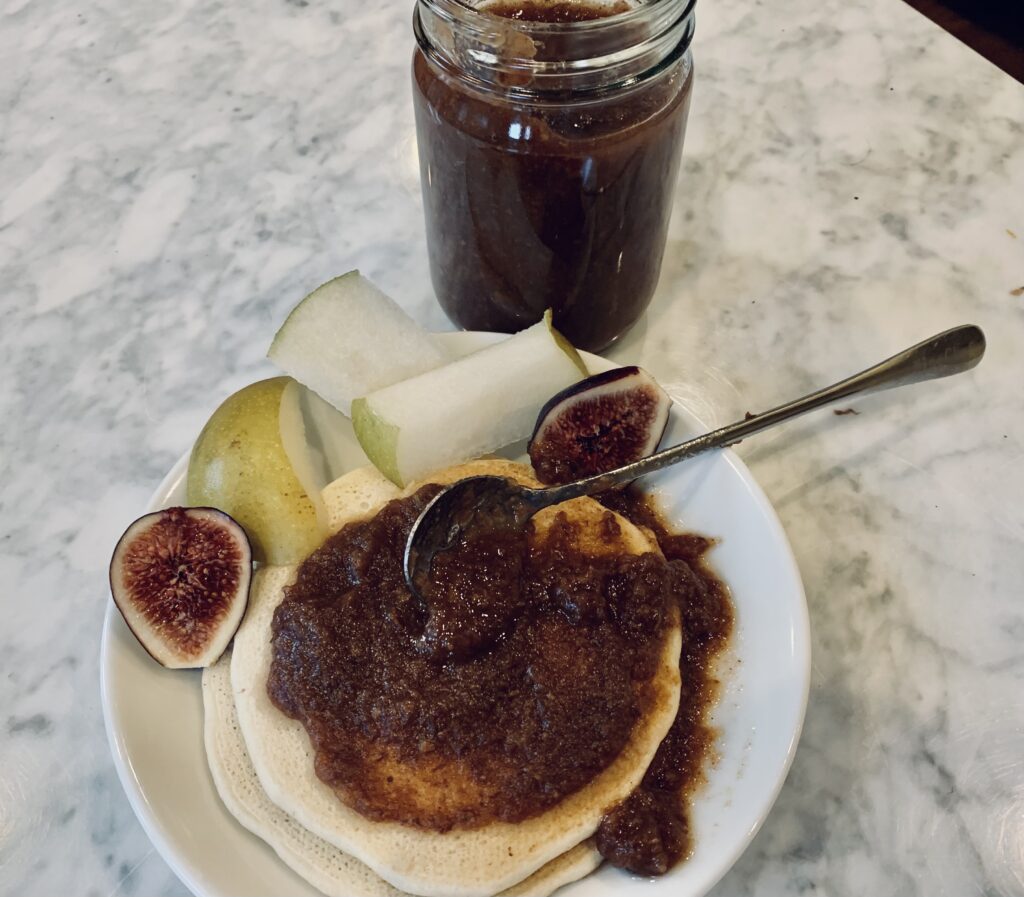 Overnight pear butter is one of those easy, delicious recipes that taste like you spent hours and hours working away when really the slow cooker does it all. The original crockpot had its debut in 1940 and is an ultimate time saver in my home. Simply slice the pears and toss them in the slow cooker with the other ingredients, turn it on, and go about your life! The pancakes are also a quick recipe. I often prepare the batter the night before, store it in the refrigerator, and let it warm to room temperature before cooking. Using oat milk and some of the pear butter in the batter really enhances the richness and fluffiness. Top the pancakes with additional pear butter and serve with fresh seasonal fruits and you have a truly elegant tasting breakfast.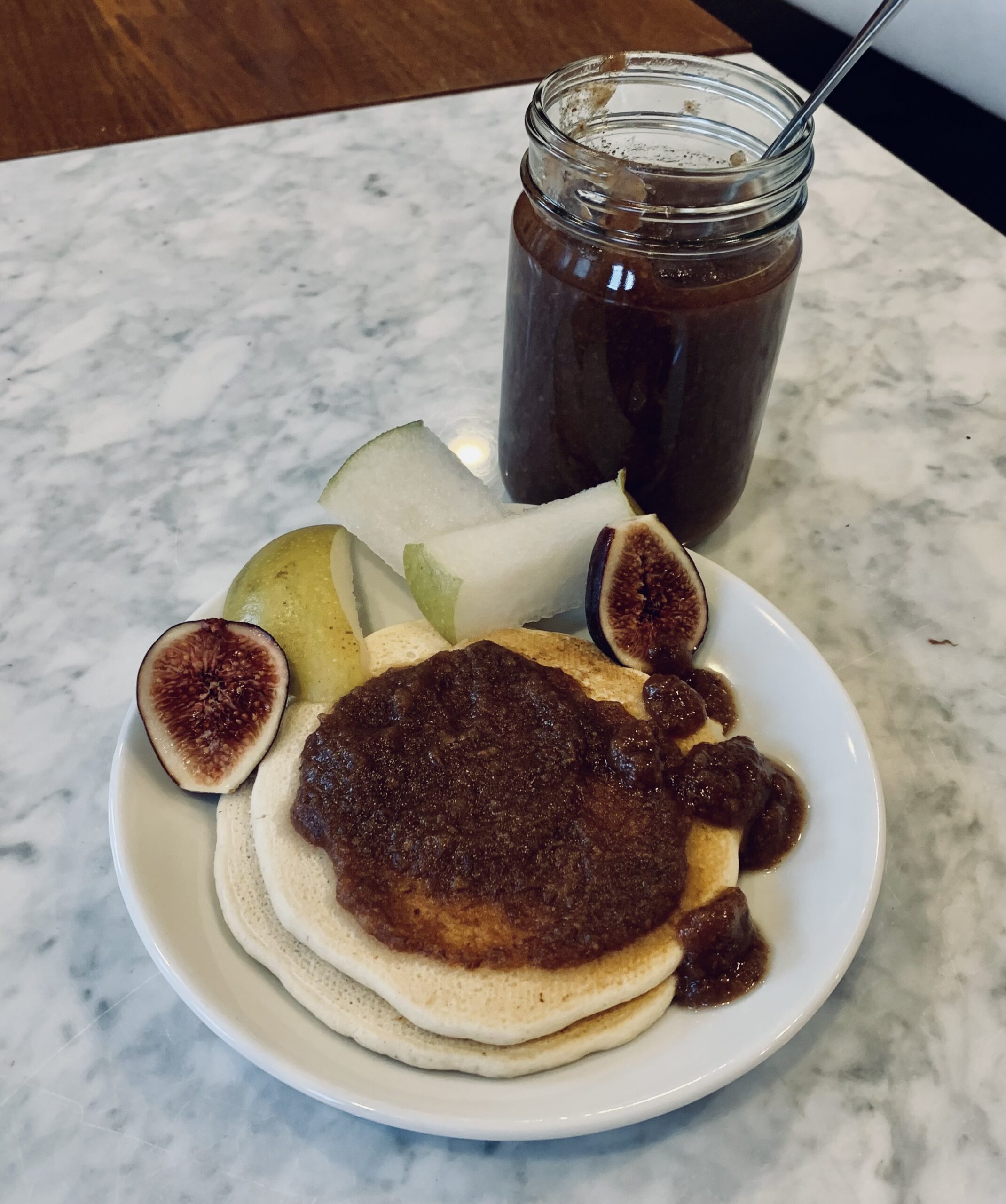 Overnight Asian Pear Butter with Oat Milk Pancakes
A warmly spiced Asian pear butter with notes of cinnamon, cloves, and honey combined with fresh pancakes crafted with oat milk and semolina flour.
Ingredients
Spiced Pear Butter
8

Asian pears sliced and cored

1 1/2

tsp

cloves

1

tbsp

cinnamon

1/4

cup

water

3/4

cup

honey (or substitute sweetener of choice if vegan)

1

lemon juiced
Oat Milk Pancakes
1/2

cup

semolina flour

2 1/2

cups

flour (I use Italian grade 00 flour, but all-purpose will work great too).

3

tbsp

baking powder

1/2

tsp

salt

1/4

cup

spiced pear butter

3

cups

oat milk (barista blend)
Instructions
Spiced Pear Butter
Combine all ingredients into a slow cooker. Cook for 10-12 hours overnight.

In the morning, pulse pear mixture in the blender for a smoother product. Some pear varieties release a lot of water and the mixture may need to be reduced for 20-30 minutes over low heat on the stove to thicken.
Pancakes
Combine all ingredients in a large bowl. Mix gently.

Let the batter rest for at least 15 minutes before cooking on the griddle or in your waffle maker. The batter can even be made the night before and rest in the refrigerator overnight.