Many Sicilians believe that fava beans bring good luck and therefore it is prudent to carry one in your wallet or pocket and to always have a few in the pantry. During the Middle Ages, fava beans earned a special place in the hearts of Sicilians and their good luck status. Sicily suffered through a devastating drought in the Middle Ages, which laid waste to numerous crops. Sicilians prayed to St. Joseph and legend has it that he answered with rain. The rain saved the fava bean crops, and the rest as they say is history. Now each year on March 19th, Sicilians honor St. Joseph with a feast which often features dishes made from fava beans. The feast is also a way to clear the pantry out, making space for a new harvest of spring vegetables.
Fava beans have been cultivated since approximately 6000 BC. One dish featuring fava beans is called maccu, and may have originated in ancient Rome. Maccu is a simple soup dish prepared from fava beans and fennel. In the spirit of cleaning out my pantry and using the many bags of dried fava beans on hand; I decided to experiment with a maccu style dish of my own. There are many variations of fava bean soup, and I tested several different vegetable combinations. The recipe listed below, is my family's favorite version!
Coming from a Sicilian-Greek family, the aroma of this dish reminds me of eating soup at my grandparents house. My grandpa Ted always liked to serve us soup and often told stories of his grandmother making him soup (but only if he shoveled all the snow from the driveway first!).
One of the key steps to making a dish with any type of dried beans, is soaking the beans first. I like to measure out the dried beans, cover them with cold water, and place in the refrigerator before I go to bed. When I am ready to prepare dinner the next day, they are soaked and ready for cooking. In this recipe, I use an Instapot to speed up the cooking time, but cooking the beans and soup on the stovetop works great too.
The soup is amazing when served with a drizzle of olive oil on top, a toasted baguette, a squeeze of fresh lemon juice, and pecorino or vegan cheese. Whether or not you have a glass of Chianti is up to you….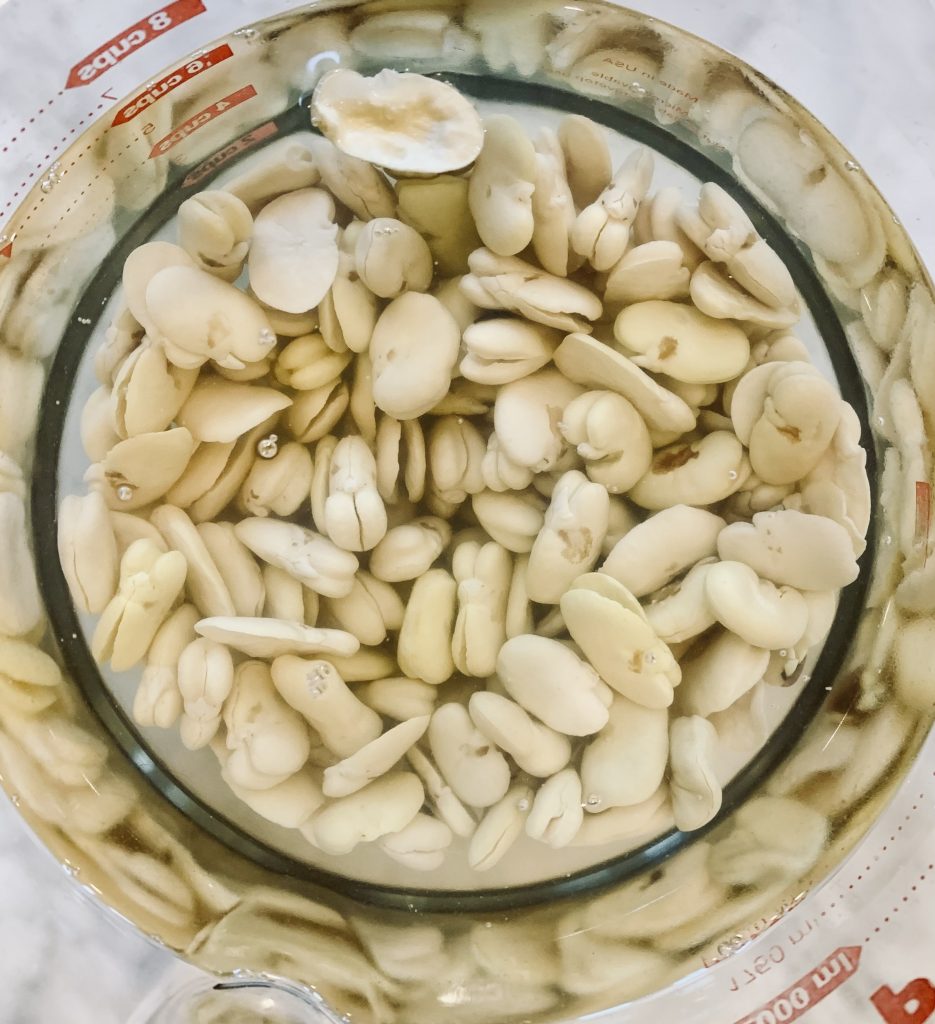 Cover dried
fava beans with
water and soak
12-24 hr.
---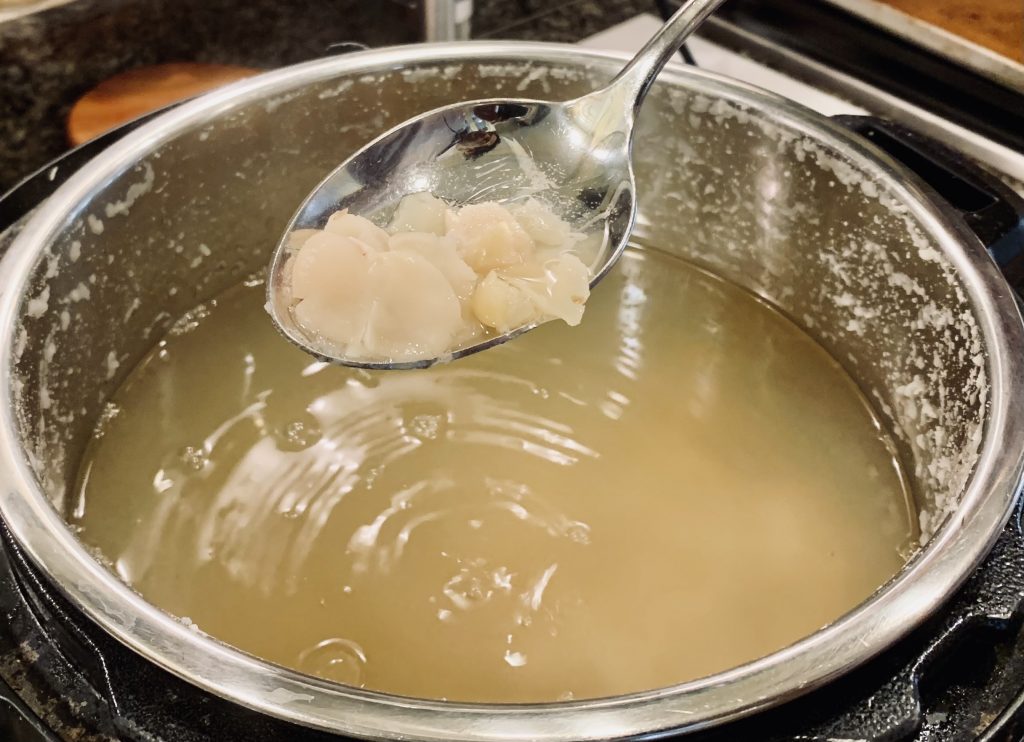 Use Instapot
Soup setting to
cook beans
quickly.
---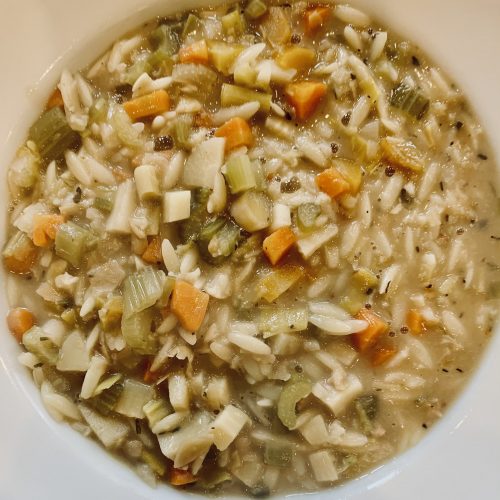 A Spring Celebration: Fava Bean Soup with fennel, leeks, carrots, celery, garlic and fresh rosemary.
A healthy, hearty soup with dried fava beans, spring vegetables, and orzo.
Ingredients
1 1/4

cup

dried fava beans

1

tbsp

olive oil or vegetable broth

6

cloves

garlic minced

2

cups

celery chopped

2

cups

leeks chopped

1

cup

fennel chopped

3

cups

carrots chopped

2

sprigs

fresh rosemary chopped

2/3

cup

dried orzo

2

tbsp

nutritional yeast (or parmesan rind if not vegan)

salt, black pepper, red chili pepper flakes to taste
Instructions
Soak Beans
Measure 1 1/4 cups of dried fava beans and pour into a large container.

Cover beans completely in cold water and store in the refrigerator for 12-24 hours.

I like to soak these the night before I want to make the soup and remove them from the refrigerator when ready to prepare dinner.
Instapot Instructions
After the beans have soaked, drain the water and rinse beans.

Place beans in an Instaport with 10 cups of water.

Use the Soup/Broth button and set to LESS with high pressure. Make sure the vent is sealed.

Allow beans to cook and Instapot to preform the natural pressure release.

DO NOT DISCARD THE LIQUID! This is the amazing broth for the soup.

While the beans are cooking, prepare the chopped vegetables.

Once beans have cooked add vegetables, rosemary, garlic, 1 tsp of salt, black and red pepper to taste, nutritional yeast and orzo to the Instapot.

Place Instapot on SLOW COOK, NORMAL setting for 7 hours. Stir the soup every now and then and adjust seasonings as needed or an additional 1 cup of water if soup is too thick.
Stovetop Instructions
After the beans have soaked, drain the water and rinse beans.

Transfer beans to a large stockpot and add 12 cups of water. Bring to a boil and simmer for 1-2 hours until beans have broken down.

While the beans are cooking, prepare the chopped vegetables.

Add garlic, celery, leeks, fennel, carrots, rosemary, and nutritional yeast to the pot.

Add 1 tsp of salt and black and red pepper to taste.

Simmer soup on low for 30 minutes to allow vegetables to cook and flavors to develop.

Add orzo. Cook for at least 30 minutes stirring frequently.

Taste and adjust seasonings.
Serving
Serve soup with additional fresh rosemary and a drizzle of olive oil if desired. This soup is amazing with toasted bread and tastes even better over the next few days.