A Bit of History
Kabocha squash, a type of Japanese winter squash, is commonly grown in Japan, Thailand, Hawaii, Mexico, and parts of the USA. While scientists believe that most squashes originated in North and South America, Kabocha made its way to Asia and Europe via explorers in the 1500s. Often referred to as a Japanese pumpkin it boasts a sweeter, nuttier flavor compared to butternut squash or sweet potatoes. This nutty pumpkin happens to be one of my favorites to incorporate into a variety of recipes, especially paired with ginger in my easy Silky Kabocha Squash Lemongrass soup recipe.
About the Recipe: Kabocha Squash Lemongrass Soup
Kabocha, while low in calories, packs an amazing amount of healthy nutrients including fiber, vitamins, antioxidants, and potassium. My latest farm box contained beautiful ginger and fresh lemongrass, which turned out to be a perfect pairing with a nutty pumpkin! Lemongrass adds a tangy, citrus flavor to dishes and retains flavor even during long cooking times. Ginger provides amazing zing, while quinoa and beans ramp up the protein to keep you fueled. Simply roast all the vegetables, scoop out cooked squash, and blend. After blending, stir in cooked quinoa and beans, and garnish with fresh cilantro. You will definitely want to add this recipe to your meal prep rotation!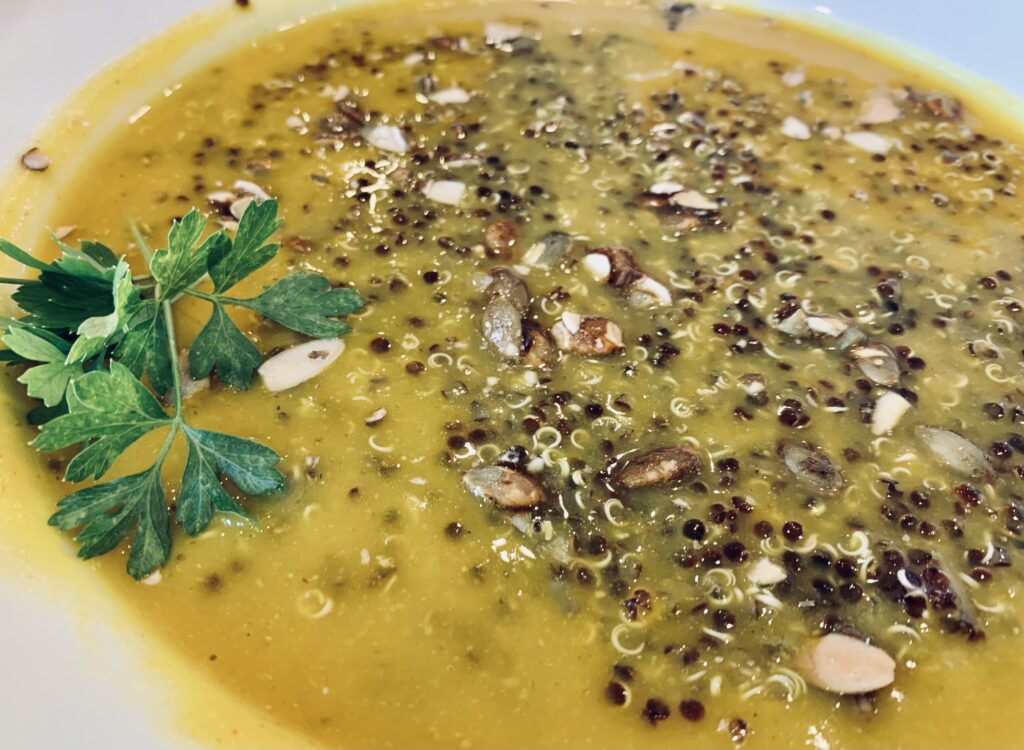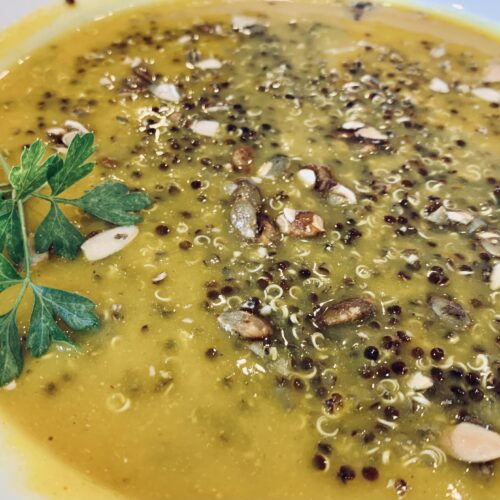 Silky Roasted Kabocha Squash Soup with Lemongrass, Ginger, & Quinoa
A warmly spiced, comforting, and protein packed, and gluten-free soup with roasted kabocha squash, lemongrass, ginger, white beans, and quinoa. Soup can be made in advance for a quick, easy weeknight meal.
Ingredients
2

small

kabocha squash (8 cups roasted)

1 1/2

yellow onions peeled and quartered

5

cloves

garlic, peeled

1/2

inch

fresh ginger root peeled and roughly chopped*

2

stalks

lemongrass, outer layers and ends removed, and then sliced

2

tbsp

cumin

1

tsp

coriander

1

tsp

turmeric

1

tbsp

curry powder

1/4

tsp

cayenne pepper

2

cups

white beans cooked

2

cups

quinoa cooked

6-7

cups

vegetable broth

salt and pepper to taste

1

cup

fresh cilantro chopped for serving

1/2

cup

toasted pepitas for serving (optional)
Instructions
Roasting
Cut squash in half. Use a spoon to scoop out seeds and discard. Sprinkle cut squash with salt and spray with olive oil.

Roast squash cut side down at 400 degrees F for about an hour.

While squash begins to roast, wrap garlic and ginger in foil and place on baking tray. On the same tray, place prepared lemonsgrass and onion wedges. Roast for 30 minutes at 400 degrees F.
Blending
When squash is finished roasting use an ice scooper to remove cooked squash from the shell. Transfer all roasted items to a blender (or transfer to a pot and use an immersion blender).

Working in batches, blend squash, onion, garlic, ginger, lemongrass, beans, spices, and enough broth to process.

Transfer blended mixture to a large pot over low heat. Add any remaining broth if needed. Taste and adjust seasonings.

Garnish each bowl with fresh cilantro prior to serving.
Notes
*if using baby ginger as pictured in post then increase the amount of ginger to 1-1/2 inches. Store bought ginger root has a stronger flavor and requires a lesser amount.
Need more soup recipes for those cozy fall evenings? Try these other ultratruffle favorites!