Figs. Scientists and historians have found evidence of fig cultivation dating back over 11,000 years ago in Jericho on the West Bank. Figs are really a fascinating fruit with a long and significant history! Since figs predated the domestication and cultivation of cereals and grains, they may very well have started agriculture. Figs are also a component of every major religion from the forbidden fruit in Adam and Eve to Islam, Hinduism, and Buddhism. More than 1,200 of Earth's species rely on figs as a food source.
Figs were also an integral part of ancient Olympian's diets and champions were honored with fig laurels. As an endurance athlete, my favorite story about figs is from Dean Karnazes. He is an amazing ultra marathoner, one of my favorite authors, and one of my inspirations for attempting ultramarathons. In his book, Road to Sparta, Dean runs the Spartathlon race. It is a 153 mile route through Greece that retraces Phiedippides original run (yep that original marathon was much, much longer than 26.2 miles). The most amazing part of Dean's story is that he ran the entire race only eating what foods (figs, olives, and cured meats) were available to the ancient Greeks and running in traditional leather sandals.
While you won't find this recipe at an ultramarathon aid station, it is a beautiful and delectable combination of figs, fregola, and roasted vegetables. In this dish, the fig and rosemary reduction paired very well with roasted cauliflower, crispy roasted shiitake mushrooms, toasted hazelnuts, and peppery greens. I had a bunch of mizuna from local growers FireAnt Farms that was the perfect addition to this dish. I first tasted mizuna in my Kindlewood Farms CSA box. It was so delicious that I contacted both farms to see if I could buy more to create this dish! Mizuna is part of the mustard greens family and has a slightly milder taste compared to arugula. (If you cannot find mizuna in your area, arugula would be a great substitution).
---
---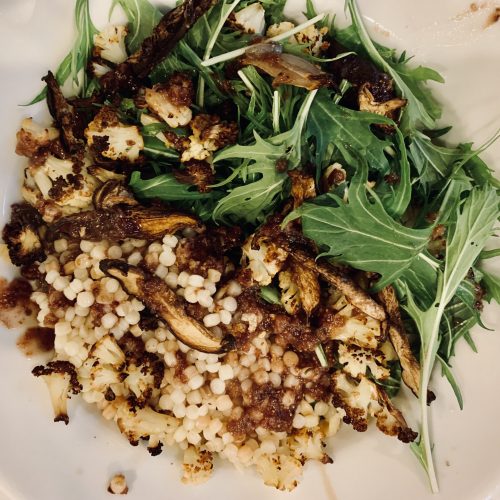 Spicy Fig Rosemary Garlic Reduction
A sweet, spicy fig sauce sauce served over fregola pasta, mizuna greens, crispy cauliflower and shiitake and topped with toasted hazelnuts. Ready in 30 minutes!
Ingredients
Vegetables
1

head

cauliflower chopped

8

oz

shiitake mushrooms sliced

1

bunch

mizuna greens or substitute with arugula

1/2

cup

raw hazelnuts
Spicy Fig Reduction
12

black mission dried figs stems removed and sliced in half

4

cloves

garlic minced

2

sprigs

fresh rosemary minced

1

tsp

date syrup or honey

1

lemon juiced

salt, pepper, and red pepper flakes to taste

2 1/2

cups

hot water
Pasta
8

oz

dried fregola or pasta cooked according to package directions
Instructions
Vegetables
Heat oven to 450 degrees while chopping vegetables.

Place hazelnuts in the oven on a lined tray for about 3-5 minutes until golden brown.

Place chopped cauliflower and shiitake mushrooms on a lined tray and spray with olive oil.

Roast for 25-30 minutes until crispy. Alternative cooking method: place in air fryer and cook until crispy.

Wash mizuna or arugla and set aside.
Spicy Fig Reduction
Soak figs in hot water for 5 minutes and then drain. This will soften the figs.

Place the minced garlic in a small saucepan with 1 tsp of water. Cook for 1-2 minutes over medium heat until fragrant.

Add a pinch of salt, pinch of red pepper flakes, a few grinds of black pepper, and minced fresh rosemary to the saucepan. Stir.

Add drained figs, 2 cups of hot water, and honey to the saucepan. Bring to a simmer.

Add a squeeze of lemon juice.

Simmer for 20 minutes until sauce has reduced.

Taste and add more red pepper flakes, salt, or honey if needed.
Serving Suggestions
Cook fregola or pasta according to package directions.

Spoon a portion of fregola into each serving bowl. Top with fig reduction, crispy cauliflower and shiitake, mizuna or arugula, and sprinkle with toasted hazelnuts. Garnish with extra rosemary if desired.
Notes
* I like to reduce the sauce and cook the fregola while the vegetables are roasting.
*Fregola cooks in approximately 12 minutes.