---
Like everyone else around the globe, I have not been running many races this past year. However, I do have fond memories of a local race that is spectacular: The Charlie Post Classic. It's a beautiful, meaningful race, that honors a local runner and physician, Dr. Charlie Post. The course winds through the magical scenery of Sullivan's Island, SC with views of the ocean. If you are ever in town and have the opportunity, definitely check out this family-friendly event.
After this race, I had the opportunity to taste a variety of juices from race sponsor Natalie's Island Orchard Juice Company. Needless to say, the juices are fabulous. Natalie's juices are squeezed fresh each week and made with minimally processed ingredients. I had the pleasure of speaking to the employees at Natalie's after the race. When they found out my eldest daughter is also named Natalie; I became the beneficiary of T-Shirts, extra juices, pens, and cups. My daughters were thrilled, as they always claim the race swag! Once they tasted the juice, however, they tossed  the swag aside and guzzled every last drop. Now, it's the only juice they will drink and we use it in all of our smoothies!
Which brings me to the purpose of this post, dragonfruit smoothies. Whenever I hear the word dragon, my imagination immediately conjures up a visual of Smaug. Smaug is the dragon from the J.R.R. Tolkien's The Hobbit, one of my favorite books that my dad introduced to me at a young age. Since my girls and I are reading The Hobbit again, the Smaug Smoothie is a fitting name!
Before we get to the recipe, here are a few facts about dragonfruit. It was named for its leathery outer peel and it grows on a type of cactus in Mexico and South America. Dragonfruit is pollinated by nocturnal creatures like bats! It is also very high in antioxidants, contains natural prebiotics and is low in calories.
---
---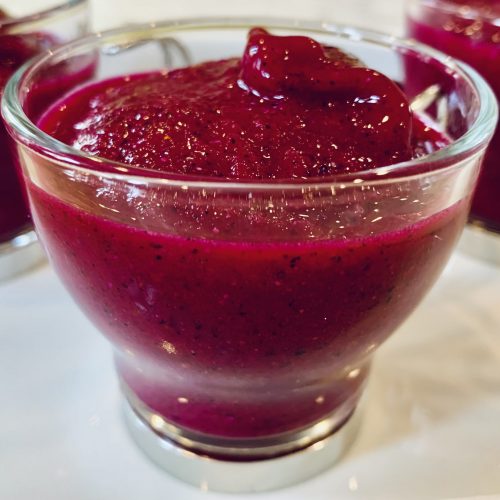 Smaug Smoothie
Smaug Smoothie: A healthy dragonfruit, mixed berry, banana smoothie. Kid friendly.
Ingredients
1/2

cup

fresh or frozen dragonfruit

1/3

cup

fresh or frozen blueberries

1/2

cup

fresh or frozen strawberries

1/2

cup

orange juice

1/2

banana

1/3-2/3

cup

water or ice cubes
Instructions
Add all ingredients to a high speed blender. Start with 1/3 cup of water.

Blend until smooth. Add more water, ice, or orange juice until you reach desired sweetness and consistency.