—A Recipe for the Ultimate Ultratruffle featuring Chocolate Macaroon (almond-coconut) nut butter, Amarena Italian cherries, and dark chocolate.
–For my dad
---
I love the combination of chocolate and cherry. This fondness may stem (no pun intended!) back to my childhood and my dad. His favorite candies were chocolate covered cherries, his favorite sundae was black forest, and his favorite ice cream flavor was cherry. Of course as children, we happily marched off to the local ice cream shop to enjoy our favorite treats too and always lined up at Fannie Mae to buy chocolate covered cherries for his Valentine's Day gift.
Historically, my brother and I were not the only ones marching for or with cherries. Roman soldiers have been credited with discarding cherry pits from their rations along the roads; thus spreading the proliferation of the cherry tree! We have all heard the proverb "all roads lead to Rome," but maybe especially if they are surrounded by cherry trees. Cherries are well documented in the historical record from Stone Age fossils to ancient Greek writings. However, it wasn't until cultivation of cherries in eastern France that society began to enjoy the combination of chocolates and cherries. The dessert, griottes, combined the local cherries with cherry brandy and coated them in chocolate.
Besides chocolate and fruit, I also love nut butters! In fact, I make sure I eat fresh fruit, chocolate and nut butter at least once per day (usually twice!). Combining these three favorite foods into a tidy little truffle has become my Ultimate Ultratruffle! It is a very easy recipe for a quick dessert that your whole family will love. The recipe features one of my favorite nut butter companies Big Spoon Roasters, who create handcrafted nut butters from local ingredients.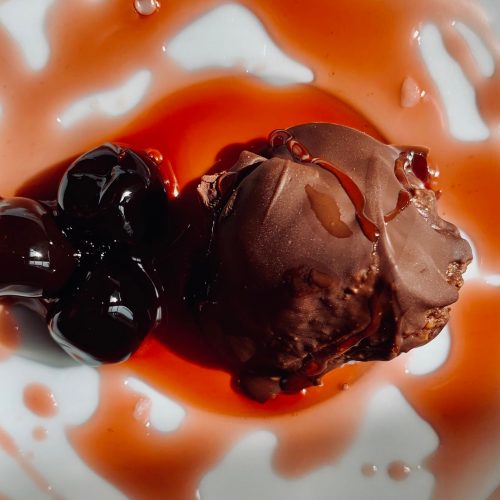 The Ultimate Ultratruffle
Truffles featuring almond coconut nut butter, Amarena cherries, and dark chocolate
Ingredients
1/3

cup

Chocolate Macaroon Almond Nut Butter

or nut butter of choice

1

cup

dark or semi-sweet chocolate chips divided

2

tsp

olive oil

3

heaping tsp

Amarena cherries in syrup

reserve additional cherries and syrup for serving

1

pinch

sea salt
Instructions
Add the nut butter, 3 tbsp of Amarena cherries in syrup, and the sea salt to a shallow bowl.

In a microwave safe bowl or a double boiler melt 1/3 cup of chocolate chips with 1 tsp of olive oil.

Stir the melted chocolate into the nut butter mixture.

Refrigerate or freeze chocolate nut butter mixture for 10 minutes or until it is firm enough to easily roll into balls.

Remove from refrigerator or freezer and roll into 8 truffle balls and place back in the refrigerator while you melt additional chocolate.

Line a plate with wax paper.

Melt the remaining chocolate chips and olive oil.

Dip each truffle ball into the melted and chocolate and place on wax paper.

Refrigerate or freeze until chocolate is set (about 30 minutes).

For serving, garnish each plate with cherries and syrup.
See step by step instructions on Pinterest!