Blueberries are one of the few foods that are truly, naturally occurring blue in color. The flavonoid, anthocyanin, gives blueberries their beautiful color, but more importantly provides antioxidant effects in the human body. Antioxidants fight molecules known as free radicals which cause cell damage in our tissue. Many studies have found that blueberries have the highest antioxidant levels compared with other frequently consumed fruits and vegetables.
I absolutely love when blueberries are at their best, which in South Carolina, tends to be in early to mid June. Fortunately, this year we have had some early blueberries which have been phenomenal. My family and I enjoy eating them straight from the farm and add them to our breakfast bowls every morning. One of my favorite ways to prepare blueberries is making jam. I always make extra and freeze it for when the mid-winter cravings for fresh summer berries arise. For me, adding a bit of anise seed to blueberry jam really elevates the flavor and pairing this jam with fresh peaches and oats takes it to a whole new level. It is also perfectly delicious on toast by itself and complements my homemade peanut-sesame butter. Be sure to email me with your favorite combinations!
The breakfast bowl featured below contains 2/3 cups of oats, 3/4 cup of almond milk, a handful of fresh blueberries, 1 ripe peach, and 1 heaping tablespoon of blueberry anise seed jam. Simply microwave the quick cooking oats with jam and milk and top with fresh fruit.
---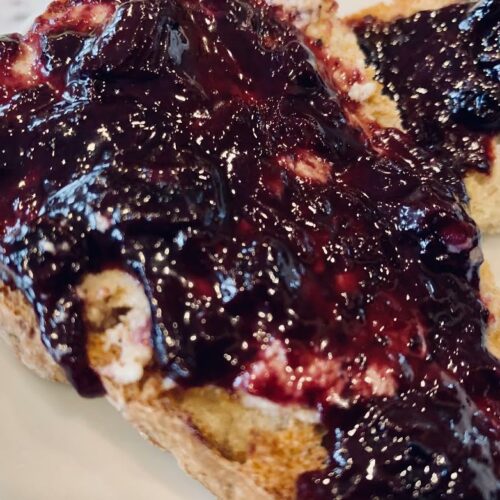 Blueberry Anise Seed Jam
Fresh blueberries combined with lemon, honey, and bit of anise seed form the perfect topping for toast, oatmeal, and nut butter sandwiches.
Ingredients
3

cups

fresh blueberries

1

lemon juiced

1/2

tsp

anise seed

1/3

cup

honey (substitute sugar if vegan)
Instructions
Combine all ingredients in a small saucepan.

Bring to a simmer and reduce heat.

Simmer on low until reduced about 45 minutes. Taste and add more honey or anise if desired.