I always tell the kids, let's go to the corner and walk the dog twice around the lake. Once I read about the history of biscotti, I kept coming back to my mantra about the corner and twice around and it became a fitting title for this post. Cantucci, the Tuscan name for biscotti, translates as little nook or corner. The term biscotti has its origins from the Latin word biscotto meaning twice-baked. In Roman times, many baked goods were baked twice, first to cook them and the second bake was to completely dry the dough out to maximize preservation. Biscotti were preferred by the Roman soldiers due to their long shelf-life and ease of transportation. Sadly, the art and tradition of biscotti along with many other academic and cultural traditions were lost during the Dark Ages. It was not until the 19th century, that biscotti made its comeback. Tuscan baker, Antonio Mattei, developed a recipe for biscotti that was highly awarded at the Exhibitions in Florence in 1861. His recipe is still in production today and a guarded secret at the family's bakery.
Biscotti are my absolute, number one favorite cookie. I make them all the time and vary the combinations. In Italy, you will find biscotti recipes everywhere with endless variations depending on local, seasonally available ingredients. However, there are a few versions that I always come back to and this is one of them. Figs soaked in hazelnut liqueur, chopped hazelnuts, and dark chocolate chips baked twice into a delectable cookie. Served with a glass of Vin Santo and you have the ultimate dessert. Unfortunately, the only Vin Santo I have on hand are the unopened bottles from my wedding, so I paired my dessert with espresso instead.
Biscotti are very easy to make. You simply mix the dough, shape into a log and pop it in the oven. After the first bake is complete, allow the biscotti to cool and then slice just as you would a loaf of bread. The penultimate step is baking the slices and the last (and best) step is eating them!
---
Left to Right: shaping the dough into a log for the first bake, the first bake completed, biscotti cookie slices after the second bake and served with espresso.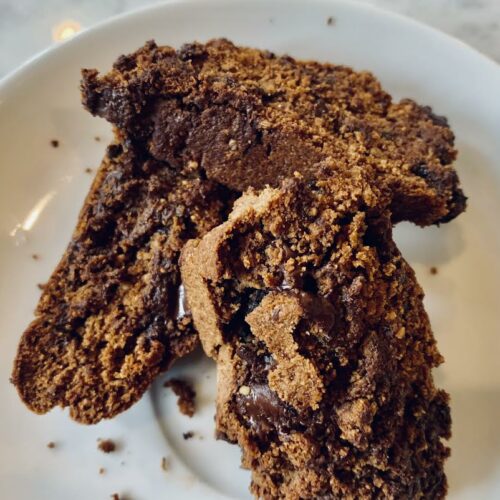 Fig Orange Hazelnut Chocolate Chip Biscotti
A decadent cookie with Frangelica soaked figs, hazelnuts, orange zest, and dark chocolate. A truly espresso worthy dessert!
Ingredients
1 1/2

cups

flour (I always use Italian grade 00)

1 1/2

cups plus 2 tbsp

semolina four

1/4

cup

honey (substitute date syrup if vegan)

1/2

cup

sugar

1 1/2

tsp

baking soda

3/4

tsp

salt

3

tbsp

anise seed

1

large

orange zested (save orange for another use)

1/4

cup

almond butter

1/2

cup

hazelnuts (either chopped or ground depending on your texture preference)

2

tbsp

hazelnut liqueur such as Frangelica

1

cup

dried figs (soak in 1 cup hot water)

1/4

cup

reserved fig soaking liquid

2

cups

chocolate chips
Instructions
Heat oven to 350 degrees F.

Finely chop figs and place in a large measuring cup. Cover with 1 cup of hot water and 2 tbsp of hazelnut liqueur. Soak for 10 minutes. Before draining the figs, reserve 1/4 cup of soaking liquid and set aside.

Combine all ingredients together in a large bowl except the reserved fig liquid. Using a stand mixer, beat the batter on a very low speed until dough forms. Slowly add 1 tbsp of reserved fig liquid at a time. Depending on how you measured your flour, you will need 2-3 tbsp of liquid. The dough should feel like cookie batter.

Shape the dough into one long log on a floured surface.

Bake in the oven for 40 minutes until a deep golden brown.

Cool for at least 45 minutes to 1 hour.

Using a serrated knife, slice the log into pieces. (Exactly like cutting a loaf of bread). Don't worry if some of the pieces break off. I always make a small pile of bits and place them on the end of the baking tray. They make great tasting samples!

Arrange the slices on the baking sheet. Bake for 20 minutes. Remove and cool to room temperature. Leftover biscotti will keep well in the freezer! We take out a few at a time.