Fattoush is a type of bread salad native to the Levant region and said to have originated in Northern Lebanon. It typically consists of tomatoes and in season vegetables, fried leftover bread, and fresh herbs and spices. Not only is fattoush a tasty salad that is easy to prepare, but the ingredients are so versatile. You can add your favorite local, fresh vegetables and herbs. It is also a great way to utilize day (or two) old bread.
I decided to create a fattoush salad using ingredients that I either grew in my herb garden or could purchase from local farms and the farmer's market. The recipe below is the Charleston, SC edition of fattoush salad. It features cherry tomatoes, cucumber, red onion, rainbow chard, Charleston Sea beans, parsley and mint. If you try this recipe using your local favorites be sure to email me! I look forward to seeing other editions of the farmer's market fattoush salad. The salad is simply tossed with red wine vinegar and lemon juice and served over mixed greens. This is a fast recipe that is healthy and refreshing.
---
---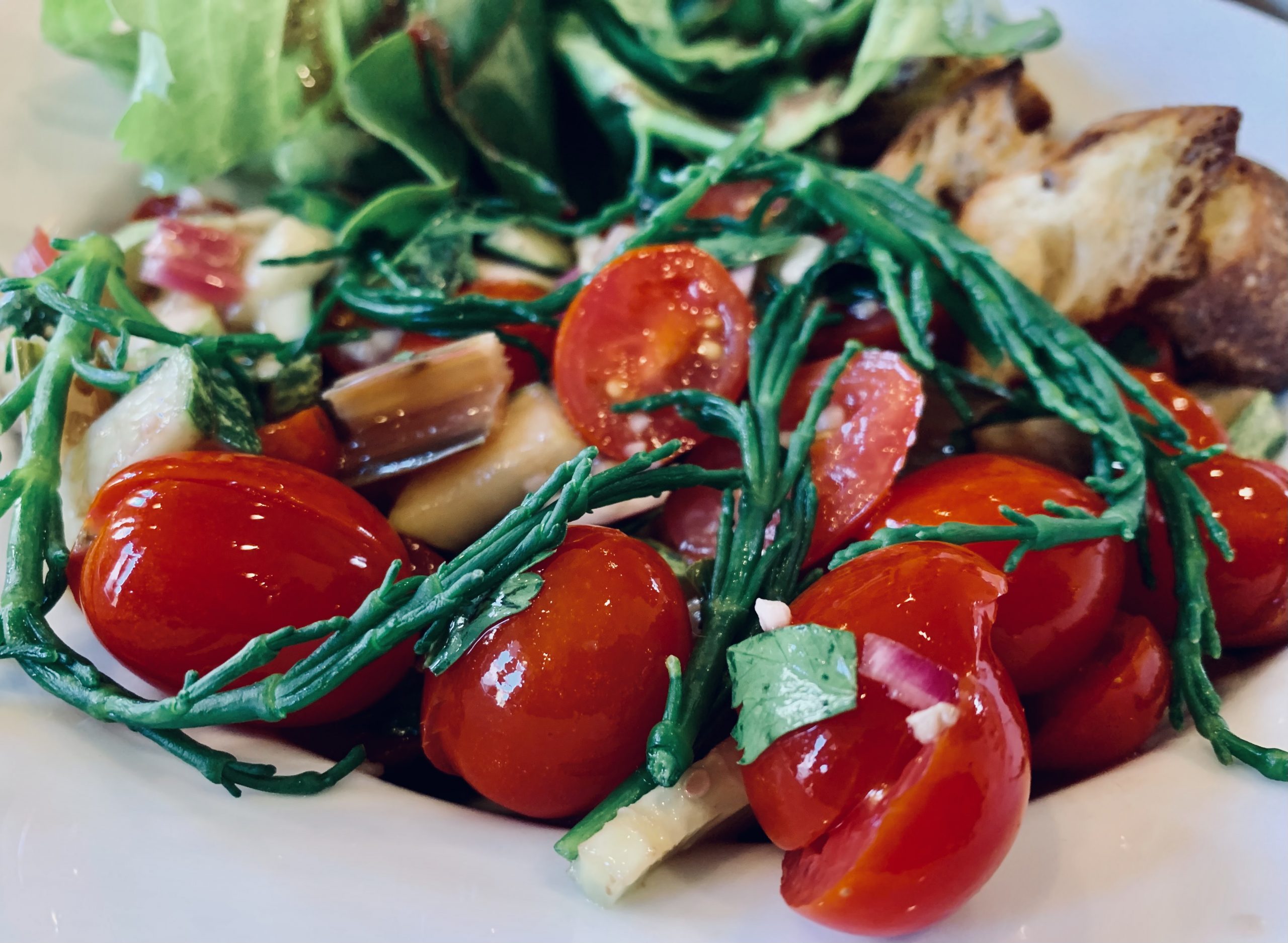 Ultratruffle Farmer's Market Fattoush Salad: Charleston Edition
A plant-based, healthy, delicious, salad topped with cherry tomatoes, cucumber, onion, rainbow chard, sea beans and toasted bread. Easily adaptable for your favorite, local, seasonally available vegetables.
Ingredients
2

cups

cherry tomatoes halved

1

cup

diced cucumber (remove seeds if desired)

1/4

cup

minced red or spring onion

1/3

cup

finely chopped fresh parsley

10

leaves

mint finely chopped

1

lemon juiced

1

tbsp

red wine vinegar

2

tsp

pomegranate molasses* (optional)

salt to taste

4

stalks

rainbow chard chopped

1

tsp

dried minced garlic

1

tsp

olive oil or vegetable broth

1/3-1/2

cup

sea beans*

4

slices

day old baguette or pita bread

4

sprays

olive oil for toasting bread
Instructions
Combine cherry tomatoes, cucumber, red onion, parsley, mint, lemon juice, red wine vinegar, pomegranate molasses and a pinch of salt in a large bowl. Mix and place in refrigerator to marinate.
Rainbow Chard
Heat olive oil or vegetable broth in a small pan. Add the rainbow chard and minced garlic. Cook 5 minutes over medium heat. Remove from heat and set aside to cool.
Sea Beans (or asparagus/green beans)
Bring a small pot of water to a boil. Boil sea beans for 30 seconds and immediately transfer to a bowl of ice water. If using green beans or asparagus, cook for 90 seconds and then transfer to a bowl of ice water.
Bread
Lightly spray the bread with olive oil and toast in either air fryer, oven, or over gas flame. Dice into small pieces.
Salad Assembly
Once the rainbow chard and sea beans (or green beans/asparagus) have cooled, add to the tomato mixture and stir. Taste and adjust seasonings.

Serve fattoush over mixed greens. You can also add your favorite grain.

Top salad with pieces of toasted bread.
Notes
*pomegranate molasses is optional. You could also substitute date syrup if desired.
*if you don't have access to sea beans substitute asparagus or fresh green beans