Whenever we venture into a bakery to peruse the cookie selections we almost always leave with chocolate chip, a lemon variety, and black and white cookies. Black and white cookies with their beautiful symmetry not only look amazing, but their soft cake-like texture tastes fabulous too. Until the end of the 19th century, cookies were traditionally baked and sold with a thin, crisp texture. At the beginning of the 20th century, a new type of cake-like cookie began to gain popularity. Using contrasting colors in baked goods was also a growing culinary trend and Black and Whites or Half Moons were sold either frosted or covered in chocolate and vanilla fondant. Historians do not typically agree on the true origins of these cookies. Some credit a Utica, NY bakery, Hemstrought's, as the original half-moon cookies in 1925. While, cookies labeled black and whites were sold in NYC at Glaser's Bake Shop in 1902.
One day as we were eating our cookies, I decided to turn these into a delicious surprise breakfast for my kids. Using a mini (4 inch) springform pan, I was able to obtain the perfect thickness of pancake to replicate the soft fluffy cookies. The frosting was easy! We used our favorite brand of non-dairy chocolate hazelnut spread and a homemade vanilla cashew spread. The vanilla cashew spread can be made in less than 10 minutes while the pancakes bake.
The pairing of chocolate and hazelnuts dates back to the 1800s. During the Napoleonic wars, France prohibited British goods from being sold in Europe thus causing a shortage of cocoa. In Turin, Italy confectioners attempted to stretch their cocoa supply by combining it with local hazelnuts into a paste. This delicious paste, which is a staple in my house, is named Gianduja in honor of a carnival character. My children love gianduja and would eat it on anything I let them. I think if they had to choose between ketchup of gianduja to take to a deserted island, they would most certainly pick gianduja.
We also tried a few pancakes with fruit or chocolate chips in them.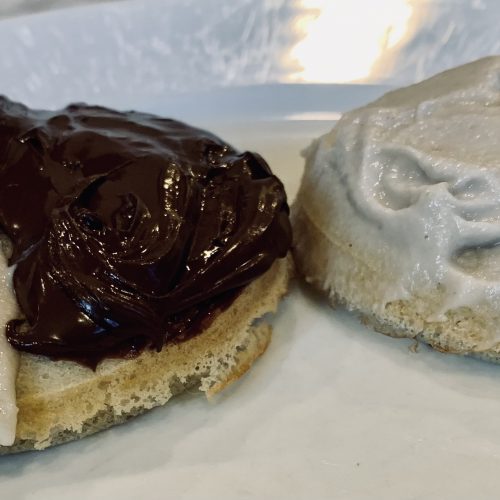 Fluffy Oven Baked Black & White Pancakes
A breakfast twist on a classic cookie. Plant-based pancakes smothered in cashew vanilla spread and chocolate hazelnut spread.
Ingredients
Pancake Batter
1

1/2

cups semolina flour

1

1/2

cups flour (I like to use Italian grade 00 flour)

3

tbsp

baking powder

3/4

tsp

salt

1/3

cup

maple syrup

3

cups

unsweetened almond milk (or non-dairy milk of choice)

1

tbsp

apple cider vinegar or lemon juice
Vanilla Cashew Spread
1/2

cup

raw cashews

1

tsp

vanilla

1

tbsp

sugar

1

tbsp

hot water (more if needed for blending)
Chocolate Hazelnut Spread
6

tbsp

chocolate hazelnut spread of choice
Instructions
Pancake Batter
Add apple cider vinegar or lemon juice to the almond milk and let sit for 5 minutes.

Combine all ingredients together. Whisk gently.

Let batter rest for 15 minutes before cooking.

Ladle 1/3 cup of batter into mini springform pans. (You can also use any type of shallow cake pan but cooking times may vary.)

Bake in the oven at 425 degrees F for 12-15 minutes. Remove from oven when pancakes are light golden brown.
Cashew Vanilla Spread
Soak the cashews in boiling hot water for 5-10 minutes to soften.

Drain cashews and transfer to a blender.

Add vanilla and sugar and 1 tbsp of water to the blender.

Blend until smooth. Taste and adjust sugar if needed or add more water if spread is too thick.
Serving
Lightly frost each pancake with half vanilla cashew spread and half chocolate hazelnut spread.