A Recipe for Fregola Sarda with Sun-dried Tomato Pesto, Celery Root, Carrots, Rutabaga, and Crispy Rosemary Olives & Baguette Croutons
---
Fregola sarda is a minuscule handmade pasta crafted from semolina and water and looks very similar to Israeli couscous. It is typically available dried and pre-toasted to enhance its nutty flavor. Fregola comes from the island of Sardinia in the Mediterranean Sea. It is one of my favorite pastas that is available dried and perfect for those nights when we do not roll our own dough.
The origins of the word, fregola, stem from Latin and translates to crumbles or fragments. That is exactly what fregola looks like, toasted little balls of breadcrumbs. Historical documents date fregola to the 900s AD. Flick on Food has a great article about fregola. I loved the part about the rules for making fregola in the 1300s which restricted production to certain days of the week to avoid excess water usage.
As always, I had a selection of vegetables in my refrigerator that needed to be transformed into something delectable very soon. Fregola is typically prepared with tomatoes and often seafood. We have to wait a bit for tomato season to be in full swing in SC, so I decided upon a Sicilian style sundried tomato pesto instead. Sun-dried tomatoes have an intense flavor that I love and Sicilians often make their pesto using almonds or pistachios and fresh herbs. This is how I like to prepare an oil-free, spicy, Sicilian style pesto at home.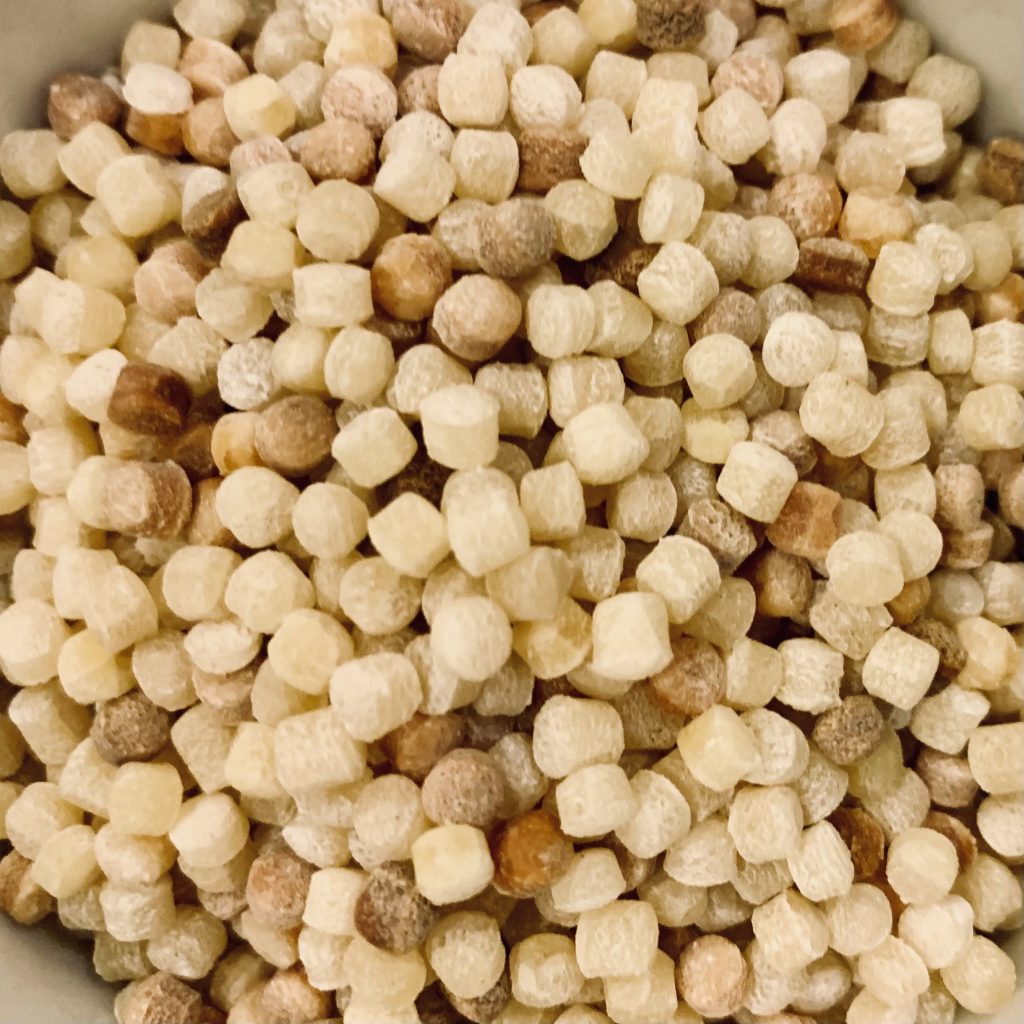 Sun-dried Tomato Pesto
An oil-free sun-dried tomato pesto with pistachios, almonds, and Calabrian chilies.
Ingredients
1

cup

sun-dried tomatoes (not in oil)

2

tbsp

raw almonds

2

tbsp

pistachios shelled

4

cloves

garlic peeled

1/2-1 1/2

tsp

crushed Calabrian chilies

1/4

cup

nutritional yeast

1

tbsp

fresh rosemary

1

lemon juiced

1/3-1/2

cup

water
Instructions
Soak the sun-dried tomatoes in hot water for 10 minutes. Then drain.

Add drained sun-dried tomatoes, nuts, garlic, chilies, nutritional yeast, rosemary, and lemon juice to a blender.

Add 1/3 cup of water and blend until smooth.

Taste and adjust seasoning.

Add additional water 1-2 tbsp of water at a time if pesto is too thick.*
Notes
*If using the pesto for the fregola sarda recipe you want it to be very thick. The pesto will be thinned with the pasta water.
*Pesto can be made in advance and stored in the refrigerator.
---
Left: preparation of olives, baguette pieces, minced garlic before toasting. Right: olives, baguette pieces, minced garlic crisped in air fryer.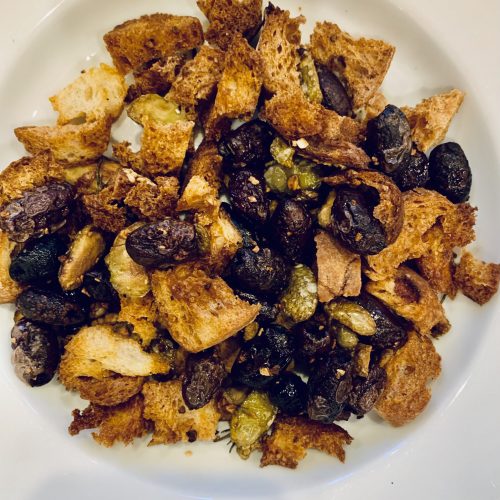 Crispy Olives and Croutons with Rosemary and Garlic
Toasted kalamata olives, baguette cubes, minced garlic and fresh rosemary. A perfect topping for pasta or just for snacks!
Ingredients
3

cloves

garlic minced

1

cup

pitted olives (kalamata or mixed)

1-2

tbsp

fresh rosemary minced

6

slices

baguette cubed

1-2

tbsp

olive oil
Instructions
Add all ingredients to a large bowl. Add 1 tbsp of olive oil and toss to coat. Add additional olive oil if needed to coat bread.

Place mixture in an air fryer and cook until golden brown. (It took about 20 minutes in my air fryer). You can also roast in the oven.

Set aside and use as a topping.
---
---
Captivating Crumbles: Fregola Sarda with Sun-dried Tomato Pesto, Celery Root, Carrots, Rutabaga
Fregola pasta topped with sun-dried tomato pesto, celery root, carrots, rutabaga, crispy olives, garlic and croutons.
Ingredients
3-4

servings

dried fregola

1

tbsp

vegetable broth or olive oil

2

shallots minced

4

cloves

garlic minced

1

cup

celery root diced

1 1/2

cup

rutabaga diced

2

cups

rainbow carrots diced

1

sprig

fresh rosemary

1

sprig

fresh thyme

1

squeeze

fresh lemon juice

3/4

cup

sun-dried tomato pesto*
Instructions
Cook fregola according to the package directions. Before draining reserve 1-2 cups of cooking liquid.

Heat 1 tbsp of olive oil or vegetable broth in a shallow pan over medium heat.

Add shallots, garlic, celery root, rutabaga, and carrots to the pan and cook for 2 minutes.

Add fresh herbs and cook another two minutes.

Add the sun-dried tomato pesto and 1/2 cup of reserved fregola cooking liquid. Stir to combine.

Taste and adjust seasonings. Add pesto, additional cooking liquid, or spices according to taste.
Serving suggestions
Serve over fregola and top with crispy rosemary olives and croutons* and additional pesto if desired.
Notes
*See previous recipes for sun-dried tomato pesto and crispy rosemary olives and croutons.