---
Taco night is always a huge hit at my house. My husband and I like spicy, flavorful food, while my children's palates tend to prefer milder flavors. Tacos are a fun way to get creative with seasonal vegetables and everyone can choose their own components and level of spiciness. As a mom and the cook, I love it when the whole family will eat the same meal at the same time!
One of the staple condiments for taco night in our house is salsa. There are endless varieties of recipes for different salsas. Most of them contain some type of fresh tomato species, lime juice, cilantro, and salt. We prefer making ours from tomatillos, otherwise known as the Mexican husk tomato. They are a bit more acidic and less sweet than a regular tomato. Listed below are directions for our favorite combination. If you cannot find tomatillos at your market, green tomatoes are a great substitute.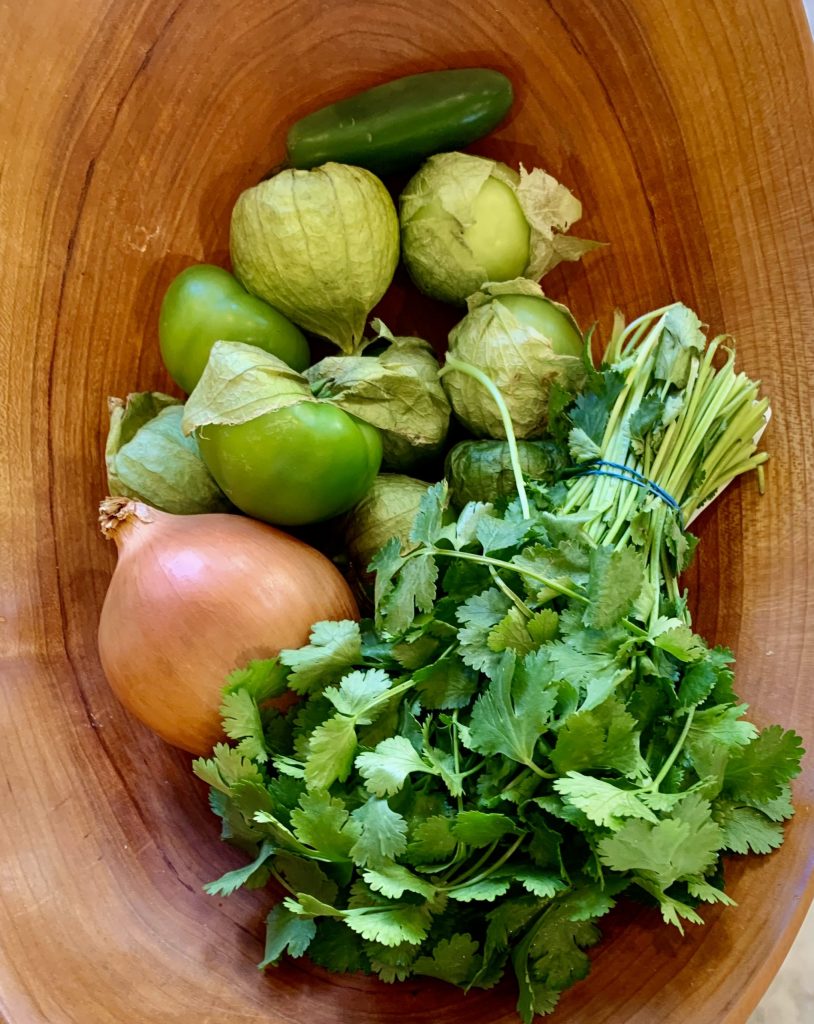 ---
This past weekend we picked up a CSA box from GrowFood Carolina that had sweet potatoes and a jar of kimchi from a local company Kenchi Ferments. Kimchi is a traditional Korean condiment composed of spicy fermented vegetables. The Kenchi version is amazing; flavorful with just the right amount of heat. Serendipitously, we tasted this as we were roasting Murasaki sweet potatoes, Jewel sweet potatoes, and sunchokes for a taco lunch. Sunchokes are also known as a Jersusalem artichoke and are great roasted or air fried as an alternative to salt and vinegar potato chips.
My husband and I immediately thought of fusion tacos. The idea of fusion or the melding of two or more distinct cuisines to create a new dish has been around for centuries. As different cultures interact ideas, stories, and traditions are shared and evolve. Modern fusion cuisine really accelerated in the late 1970s and early 1980s with unique creations by chefs like Wolfgang Puck and Roy Yamaguchi. While we did not create a new modern fusion category like Pan-Asian, we did really enjoy our interesting taco combinations!
Using our tomatillo salsa as the base, we topped each taco with a combination of roasted sweet potatoes and sunchokes and Kenchi or pickled red onions for the kids. Our last minute version of fusion tacos was so amazing we are having it again today for lunch! Create your own amazing taco combinations with a healthy tomatillo salsa, your favorite vegetables, and kimchi!
---
---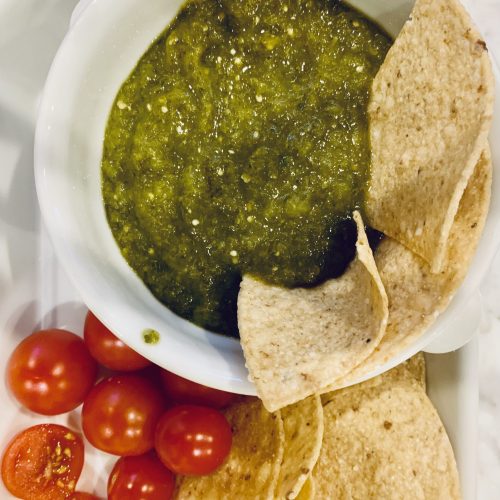 Roasted Tomatillo Salsa
A vibrant, flavorful, healthy, green salsa with fresh tomatillos, onions, jalopenos, cilantro, and lime.
Ingredients
10-12

fresh tomatillos

1-2

yellow onions (2 medium or 1 very large)

1

large jalopeno pepper

1-2

tbsp

lime juice according to taste

1

bunch

fresh cilantro with stems

1/2-1

tsp

salt according to taste
Instructions
Remove wrappers from the tomatillos, rinse, and slice in half.

Remove skin from onions and slice into quarters.

Cut jalopeno lengthwise and remove seeds.

Place prepared tomatillos, onions, and jalopenos on a lined baking tray and roast 25-30 minutes in oven at 400 degrees F.

While vegetables are roasting, place 1 tbsp of lime juice, 1/2 tsp of salt, and cilantro with stems into a blender.

After roasting, add tomatillos, onions, and HALF of the jalopeno to the blender.

Blend until smooth. Taste and add more salt, lime juice, and additional half of jalopeno if desired. Blend again if needed.