---
It's getting to the end of winter root vegetable season in South Carolina, and I have been racking my brain for creative ways to prepare and serve them! I stumbled across a bottle of Red Clay Barrel Aged Hot Habanero Honey in my cabinet and decided to experiment with some parsnips from my CSA share through Legare Farms. I love honey and collect it from various locations. I always marvel how different each honey tastes depending on where it was harvested and what plants the bees visited. This particular hot honey is from Georgia. It is available online or for local residents at LowCountry Olive Oil.
I was so excited by the result of this fast, easy, recipe (I made these while I was warming up soup for lunch-it's that easy!) that I called my mom to stop by and taste. Habanero honey provided the perfect balance of sweet and spicy to complement the earthy parsnip flavor. I always think that vegetables cut and prepared like French fries deserve a dipping sauce. Therefore, I whipped up a super fast creamy garlic horseradish sauce and I had the perfect appetizer or snack.
Honey has been enjoyed since antiquity. In fact, an 8,000 year old cave painting found in Spain, portrays two people foraging for honey. Hieroglyphs from ancient Egypt describe the use of honey in a variety of dishes and during mummification. Not to be outdone, the parsnip has also been consumed since ancient Roman times. One interesting fact I discovered from Harvesting History is Emperor Tiberius loved parsnips so much he had them grown in the cooler French climate and then conveyed to Rome. We can thank the British colonists for introducing this hearty and healthy vegetables to the Americas in the early 1600s. Cheers!
---
---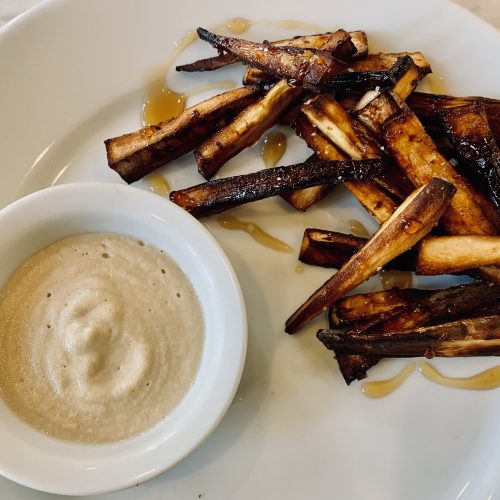 Creamy Garlic and Horseradish Spread
A creamy dipping sauce with a kick. Perfect for dipping roasted vegetables, pita chips, or smearing on bagels.
Ingredients
3/4

cup

raw cashews

1/3

cup

peeled horseradish root roughly chopped

3

cloves

garlic

1/2

cup

nutritional yeast

1/2

cup

hot water

salt and pepper to taste
Instructions
Soak cashews in hot water for 5-10 minutes.

Add cashews and water to a blender with the remaining ingredients.

Blend until smooth. Taste and adjust salt and pepper. If dip is too thick add additional water. If too thin add a few more cashews.
---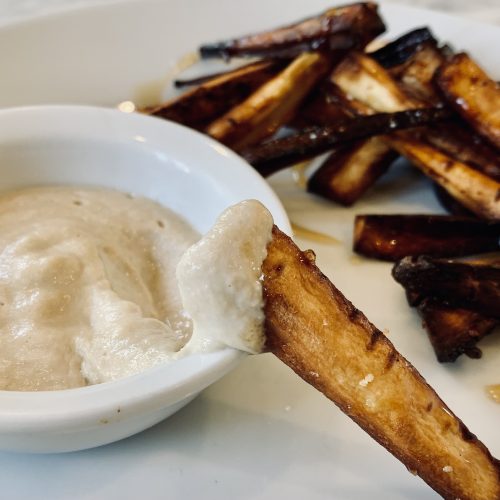 Hot Honey Roasted Parsnips
Roasted Parsnips drizzled with hot honey served with a creamy garlic horseradish dipping sauce. A perfect appetizer or side dish.
Ingredients
4-6

small

parsnips peeled and thinly sliced

2

tbsp

hot honey (or more if desired)

salt to taste
Instructions
Prepare the parsnips and place in a large bowl.

Toss parsnips with honey and a pinch of salt.

Place in air fryer and cook until golden brown. Alternate cooking method: roast in oven at 425 degrees F until golden brown.

Taste and add additional salt or honey.
Serving Suggestions
Serve with Creamy Garlic Horseradish Dip (see recipe).