A Bit of History:
Once again, an ancient fruit stars in my recipe for Smoked Fig Jam Bruschetta. Scientists and historians discovered evidence of fig cultivation dating back over 11,000 years ago in Jericho on the West Bank. Figs are really a fascinating fruit with a long and significant history! Since figs predated the domestication and cultivation of cereals and grains, they may very well have started agriculture. Figs are also a component of every major religion from the forbidden fruit in Adam and Eve to Islam, Hinduism, and Buddhism. In addition, figs are actually an inverted flower that blooms inside of the fruit. Apparently, the correct botanical term for this unique process is infructescence. Fig wasps pollinate the flower by physically crawling inside of the fig. Pretty cool, right? Fig roots also stretch to great depths. According to mutiarafigs.com, the roots of certain South African figs can extend up to 400 ft underground.
About the Recipe: Smoked Fig Jam Bruschetta
Figs demonstrate some amazing health benefits! Not only, a wonderful source of natural sugar and high in potassium and calcium; figs function as prebiotics to assist in maintaining a healthy gut microbiome. Resin extracted from fig leaves has been suggested as a remedy to reduce itching from bug bites. One site even mentions that due to the high amount of alkalines in figs they may reduce the desire for nicotine and function as a substitute for coffee. While I won't be giving up my morning espresso, I plan on enjoying figs in both sweet and savory dishes this season.
I love incorporating figs into my morning breakfast bowl with a bit of honey and nut butter. I also love experimenting with seasonal fruits and vegetables to create some new dishes. For this particular recipe, I decided to have my husband teach me how to set up the grill to smoke figs. After a few hours of smoking, I combined the figs with pomegranate molasses, red wine, honey, and lemon juice into a delicious savory jam. Spread on toasted baguette and top with crispy shiitake mushrooms and pickled sweet onions and you will have an amazing bruschetta that resembles the taste of bacon!
When smoking fruit on the grill, remember you want low heat and a long time frame! Trust me, the taste is worth the wait.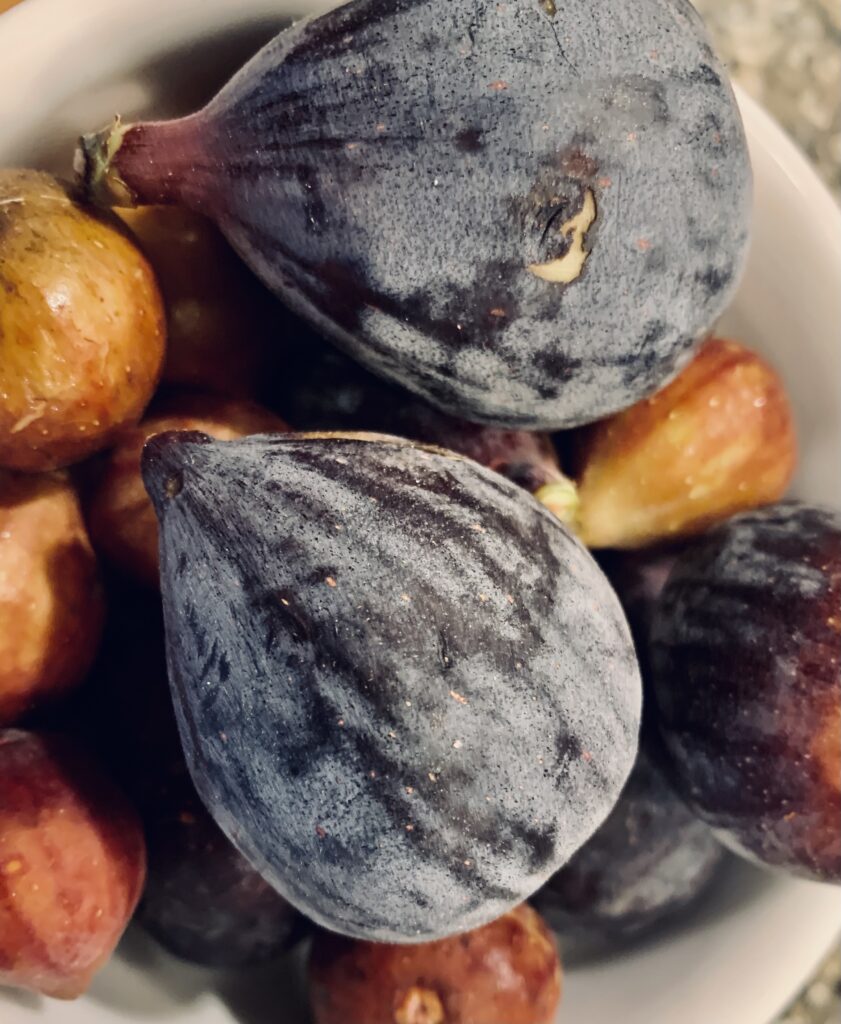 ---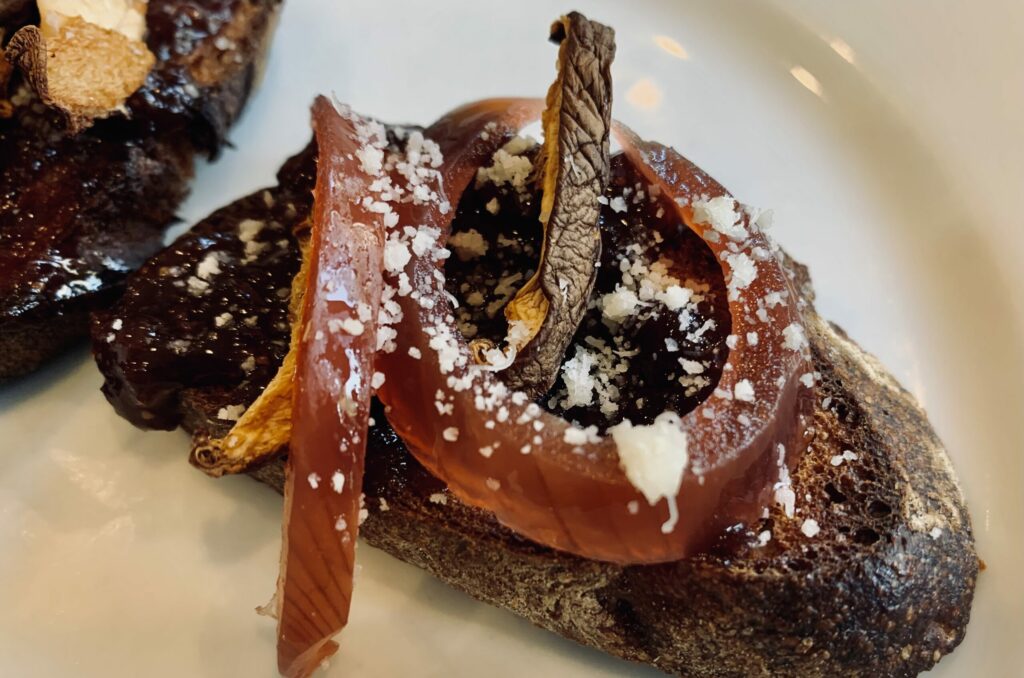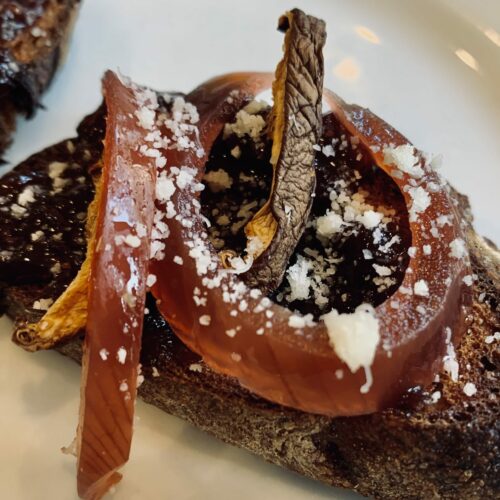 Smoked Fig Jam Bruschetta
A savory, smoky, irresistible, spread that is the perfect topping for pizzas, baguettes, and sandwiches.
Ingredients
4

lb

fresh figs*

3

fresh plums (optional)

2/3

cup

honey (substitute sweetener of choice if vegan)

1 1/2

cups

hot water

1 1/4

cups

red wine

2

tbsp

pomegranate molasses*

1

lemon juiced

sea salt
Serving Suggestions Ingredients
pickled onions

roasted mushrooms such as shiitake, portobella

sprinkling of nutritional yeast or cheese

toasted baguette or pizza crust

arugula
Instructions
Set smoker temperature to 175-200 degrees F.
Simple Syrup
Place 1/3 cup of honey in 1 1/2 cups hot water. Set aside while honey dissolves.
Figs
Remove the stems from the figs and slice in half lengthwise.

Place figs and plums (if using) in a large, glass heat safe dish. Pour honey mixture over figs.

Smoke the fig mixture for 3 hours at 175-200 degrees F.

Remove figs from smoker and transfer to a large pot.

Add remaining honey, pomegranate molasses (or substitute pomegranate juice), and red wine. Stir to combine.

Simmer over medium hot for at least 30 minutes until mixture has reduced. Stir in fresh lemon juice.

When mixture is cool enough, place in a blender and pulse until you reach desired consistency. Taste and add sea salt or additional honey if desired.
Serving
This jam is delicious on pizza crust or toasted baguette topped with pickled onion and crispy mushrooms, a sprinkle of cheese, and arugula lettuce.
Notes
*You can also use 5 cups of dried figs if unable to find fresh figs. Using dried figs yields a sweeter jam.
*1/4 cup of pomegranate juice may be substituted for pomegranate molasses.