---
Coming from an Italian-Greek family, I fondly remember childhood trips to Greek town in Chicago. We lived quite a distance from the city, so eating at the Parthenon in Greek town was always a special event. My favorite menu items included Greek chopped salad, avgolemono soup, pita bread, olives, saganaki, and Greek potatoes. My extended family and I would sit for hours enjoying each of these dishes in turn, while the children attempted to race around the dining room. Greek dishes for me will forever be associated with comforting, family meals.
Thankfully, my children also love Mediterranean flavors. Greek salads are one of only two ways I can coax my older daughter to eat something green that is not guacamole. I sometimes find that Greek salad dressing can have an overwhelming amount of olive oil that masks the beautiful flavor of the vegetables. I wanted to experiment with a lower fat dressing that still incorporated traditional Greek flavors.
Aquafaba, the liquid from canned garbanzo beans, is often used in vegan cooking as an egg replacement. It also works well in some recipes as an oil replacement. Adding some of the canned garbanzo beans and kalamata olives results in a delicious, creamy salad dressing!
Here is how you can make a beautiful salad at home that the whole family will enjoy.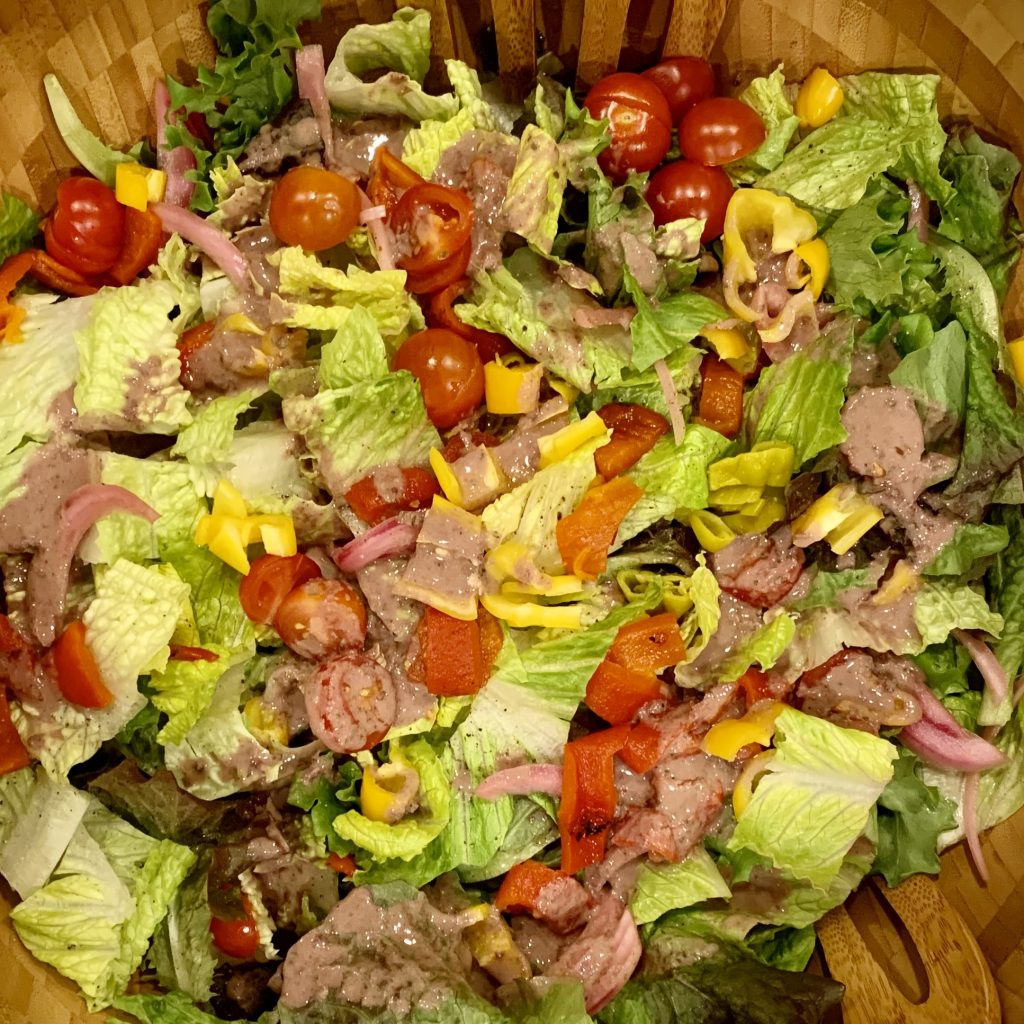 Featured salad components: Romaine lettuce, cherry tomatoes, baby bell peppers, English cucumber, fire roasted jarred red peppers, red onion, and pepperoncini.
Other salad topping suggestions: artichoke hearts, additional olives, roasted garbanzo beans, feta cheese (if not vegan), or hearts of palm.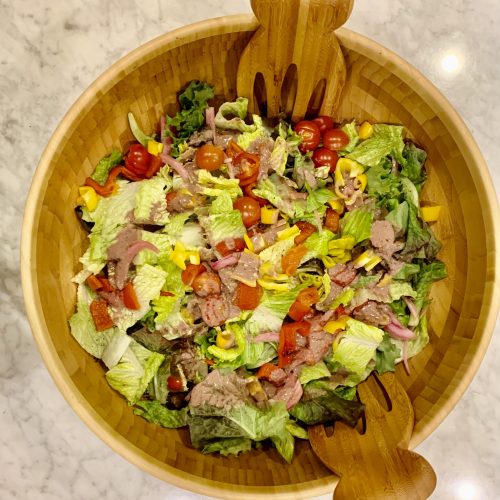 Greek Chopped Salad with Kalamata Olive Dressing
A vibrant, healthy, Greek chopped salad with kalamata olive dressing and no additional oil!
Ingredients
Kalamata Olive Greek Salad Dressing
1

can

garbanazo bean liquid

1/2

cup

canned garbanzo beans

1

lemon juiced

2/3

cup

red wine vinegar

2

tbsp

capers drained

20

kalamata olives or mixture pitted

1

heaping tbsp

dijon mustard

3

garlic

cloves

2

tbsp

oregano
Salad Components
3-4

romaine hearts chopped

1

cup

cherry tomatoes halved

1

English or Persian cucumber diced

4

baby sweet bell peppers chopped

1/4

cup

red onion diced

1-2

fire roasted red peppers chopped

2

pepperoncini chopped
Additional salad ingredient ideas
artichoke hearts, roasted garbanzo beans, additional olives, feta cheese (if not vegan), hearts of palm.
Instructions
Greek Salad Dressing
Blend all ingredients together until smooth.
Salad Assembly
Chop all desired ingredients and add to a large bowl. Toss with with salad dressing. Taste and adjust seasonings.