A mezze platter would not be complete without breads, dipping sauces or spreads, and small dishes of either vegetables, meats, or cheeses. My family prefers some small plates of different vegetables and olives to accompany our mezze platter.
Last week we had an abundance of red potatoes, purple potatoes, carrots, and assorted spring green vegetables. Using this beautiful array of vegetables, I decided to create two small plates for our mezze night. The first dish consisted of roasted carrots, potatoes, and black olives tossed in za'tar and olive oil. Za'tar is a common savory spice blend, containing thyme and other herbs, in Middle Eastern cuisine. The second small plate featured asparagus, green beans, peas, garlic scapes, and serrano pepper lightly cooked with fresh herbs and lemon. We had a great time nibbling delicious bread smeared with fava bean hummus, roasted vegetables drizzled with cilantro mint sauce, and spring vegetables with crisp scallions. With a fabulous mezze array and a glass of your favorite beverage, it's easy to nibble the night away!
---
---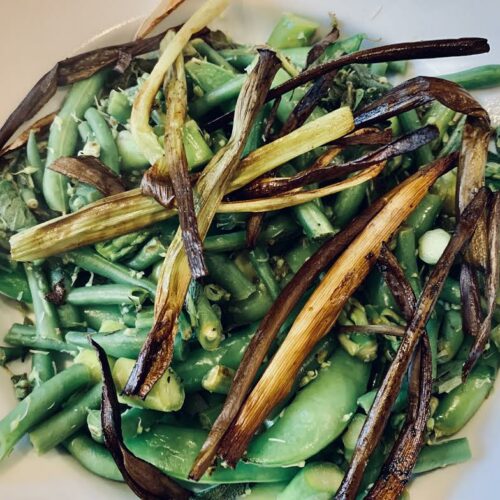 Spring Vegetables with Garlic Scape, Oregano, Sage, Serrano, & Lemon
Asparagus, green beans, sugar snap peas, garlic scapes, tossed with fresh lemon, oregano, sage, and serrano peppers. Topped with crispy air fried scallions and it is a wonderful addition to mezze night.
Ingredients
1 1/2

cups

green beans trimmed and blanched*

8

spears

asparagus trimmed and blanched*

1 1/2

cups

sugar snap peas trimmed and blanched*

2-3

garlic scapes (tender part of stalk and bulb minced)

1

tbsp

fresh sage minced

2

tbsp

fresh oregano minced

1

serrano pepper minced (seeds removed)

1

lemon juiced

1

bunch

scallions trimmed and sliced lengthwise in half

1

tbsp

olive oil or vegetable broth for cooking.
Instructions
Crispy Scallions
Place trimmed and sliced scallions in an air fryer and cook until crispy. About 5-10 minutes. Remove and set aside. If you do not have an air fryer the scallions can simply be added to the garlic and pepper and cooked with remaining vegetables.

Heat olive oil or vegetable broth over medium heat. Add garlic scapes and serrano pepper and cook for 30 seconds.

Add blanched asparagus, green beans, lemon juice, and herbs and cook for 1-2 minutes. You want the vegetables to be warm and tossed with the herbs but still crisp. Remove from heat and stir in the sugar snap peas.

Top with crispy scallions and serve as small plate to accompany other mezze. (Note this is also excellent served over your favorite grain or noodle).
Notes
*To blanch green beans, asparagus and snap peas bring a pot of water to a boil. Add vegetables and cook for 90 seconds. Immediately transfer to a bowl of ice water for 2 minutes. Drain. The ice water stops the vegetables from cooking and helps retain their bright green color. I like to snap the ends off the green beans and snap peas before blanching and trim and cut the asparagus into 1 inch pieces.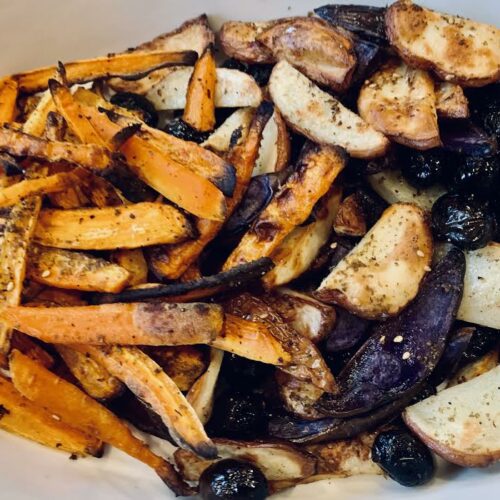 Roasted Vegetables with Black Olives and Za'tar
Carrots, potatoes, and olives tossed with olive oil and za'tar. A perfect side dish or main meal especially topped with cilantro mint sauce!
Ingredients
2

cups

peeled and chopped carrots

2

cups

mixed baby potatoes chopped

1/2

cup

pitted black or mixed olives

2

tbsp

za'tar

salt and pepper to taste

drizzle of olive oil or vegetable broth for roasting
Instructions
Heat oven to 450 degrees F.

Toss chopped vegetables with olive oil and za'tar and a pinch of salt and pepper.

Place prepared vegetables on baking a lined baking tray and roast for 30 minutes.

Add olives to the tray for the last 10 minutes of roasting.

Serve as a side dish, main meal over grains or rice, and top with cilantro mint sauce if desired.