Ahh ganache, a delectable symmetry of chocolate and cream and, just for good measure, some extra fat either as butter or oil to make it shiny. We all love chocolate ganache in my home and for every birthday my girls always want chocolate ganache incorporated into their cakes. I pondered: why is it called ganache, and could I make a plant-based version that actually tasted good? My wondering certainly paid off with this plant-based and vegan chocolate espresso ganache recipe.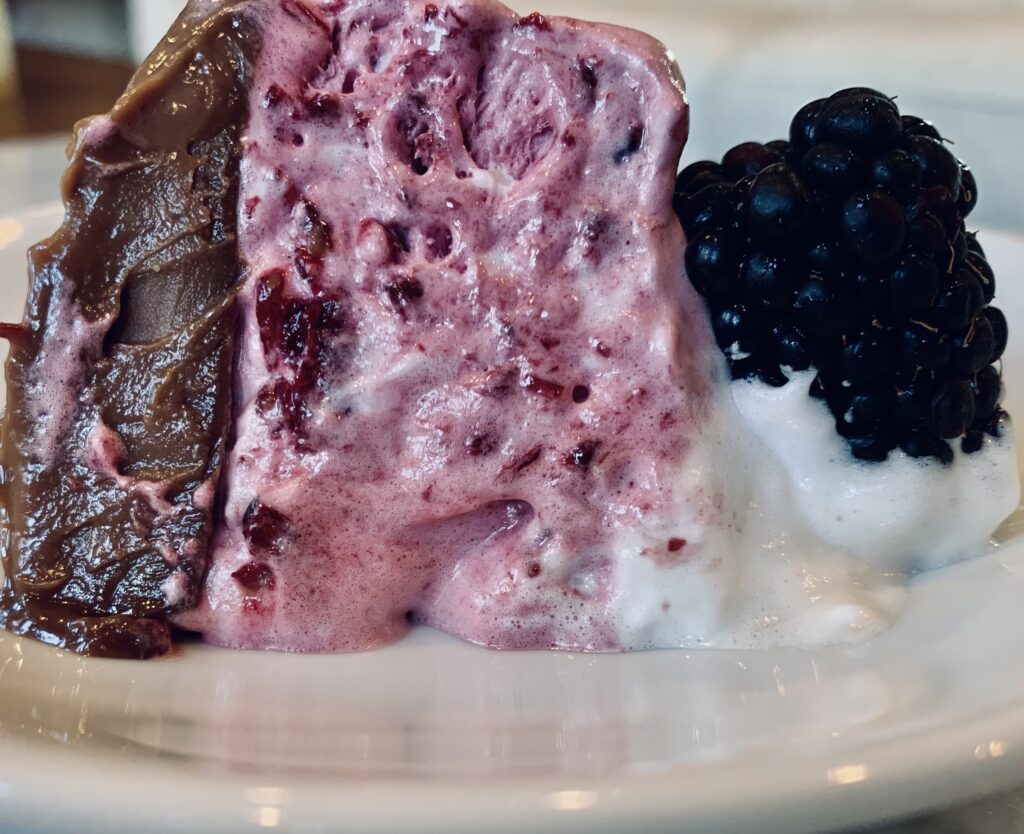 A Bit of History
A few different culinary legends prevail regarding the origins of chocolate truffles and ganache. The most popular version states that Paul Siraudin, a Parisian playwright, invented and documented chocolate ganache in 1869. Mr. Siraudin named the confection after a play written by Victorien Sardou titled Les Ganaches, or in English "The Chumps." Other stories, credit the kitchen of Auguste Escoffier with the invention of the chocolate truffle in the 1920s. Legend has it that his apprentice erred while pouring hot cream into a bowl of chopped chocolate instead of the intended bowl of sugar and eggs. When Escoffier saw the result of cream and chocolate whisked together, he called his apprentice a ganache (or a fool). As the chocolate ganache set, Escoffier rolled it into balls and coated them with cocoa powder. He noticed that they looked very much like forest fungi truffles and the name stuck. Following either story, chocolate ganache, carries the connotation of a fool or something foolhardy. However, there is no fooling around in this vegan chocolate espresso ganache recipe!
Vegan Chocolate Espresso Ganache
My recipe contains only 5 ingredients and requires very little preparation time. Simply melt chocolate, sugar, and espresso powder with oat milk. I use barista blend oat milk, as its consistency closely resembles cream. Once the ganache has set, you can add it to your favorite desserts. We use it to frost cupcakes and cakes or top ice cream. Another fun dessert to try is adding ganache to frozen blackberry mousse. Freezing chocolate ganache in a mini spring pan forms a base layer, then top with a layer of homemade plant-based blackberry mousse and freeze again for a delectable treat.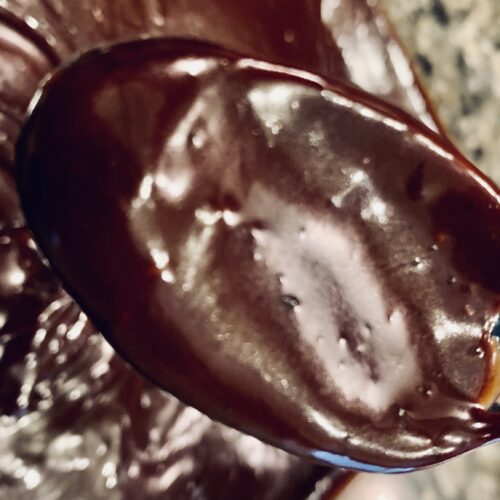 Easy Vegan Chocolate Espresso Ganache
A decadent, easy, chocolate espresso ganache that is absolutely divine in desserts, over ice cream, or just by the spoonful!
Ingredients
1 1/2

cups

oat milk (barista blend)

10

oz.

semi-sweet chocolate of choice

2/3

cup

sugar

1

tbsp

espresso powder

pinch

sea salt
Instructions
Combine all ingredients in a medium saucepan.

Cook on low heat until chocolate melts and the mixture begins to simmer.

Simmer for 10 minutes until reduced and thick. Stir very frequently to avoid burning the chocolate.

Pour chocolate mixture into a shallow pan. Refrigerate until chilled. Then transfer to freezer for 8 hours or overnight.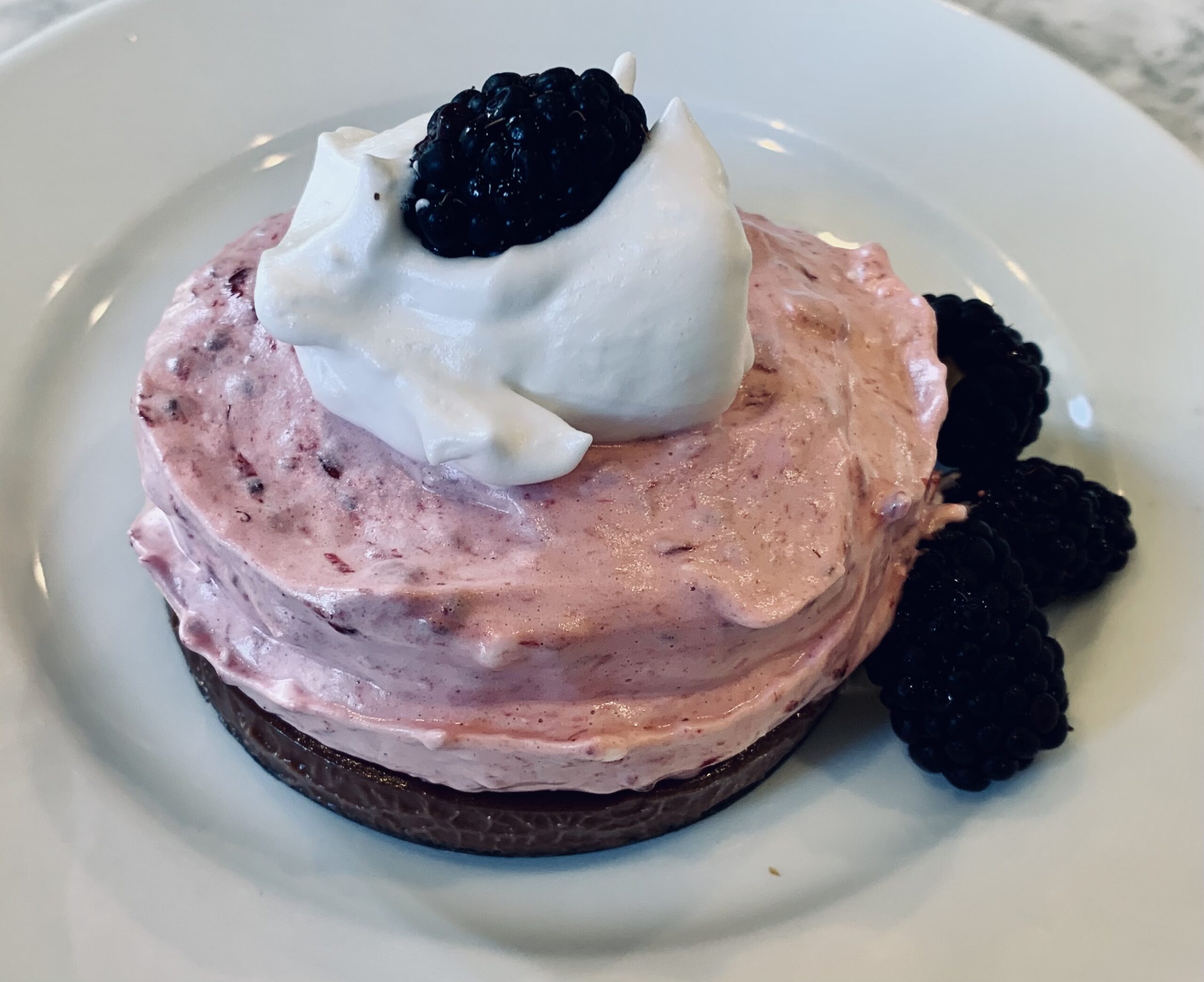 Vegan Blackberry Mousse
A non-dairy treat with only 4 ingredients- Creamy Blackberry Mousse! Simply mix and enjoy or combine with my vegan Chocolate Espresso Ganache for a truly decadent experience.
Ingredients
1

liquid from one can of garbanzo beans (reserve beans for another use).

1

cup

powdered sugar

1 1/2

cup

blackberry jam (I use my homemade jam but any type will suffice)

1/4

tsp

cream of tartar
Instructions
Add liquid from can of beans and cream of tartar to the bowl of a stand mixer.

Whip on high for 3 minutes. Then add 1 cup of powdered sugar and whip for another minute or until stiff peaks form.

Gently fold in blackberry jam with a soft spatula.

Transfer mousse to the refrigerator or freezer.