---
Of Oyster Mushrooms, Garlic, Shallots, Parsley and Linguini…
I love Lewis Carroll's famous poem featured in Alice and Wonderland with the walrus and the carpenter. I cannot think of oysters, be they sea creatures or mushrooms, without recalling this poem. And so my friends, the time has come to discuss what to do with a beautiful box of oyster mushrooms. These delectable wonders appeared in my latest CSA box from Kindlewood farms.
I knew right away these were going to be the star ingredient for pasta night and described below is our favorite way to prepare them!
Here are a few tips for an easy dinner:
Oyster mushrooms are easy to clean. Just wipe away any dirt with a dry paper towel and cut off the stem. This article is great for a step by step process with photos.
You can certainly roll your own pasta by hand. It is fun and easy to do. My daughters and I always do this step together and the ratio of water to flour we use is listed below. We have tried many brands of semolina flour over the years and hands down prefer to use Bob's Red Mill. The taste is far superior and it yields the perfect texture of dough for rolling pasta.
However, there are many nights when this is just not feasible. Dried pasta noodles work extremely well on these nights. If Julia Child regularly served Goldfish crackers as an appetizer before Thanksgiving dinner and at parties – then home cooks should feel free to buy dried pasta!
When you cook the pasta noodles, always reserve some of the cooking liquid to add to the bowls if needed.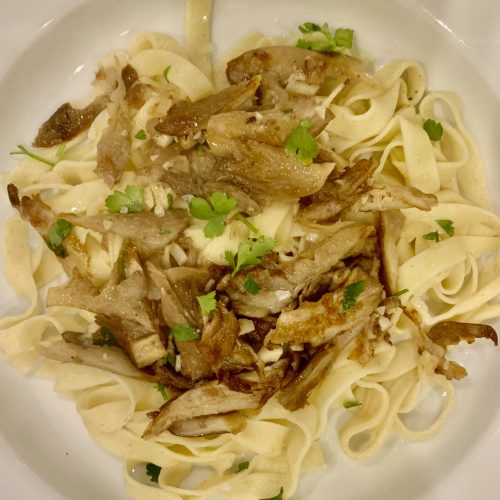 Homemade Semolina Linguini Pasta
Homemade Semolina Pasta Linguini without egg
Ingredients
200

grams

semolina flour

92

grams

warm water

1

pinch

sea salt
Instructions
Weigh flour and add to a mixing bowl.

Place a pinch of sea salt in the bottom of a glass measuring cup.

Weigh 92 grams of warm water in the glass measuring cup and stir until salt dissolves.

Add water and salt mixture to the flour.

Using a stand mixer and dough hook attachment, mix the dough until a ball forms. Knead a few times by hand if needed.

Sprinkle the ball of dough with flour.

Roll the pasta as per your pasta machine's directions.*

Cook fresh noodles in salted, boiling water for 2-3 minutes. Start testing the noodles when they begin to float.
Notes
*We have a Marcato pasta machine and typically roll the dough to a level 4 and then cut the noodles.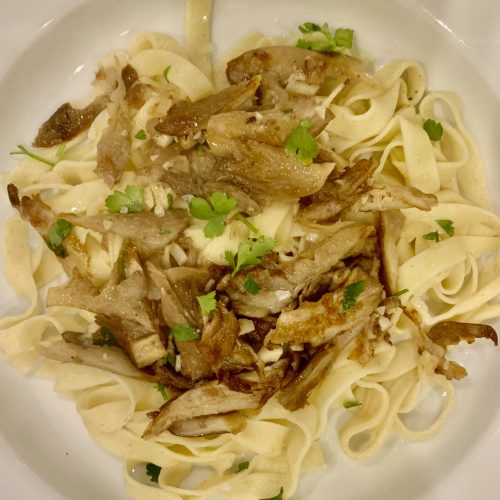 Oyster Mushrooms with Garlic, Shallots, and Parsley over Linguini
Oyster mushrooms with garlic, shallots, parsley over semolina linguini.
Ingredients
4

cloves

garlic minced

1-2

tbsp

shallots minced

4

cups

oyster mushrooms cleaned and stems removed

1 1/2

tbsp

olive oil

1/4

cup

fresh parsley chopped

1

pinch

salt, pepper, and red chili flakes to taste
Instructions
Heat olive oil in a sautee pan on medium heat.

Add mushrooms and cook for 3-5 minutes without stirring.

Stir mushrooms once and cook an additional 3-5 minutes.

Add garlic and shallots and a spray of olive oil. Cook 2-3 minutes until golden. (Optional: deglaze pan with white wine, 1 tbsp of olive oil or plant-based butter.
Serving
Divide the freshly cooked linguini noodles into three bowls.

Top each bowl of pasta with the mushroom, shallot, and garlic mixture.

Sprinkle each bowl with fresh parsley and additional salt, pepper, or red chili flakes if desired.