Sangria, from the Spanish and Portuguese, literally means bloodletting. It refers to the beautiful, ruby, red color of what has become a favorite summertime beverage in the US. Once again, we have those marching Roman legionaires to thank for spreading the tradition of drinking wine. As the Romans invaded vast territories in Europe and the Mediterranean in the first century AD, they influenced conquered cultures, promoted trade, and shared their traditions. The Romans, influenced by the Greeks, assisted in spreading the custom of drinking wine. Consuming wine, in those times was infinitely safer than drinking water, due to unreliable drinking water sanitation. As a result of the Roman influence, the Spanish planted additional grape vines to increase their wine production and revenues from trading goods with Rome (A History of the World in 6 Glasses, Tom Standage).
Just like in Spain, where sangria recipes vary between regions and local towns, you can find hundreds of different combinations to create a refreshing punch. This is my latest version that I made using some of my favorite local fruits; peaches from Shuler farms, blueberries, and plums. It is also a great way to utilize leftover wine! Sangria is incredibly easy to make. You simply dissolve honey or sugar in hot water with the peaches and plums, transfer to a large jar, add brandy and wine, and marinate. Choosing a wine to complement your flavors and tastes is very important. For this recipe I chose a light Pinot Noir. I found this article quite helpful for choosing an appropriate wine for Sangria.
---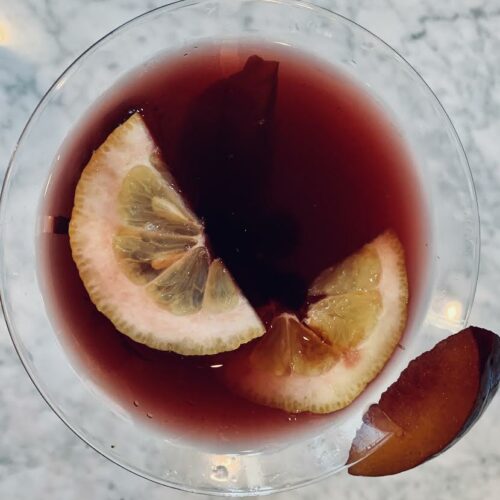 Peach Plum Blueberry Sangria
A refreshing summer classic featuring peaches, plums, blueberries, red wine, brandy, and lightly sweetened with honey.
Ingredients
3

peaches sliced

3

plums sliced

1/2

cup

blueberries

1/4

cup

honey

1/4

cup

water

1/2

cup

brandy

2

bottles

red wine (lighter, fruit forward wines work better)

1

lemon juiced and zested
Instructions
Cut up peaches and plums and place in a small saucepan.

Slowly simmer until honey is dissolved (1-2 minutes). Immediately remove from heat and allow to cool.

Transfer fruit to a large glass container (at least 2 liters).

Add wine, brandy, blueberries, lemon juice and zest. Stir to combine.

Refrigerate for 8 hours or overnight.

Optional: Strain fruit and use it to garnish each glass. Serve over ice.