–For my mom
A Recipe for Pomegranate Molasses Vinaigrette, Roasted Winter Vegetables, Arugula, and Wild Rice Bowl
---
I loved hearing the stories from Greek mythology as a child and continue to enjoy reading them with my daughters. I have many favorites, but whenever winter rolls around and I see pomegranates in the market, I think of Persephone. If you are unfamiliar with the story, Persephone is kidnapped by Hades and taken to the underworld. While captive, she eats six pomegranate seeds. Demetor, her mother and the goddess of fertility and harvest, is distraught. Zeus decrees that Persephone must spend six months in the underworld each year to account for each of the six seeds. In retaliation, Demetor prevents the earth from bearing fruit for six months. When Persephone is reunited with her mother each year, spring arrives.
Pomegranates have come to signify the persistence and the promise of new life in the spring. While researching pomegranates, the message of persistence kept wiggling in the back of my mind. As an endurance athlete and in the midst of a global pandemic, I found persistence to be very meaningful. I also considered that I better persist and use of some of the root vegetables in the refrigerator before my next CSA boxes arrive!
If you are like me, my refrigerator always has an assortment of neglected, random vegetables, leftover from previous recipes. At this very moment, one could find 3 baby beets, one rutabaga, a few peeled shallots, some carrots, and some cubed butternut squash. I immediately thought of a fail proof dinner plan – the roasted vegetable bowl. Bowls are great and an easy dinner. With four main components and no rules, they are the perfect weeknight dinner.
A pomegranate molasses vinaigrette is the ultimate sauce to complement winter roasted vegetables. Pomegranate molasses, a thick syrup, is a simple reduction of pomegranate juice and sugar. Both homemade and store bought (which is what I used work well).
---
How You Can Build a Bowl: 5 Main Components
Greens
Grains
Vegetables
Sauce/Vinaigrette
Crunchy Topping: nuts, seeds, crispy or raw vegetables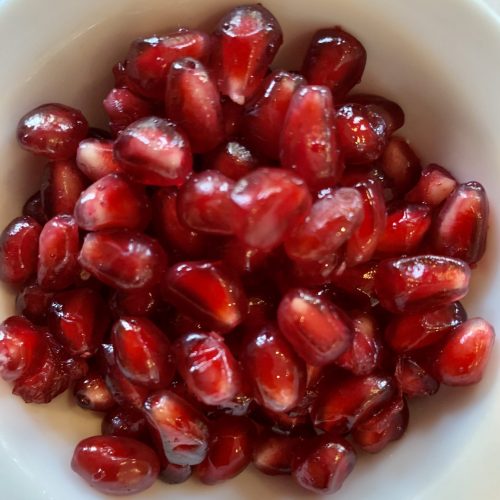 Pomegranate Molasses Vinaigrette
A savory and mildly sweet vinaigrette perfect for topping greens, grains, and roasted vegetables.
Ingredients
1/4

cup

pomegranate molasses

1/4

cup

water

2

lemons juiced

1/2

tsp

salt

3

cloves

garlic

1 1/2

tsp

tahini

1

tbsp

Dijon mustard

1

pinch

black pepper to taste
Instructions
Blend all ingredients together.
Serving suggestions:
Pairs well with roasted Murasaki potatoes, sweet potatoes, butternut squash, carrots, rutabaga, beets, cauliflower, arugula, spinach, wild rice, couscous, farro, quinoa, and barley.
Roast any combination of winter vegetables in the oven. Sweet Murasaki potatoes, butternut squash, carrots, rutabaga and baby beets (pictured below) pair well with pomegranates. Cauliflower is also a wonderful pairing. Add arugula or spinach and your grain of choice such as wild rice, barley, couscous, farro, or quinoa. Garnishing the top of the bowl with the pomegranate arils (seeds) finishes the bowl with a wonderful, sweet crunch.