A Bit of History
I am always intrigued by photos of cranberries floating in bogs. It reminds me of a giant swimming pool filled with bath beads! During my research for my latest recipe, Easy Baked Cranberry Oatmeal, I learned that farmers utilize two different methods for cranberry harvest. Interestingly, cranberries float in water due to their internal air pockets. One method of harvesting involves pouring the berries into a bog. Water reels stir the fruit and allows the berries to break free from the vines and float to the top for collection.
On the other hand, Native Americans incorporated cranberries into their lives in many ways, from consuming fresh fruit, to tea, and for dying clothing and jewelry. Ground cranberries also found their way into pemmican, a mixture of venison and fat formed into cakes. Pemmican provided an easily transportable and long-lasting form of nutrition for extended journeys. According to National Geographic, pemmican sustained the fur traders and early settlers in Northeastern North America.
About the Recipe: Easy Baked Cranberry Oatmeal
Personally, I think an easy baked cranberry oatmeal, tastes better than what I imagine pemmican tastes like! This recipe is easy, requires only one bowl, and is adaptable to ingredients you have on hand. My latest baked oatmeal creation highlights fall flavors with smoked pumpkin puree, cranberries, and pecans. If you don't have time to smoke pumpkins, simply use canned pumpkin puree! Prepare in advance and reheat for quick breakfasts throughout the week or add to your next brunch menu!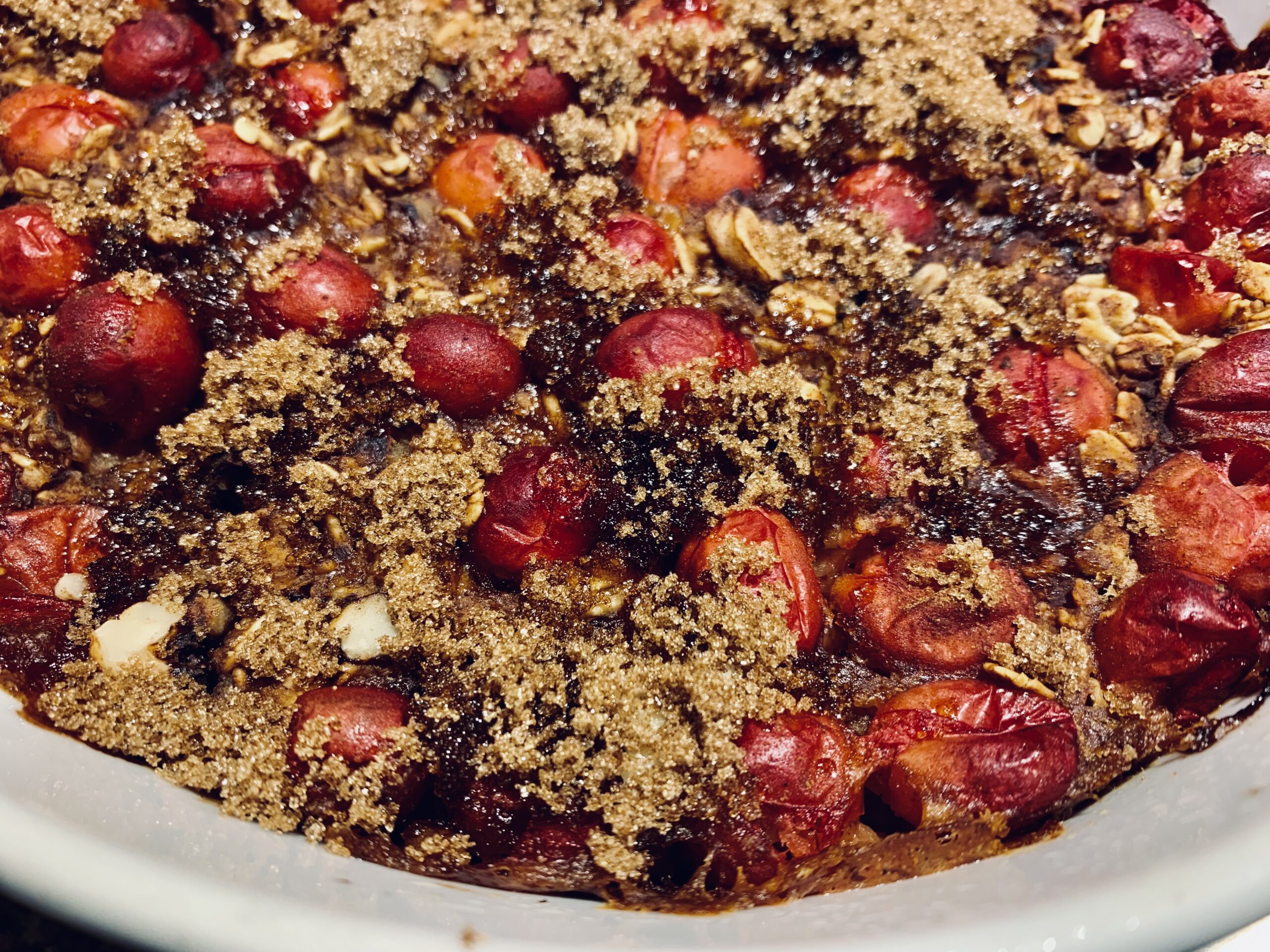 Baked Oatmeal with Cranberries, Pecans, & Smoked Pumpkin
A wonderful fall breakfast that is sweet, smoky, and tangy all at all once! Easy baked cranberry oatmeal with non-dairy milk, flax, pecans, smoked pumpkin butter and cinnamon. Lightly sweetened with maple syrup and topped with caramelized brown sugar.
Ingredients
1 1/2

cups

pumpkin butter (smoked*, fall spiced, or simple canned pumpkin puree)

1

cup

oat milk

2

tbsp

ground flax seed

1/3

cup

maple syrup (more to taste)

3

cups

rolled old fashioned oats

1 1/2

tsp

baking soda

1

tbsp

apple cider vinegar

3/4

tsp

salt

1

tbsp

cinnamon

3/4

cup

chopped pecans

2

cups

fresh cranberries

1/4

cup

brown sugar (for sprinkling on top)
Instructions
Combine all ingredients except brown sugar in a large bowl.

Prepare a baking dish by spraying it with olive oil. Use a smaller, deeper dish (8×8) for thicker softer oats or a larger, shallow dish for thinner, crispier oats.

Pour mixture into prepared pan. Bake at 375 for approximately 45-60 minutes depending on size of dish and how crispy you prefer your oats. I like to start checking around 45 minutes.

Remove pan from oven and sprinkle reserved brown sugar over the top. Return to oven for an additional 5 minutes until sugar has caramelized.

Allow to cool completely before cutting. I prefer to make this recipe a day in advance and allow it to completely set in the refrigerator and then re-warm in the oven or air fryer before serving.
Notes
*See my recipe for smoked pumpkin butter. Canned pumpkin puree also works well in this recipe or your favorite pumpkin butter.
In the mood for autumn inspired breakfasts? Try these ultratruffle favorites: golden milk overnight oats, wheat berry breakfast bowl with roasted grapes, or pine nut crepes with fresh figs.