---
Every spring I wait patiently for the first appearance of Ataulfo mangoes at the store. As soon as I spy them, I buy a box and start making mango salsa. Ataulfo mangoes are often called Champagne mangoes due to their smooth, velvet like consistency and juicy sweetness. They are grown in volcanic soil in Mexico and are considered by many to be as important to Mexico as Champagne is to the French. Unlike other mangoes, Ataulfo mangoes do not contain interior fibers, making it much easier to cut and slice them. (This is a great, short article on how to slice Ataulfo mangoes).
Thankfully, Ataulfo mangoes are not the most expensive in the world. That prize is reserved for Miyazaki mangoes from Japan, which sell for $5,000 per mango. While, Miyazaki mangoes are rich in price, Ataulfo mangoes are rich in Vitamin C (115% of daily recommendation) and Vitamin A (26% of daily recommendation). I often happen upon these mangoes at my local Costco for a very reasonable price. Best of all, my whole family loves mango salsa and it is a perfect addition to roasted or grilled vegetables tacos. The recipe listed below is how we make our favorite version of mango salsa. Taco night is a staple in my house!
---
Mango salsa with chips and mango salsa with roasted cauliflower, sweet potatoes, and gaucamole served in a tortilla.
---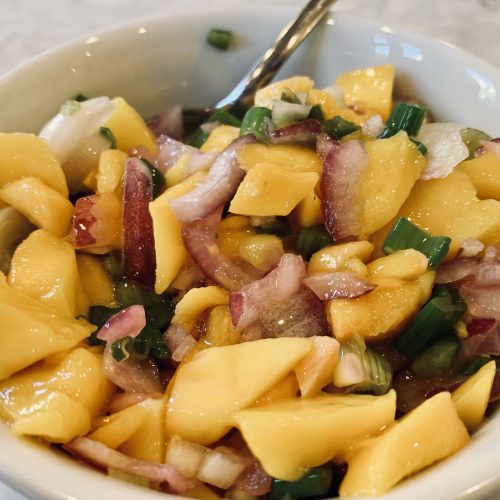 Mango Salsa
A velvet smooth salsa with Ataulfo mangoes, jalopeno, red and green onions. A delicious, healthy, and easy side dish for taco night!
Ingredients
3

Ataulfo mangoes peeled and cubed

1/2

red onion diced

2/3

cups

green onions diced

1

large jalopeno pepper seeds removed and diced

2-4

tbsp

lime juice to taste

salt to taste
Instructions
Remove mango skin, cut lengthwise along the core, then cube pieces.*

Mix all ingredients together. I like to start with the lower end of the lime juice range and add more after tasting if desired.

Store salsa in the refrigerator and let marinate 30 minutes to 1 hour before serving. We like to serve our salsa with our favorite roasted or grilled vegetables for taco night and it perfect for scooping up with crunchy tortilla chips!
Notes
*See article on how to cut Ataulfo mangoes.