Peanut butter and jelly sandwiches have always been one of my top comfort foods and it is still my favorite combination of all time. As a child, my sandwiches were always either grape or strawberry jelly with smooth peanut butter. Thankfully, I have moved on from grape jelly and commercial nut butters with tons of additives. Making your own nut butter is super easy, fast, and healthy because you are in control of what is added. I also love purchasing small batch nut butters from local companies. As spring and summer roll into South Carolina, it is prime berry season. Which means, the Ultratruffle kitchen is churning out jams and creating fun recipes for them. Currently, strawberry season is in full swing. The Boone Hall Farms fields are right down the road and I have been picking fresh berries twice per week. They are so good, the kids eat them right off the counter before I can even cut them up!
In my version of the ultimate PB&J sandwich I used freshly roasted peanuts and sesame seeds with a little tahini and honey for the nut butter. I have always been partial to sesame seeds whether it is sesame semolina bread, a drizzle of sesame oil to finish a dish, or my favorite long run energy snack pasteli (honey and sesame seeds bars). Sesame seeds have been used for over 5,000 years by the ancient Egyptians and Chinese for ink block printing. These beautiful, nutty flavored seeds are also widely used in many Middle Eastern and Mediterranean cuisine. Sesame seeds were even once credited with magical powers. I am sure that you are familiar with the phrase "Open Sesame"?
The jam component is a simple, homemade strawberry jam with just three ingredients! Nestled between two slices of homemade sourdough bread from local crafters at the Daily and it is perfection!
---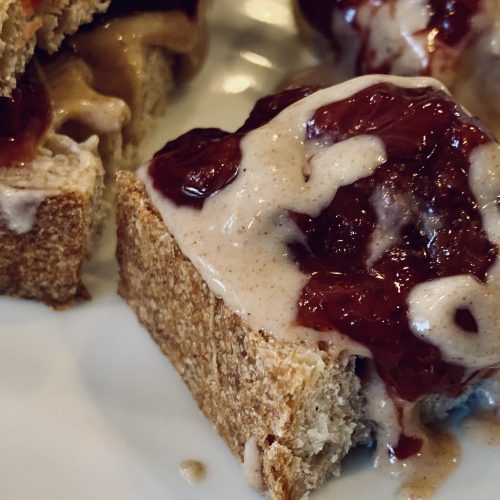 Roasted Sesame Seed & Peanut Butter
A creamy, flavorful, homemade nut and seed butter. Perfect for smearing on toast, sandwiches, or use in sauces and baking.
Ingredients
1

cups

hulled sesame seeds

2

cups

raw peanuts

1-2

tsp

tahini

1

tbsp

maple syrup, honey, or date syrup
Instructions
Heat oven to 350 degrees F.

Place nuts and seeds on a lined baking tray. Toast in oven for 5-15 minutes until golden brown. Since oven times and temperatures vary check them frequently as the nuts and seeds will burn quickly.

Place all ingredients in a high speed blender with toasted nuts and seeds. I like to start with 1 tsp of tahini and add more if needed.

Blend until smooth, using the blender tamper attachment to push down the mixture into the blades.

Blending may take 5-10 minutes depending on the speed and power of your blender.

Taste and add salt or additional sweetener if desired.
---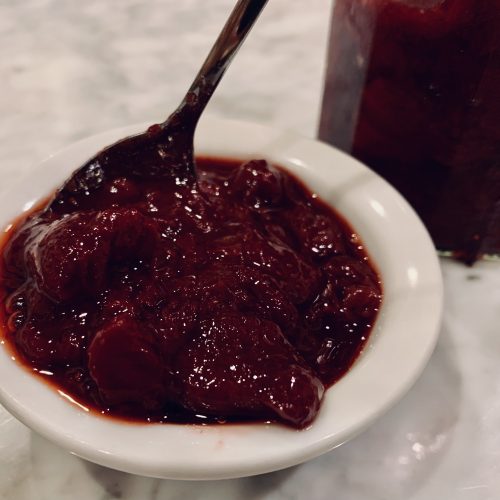 Fresh Strawberry Jam
A fresh strawberry jam that highlights the natural sweetness of just picked berries with just three ingredients and no pectin.
Ingredients
12

cups

strawberries (tops removed and cut in half)

1

lemon juiced

2/3-1

cup

honey (or other sweetener if vegan)
Instructions
Combine all of the ingredients in a large pot starting with 2/3 cup of honey.

Bring to a low simmer and cook for a few hours stirring occasionally. You will need to stir a bit more frequently towards the end.

Cook until the berries have broken down and liquid reduced.

Taste and add additional sweetener or lemon juice if desired.

If you do not like the fruit chunks in a jam, simply pulse in a blender until you achieve desired consistency.