---
A Bit of History: Wood Fired Pizzas
My daughters and I gave my husband, Rob, an Ooni wood fired portable pizza oven for Christmas. Ok, it was just as much a gift for us as for him. In our defense, he is a master at tossing and crafting pizza dough. No one else in our family even comes close.
Rob grew up in New Jersey, close to NYC, and attributes his pizza skills to years of observing Matt at Rudy's Pizzeria in his hometown of Closter, New Jersey. As a family run business, Rudy's has been an anchor of the community since opening, and was recently the subject of a fantastic documentary on Amazon Video detailing the American Experience of two immigrant brothers from Calabria, Italy. While your dough is rising, check out the documentary!
After leaving Closter in 1990, Rob quickly realized that good pizza crust was hard to find and has been on a quest to recreate the perfect pizza. It took almost 30 years of searching; interrupted by college, medical school, and surgical residency, but he thinks he is finally close.
I love pizza night at our house because I get to be the sous chef. My only tasks are prepping the toppings and the salad. It's like a night off!
We have made a number of pizzas over the years with all different types of toppings, methods, and recipes for the dough. Finally, we have attained pizza perfection with the recipe below. You too can make delicious homemade pizzas by following these instructions!
---
Essential Components for a Successful Pizza Night
Caputo 00 pizza flour is a must. Italian flours are graded for texture, 00 is the finest ground flour. Caputo 00 flour also has a lower gluten content compared to bread flour, thus, conferring the correct amount of elasticity to pizza dough. (This is a great article on flours for additional reading). For readers in the Charleston area, a great place to buy 55 lb bags of Caputo is the US Foods CHEF'STORE on Meeting Street. It can also be purchased in smaller quantities on Amazon.
High heat: High cooking temperatures create the perfect crust; crispy but not brittle and dry. The Ooni Frya cooks pizzas at approximately 950 degrees F in about 75 seconds. When we use our kitchen range or grill, we set the temperature at 550 degrees and allow the pizza stone warm up for at least 30 minutes prior to cooking. Pizzas cooked in the oven or on the grill take approximately 6-8 minutes. These lower temperatures often produce a crust akin to "New York" pizza. (Additional reading here.)
Kitchen Scale: It is essential to weigh the ingredients to attain the perfect dough. Measuring cups can vary greatly and you need to have the exact amounts.
Toppings: the possibilities are endless! Choose your favorites and get creative. Some of our favorites include roasted olives, garlic, and shallots or spicy fig jam, roasted red onions, and arugula. Katie's favorite is plain tomato sauce!
---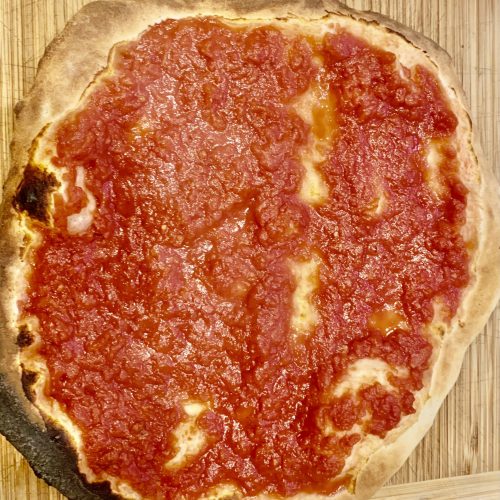 Homemade Pizza Dough
Easy Homemade Pizza Dough
Ingredients
600

grams

Caputo 00 flour

4 cups

355

grams

warm (105-115 deg F) water

1 1/2 cups

1/2

tsp

active dry yeast

1 1/2

tsp

salt
Instructions
Place 1 1/2 tsp of salt into a glass measuring cup. Tare scale to zero and weigh 355 grams of warm water. Stir and set aside for salt to dissolve. The salt adds elasticity to the dough.

Weigh 600 grams of 00 flour and place in the bottom of a stand mixer. Add the yeast to the bowl.

Once the salt has dissolved, slowly pour the water into the stand mixer while on low speed. Turn mixer off when a soft dough forms and let rest for 10 minutes in the bowl.

When rest is complete, use a dough hook to mix for 5 minutes. A ball of dough should form.

Weigh the dough and divide into three equal parts. Cover with a damp kitchen towel and allow to rest for 90 minutes.

After 90 minutes, knead the dough balls. Start at the outside of the dough ball and knead inward. Let rest another 30 minutes before rolling or tossing.

Next, place the dough on a floured surface (we use a handheld flour shaker to cover the countertop with flour), and flatten with your hand.

Once flat, shape the with your hands…there are many techniques, use the one that is easiest for you. I like to pinch the dough while holding it in the air, and work around the circumference. This allows gravity to slowly stretch the dough. Once it is big enough to fit over my closed fists, I gently stretch the dough with my fists, slowly rotating the dough. Eventually you will get a nice dough round which is thin enough to read newspaper print through. This is the goal thickness.

Next, flour your pizza peel, and place the dough on the peel. If your peel is stainless steel, you need to move quickly or the dough will stick to the peel. My personal preference is to use a wood peel for "launching the pizza", as the dough doesn't stick as much to the wood, and use a thin metal one for getting it out (but this is certainly not necessary).

Dress you pizza with toppings of choice. Make sure the dough still slides on the peel, before launching the pizza onto the pizza stone.

Check the pizza a few times during its cook time and rotate as necessary.

Slide the pizza out of the oven and cut on a wooden cutting board with a rotary pizza cutter and enjoy.