A Bit of History
Last year, the city of Paris, celebrated the 100th anniversary of the Bloody Mary cocktail at Harry's New York Bar in Paris. The earliest claim for the invention of the Bloody Mary cocktail dates to 1921 by bartender Fernand Petiot. According to bartending history, the original mixture consisted of vodka and tomato juice and was known as the Bucket of Blood. Despite the unappealing name, the cocktail mixture caught on; evolving over the years into numerous variations. However, 21 Club in New York also claims to have crafted the original Bloody Mary in the 1930s by club bartender Henry Zbikiewicz. Another claim purports George Jessel, a comedian patron of 21 Club, as the inventor. Whichever claim is true, I do enjoy a Bloody Mary cocktail, and decided why not combine the flavors of this classic cocktail into Bloody Mary Tortilla Soup!
About the Recipe: Bloody Mary Tortilla Soup
Don't be daunted by the ingredient list, as it only takes 30 minutes to craft my Bloody Mary Tortilla Soup. First, cook onions, celery, carrots, peppers, and garlic with a few spices for 8 minutes. Next, add chipotle peppers, tomatoes, Bloody Mary mix, broth, lentils and beans. Finally, stir in Masa Harina (corn flour) and fresh cilantro. We love to serve this with a scoop of guacamole or fresh avocado slices, tortilla chips, and a sprinkle of vegan cheese. A popular, easy, weeknight dinner the whole family will enjoy.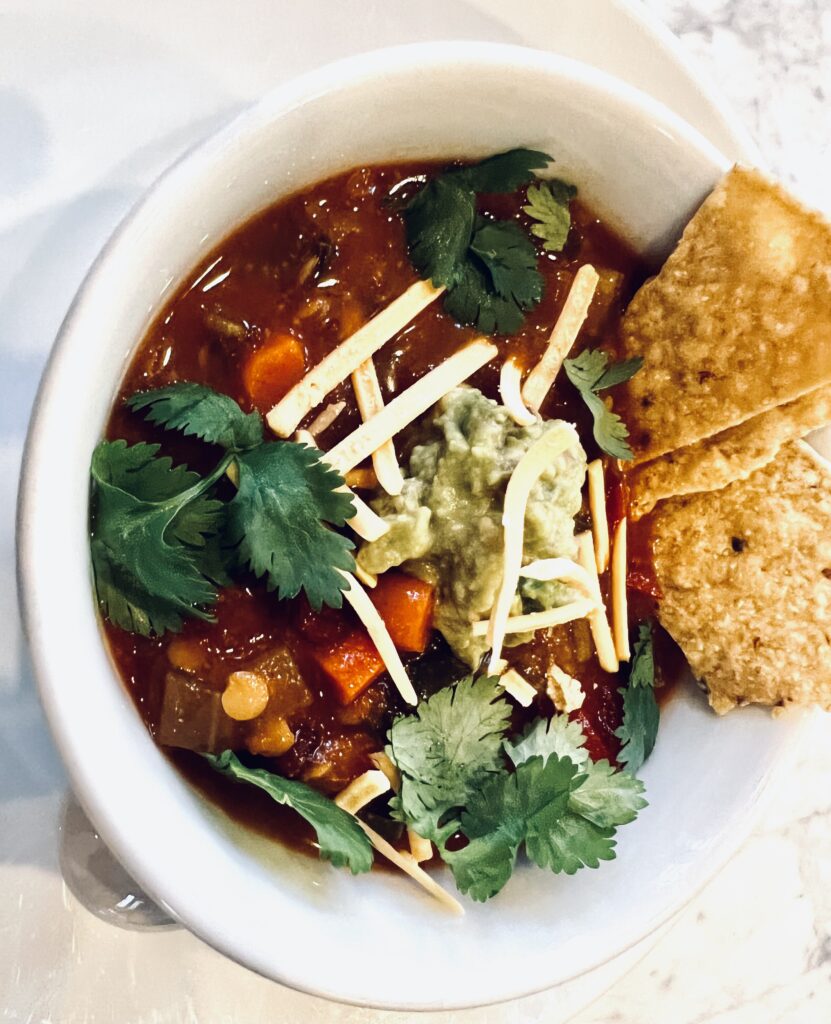 Helpful Tools & Ingredients
I typically use Bob's Red Mill Masa Harina.
I also love to browse the ShadyLadyMercantile website for a variety of cocktail mixes, including the Bloody Brilliant mix.
---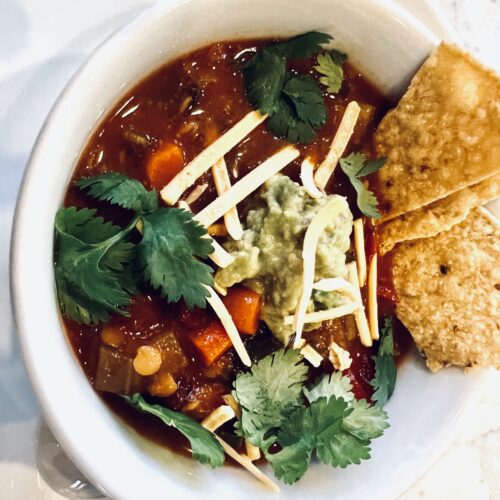 Bloody Mary Tortilla Soup
Why not transform your favorite cocktail into a healthy, plant-based soup? Easy, 30 minute soup recipe to spice up your weekly taco night.
Ingredients
1

cup

yellow or spring onion, diced

4

cloves

garlic, minced

2

cups

celery, diced

2

cups

carrots, diced

2

small – medium

poblano peppers, diced

1

small

jalopeno pepper, minced (optional)

1

15 oz.

can of diced tomatoes (or 2 cups chopped fresh)

2

chipotle peppers in adobo sauce, chopped (add more if you skip the jalopeno pepper)

1/2

cup

golden or red split lentils, rinsed

1

15 oz.

can black beans, drained

1

cup

your favorite Bloody Mary cocktail mix*

1

cup

fresh cilantro, chopped

2

cups

vegetable broth

2

cups

water

2

tsp

cumin

1

tsp

Aleppo pepper or chili powder

1/4

cup

Masa Harina
Instructions
Heat 1 tbsp of vegetable broth or olive oil to the bottom of a large pot over medium heat. Add onions, celery, carrots, garlic, poblano and jalopeno peppers, cumin, Aleppo pepper or chili powder. Cook 8 minutes.

Add chipotle peppers and tomatoes and stir.

Add Bloody Mary cocktail mix, remaining vegetable broth, water. Bring to a low simmer.

Add lentil and beans and simmer for at least 15 minutes.

Gently sift in the masa harina while stirring pot to prevent clumping.
Topping Ideas
Garnish with avocado, additional cilantro, tortilla chips, guacamole, vegan cheese.
Notes
I used Bloody Brilliant Cocktail Mix for this recipe.
Need some other ideas for taco night? Try these Ultratruffle favorites: