---
A Bit of History
It is really a toss up in my house who loves peanut butter more: me or our dog Chip. We both have developed super sonic hearing when it comes to the beautiful sound of the peanut butter jar opening. And yes, I am known to eat it with a spoon right out of the jar!
The crunchy, saltiness of natural peanut butter accented by a sweet berry jam is my idea of a perfect combination. The popularity of peanut butter began to soar after its exhibition at the 1904 World Exhibition in St. Louis and when the armed forces made peanut butter an essential ration for soldiers, consumption skyrocketed. Julia Davis Chandler authored the first recipe for a peanut butter and jelly sandwich in 1901; which appeared in the Boston Cooking School Magazine of Culinary Science and Domestic Economics. Throw in the growing availability of pre-sliced bread and the development of manufactured jelly by the Welch family and the trifecta of the PB and J sandwich went mainstream.
About the Recipe
One day, after a 50 mile bike ride, I was really craving a peanut butter and jelly sandwich and ice cream (in that order). I started wondering if I could create a plant-based version combining these two. In my opinion, most non-dairy ice creams taste like coconut, since a majority of recipes utilize coconut milk or coconut cream. Unless you want coconut ice cream, the intended ice cream flavors end up being overpowered by the coconut. Since I was planning on using a peanut pecan butter in my ice cream, I decided to make homemade extra thick pecan milk to replace the coconut cream.
You can find a plethora of recipes for plant-based ice cream; the recipes below describe our favorite way to enjoy Peanut Butter & Jelly No-Churn Ice Cream.
---
---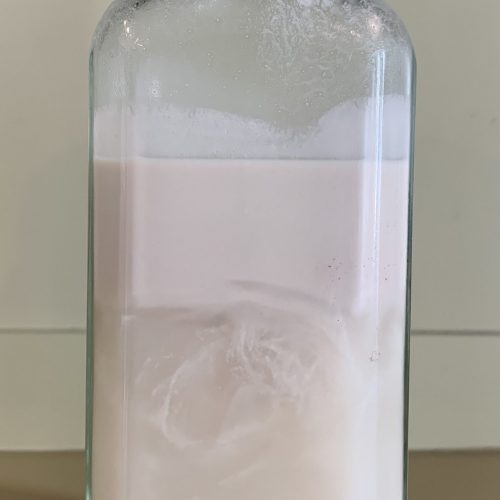 Homemade Extra Thick Pecan Milk
Extra thick, creamy, homemade plant based pecan milk. Easy preparation!
Ingredients
2

cups

raw pecans

3

cups

water
Instructions
Measure 2 cups of pecans into a large container. Add enough cold water to rise 2-3 inches above the pecans. Pecans will expand during the soaking period. Store in the refrigerator for 12 hours or overnight.

After soaking is complete, drain the pecans and transfer to a blender.

Add 3 cups of water to the blender.

Blend until smooth (about 1 minute).

Pour mixture through a nut milk bag and squeeze out the milk.

Transfer the milk to a glass container for storage. Store in the refrigerator until ready to use.
Peanut Butter & Jelly (No Churn) Plant-Based Ice Cream
---
---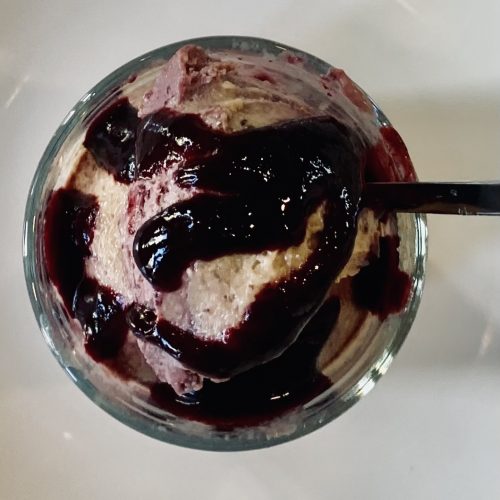 Plant-Based No Churn Peanut Butter and Jelly Ice Cream
A classic combination of peanut butter, pecan milk, and cherry compote. A no churn, easy preparation, plant based ice cream dessert!
Ingredients
Cherry Compote (A.KA. The Jelly Component)
1

bag

frozen cherries or 2 cups fresh cherries

1/4

cup

sugar or honey
Peanut Butter Ice Cream
1 1/2

cups

extra creamy pecan milk from above recipe

shake well before measuring

1

cup

peanut butter (I used a peanut pecan butter mixture)

2/3

cup

sugar or honey

1/2

tsp

salt

1/2

tsp

vanilla bean paste (optional)

3

tbsp

cherry compote from above recipe

save extra compote for garnishing
Instructions
Cherry Compote
Add cherries and sugar/honey to a small sauce and simmer over medium low heat until fruit begin to break down.

Transfer mixture to a blender. Blend until smooth.

Return mixture to saucepan and simmer until liquid is reduced by half.

Remove from heat and set aside to cool.
Peanut Butter Ice Cream
Add pecan milk, peanut butter, sugar/honey, salt, and vanilla bean paste if using to a large sauce pan.

Bring mixture to a low simmer and heat until bubbly and thick. (About 5-10 minutes. Stir frequently to avoid burning).

Remove from heat and transfer to a blender. Blend until smooth.

Pour mixture into a shallow freezer safe container.

Stir in 3 tbsp of the cherry compote. Store remaining cherry compote in the refrigerator and use to garnish individual ice cream serving.

Place the mixture in the refrigerator to cool before transferring to the freezer.

Once the peanut butter mixture has cooled transfer to the freezer. Let rest in the freezer 8 hours or overnight before scooping.

Garnish each serving with a spoonful of reserved cherry compote.
Looking for some other great desserts? Try these Ultratruffle favorites:
No-Bake Peppermint Mocha Granola Bars
Non-Dairy Strawberry Ice Cream Pie
One Bowl Chocolate Chip Biscotti Cookies