—For my Uncle Dan
---
Introduction
Every year around the holidays, I make almond chocolate chip biscotti cookies: LOTS of them. Everyone seems to want a batch: I even start getting texts from the neighbors in early November asking if it's almost biscotti time. My Uncle Dan is no exception to this and I always try to have a batch ready when Dan and his family visit. Biscotti are also my daughter Katie's (and mine) favorite cookie. However, I don't always have time to make the classic twice baked cookies. I was looking for a way to incorporate our favorite biscotti flavors into a version that could be prepared quickly for a weeknight dessert. These One Bowl Chocolate Chip Biscotti Cookies definitely hit the mark. You can mix this dough in just a few minutes and store in the refrigerator until ready to bake in the oven.
About the Recipe
My almond biscotti cookies feature a subtle anise flavor that is not overpowering and kid approved! I love the fragrant aroma of anise and every Easter I claim all of the black jelly beans. I even carry hard anise candies in my running pack for some quick sugar! Anise, otherwise known by its scientific name of Pimpinella anisum is a native herb of the Mediterranean and belongs to the carrot and parsley family. The ancient Romans and Greeks commonly used anise as a flavoring, and even believed it may prevent epilepsy. Centuries later, England used funds gained from import taxes on anise to repair the London bridge. Today, anise is used to flavor candy, salads, soups, beverages and more.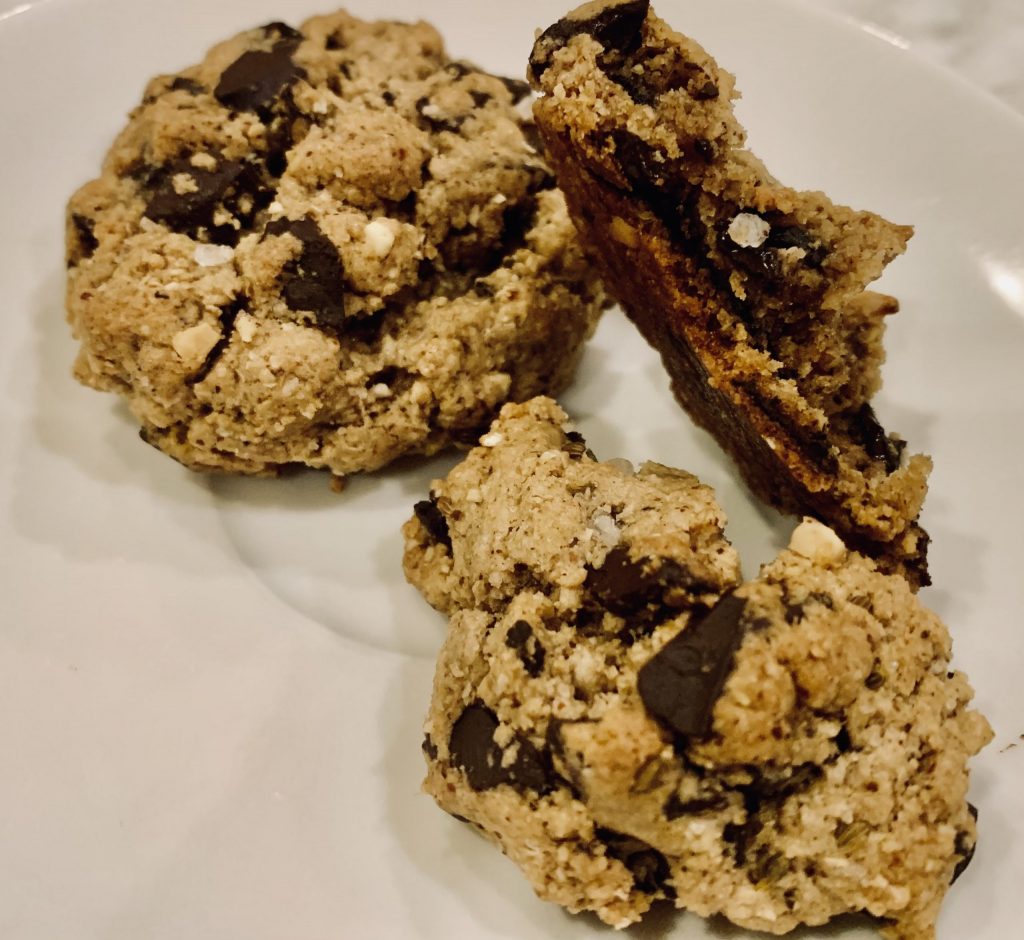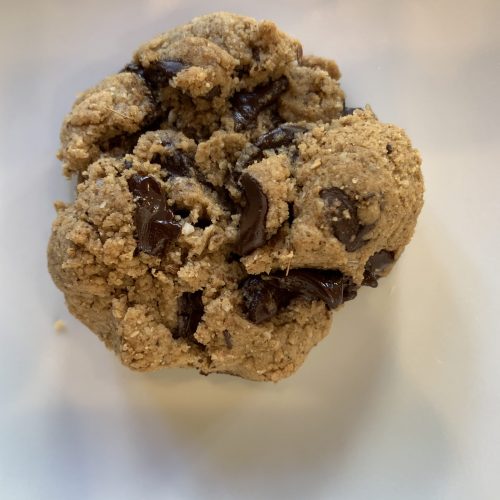 Chocolate Chip Biscotti Cookies with a Pimpinella Twist
One bowl Chocolate Chip Biscotti Cookies with a subtle anise flavor. Absolutely delicious plant-based cookies that are kid-approved and incredibly easy to craft.
Ingredients
1 1/2

cups

oat flour*

1 1/2

cups

flour*

3/4

tsp

coarse sea salt

1 1/2

tsp

baking soda

2-3

tsp

anise seed

3/4

cup

brown sugar

1/2

cup

sugar

1/2

cup

creamy almond butter

1/3

cup

unsweetened non-dairy milk

You may need 2-4 tsp more if batter is a bit dry.

2

cups

72% chocolate chips

1/2

tsp

vanilla bean paste

optional
Instructions
Add all ingredients to the bowl of a stand mixer. Start with 1/3 cup of non-dairy milk.

Mix for a few minutes until dough starts to come together. Turn off mixer and knead the batter by hand a few times. Add additional almond milk if needed. The batter will continue to bind in the refrigerator while resting.

Place batter in the refrigerator for 20 minutes or until ready to bake.

Use an ice cream scoop to measure out each cookie. Place cookies on a baking sheet lined with parchment paper and bake at 350 for approximately 15-18 minutes.

If you can stand it, let cookies rest for 10 minutes before diving in. We like to store any leftovers (if they last that long) in the freezer. They taste awesome frozen.
Notes
*If you do not have oat flour on hand, simply grind 1 1/2 cups of rolled oats in a blender until flour like consistency achieved.
*I like to use Italian grade 00 flour to obtain softer, fluffier cookies.
*I use up to 3 tsp of anise seed.
*You may need 2-4 tsp more almond milk if batter is a bit dry. I also like to moisten my hands lightly with water before kneading batter and then add a bit more milk if necessary.
Looking for more cookie recipes? Try these Ultratruffle favorites:
Limitless Chocolate Chip Cookie Bars,
Pumpkin Nut Breakfast Cookies,
Peppermint Mocha No Bake Granola Bars, or
Apple Pie Biscotti with Ginger Orange Glaze.